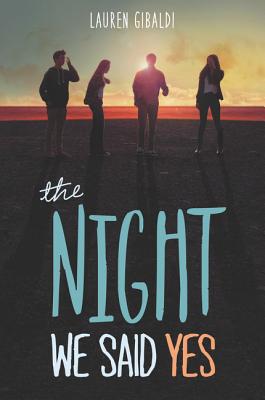 The Night We Said Yes
Paperback

* Individual store prices may vary.
Description
A fun, romantic read, perfect for fans of Sarah Dessen and Susane Colasanti! What happens when Matt and Ella reunite one year after their breakup? Are second chances really possible?
Before Matt, Ella had a plan. Get over her ex-boyfriend and graduate high school—simple as that. But Matt—the cute, shy, bespectacled bass player—was never part of that plan. And neither was attending a party that was crashed by the cops just minutes after they arrived. Or spending an entire night saying "yes" to every crazy, fun thing they could think of.
But then Matt leaves town, breaking Ella's heart. And when he shows up a year later—wanting to relive the night that brought them together—Ella isn't sure whether Matt's worth a second chance. Or if re-creating the past can help them create a different future.
Praise For The Night We Said Yes…
"Gibaldi effectively captures intense, all-consuming teen attraction." — School Library Journal
"Gibaldi's special debut will make readers ruminate on first chances, first loves and those big, life-altering decisions. This perfectly paced book is fun to read, and the love story embedded within - along with a boatload of awesome characters - will appeal to lovers of all genres." — Romantic Times
"A story of friendship and romance, music and trespassing, and ultimately pursuing your own dream and your heart's desire. This romantic adventure has appeal, especially for fans of books like Nick & Norah's Infinite Playlist." — Booklist
"The book speaks to the power of friendship and the importance of nurturing relationships." — Voice of Youth Advocates (VOYA)
"A light but meaningful summer romance." — Kirkus Reviews
"Lauren Gibaldi so cleverly weaves the past and the present to tell an authentic, spontaneous story of friendship, romance, and all the gray areas in between. With the turn of each page, you'll be so glad you said yes to The Night We Said Yes!" — Julie Murphy, New York Times bestselling author of Side Effects May Vary and Dumplin'
"Irresistibly sweet and full of heart, Matt and Ella's romance charmed me twice." — Jessica Martinez, author of Kiss Kill Vanish and The Vow
"You'll wish you could step into the pages and go along for the ride. Suspenseful, romantic, and just plain fun. Say yes to this book!" — Tara Altebrando, author of The Best Night of Your (Pathetic) Life
"This is a story for anyone who's ever wanted to give first love a second chance." — Melissa Walker, author of Ashes to Ashes and Lovestruck Summer
"The Night We Said Yes captures the flutter and heartache of first love. This book is a first kiss and a first touch. It is a promise of a night filled with the thrill (and fear) of so many possibilities." — Jenny Torres Sanchez, author of The Downside of Being Charlie and Death, Dickinson, and the Demented Life of Frenchie Garcia
"The Night We Said Yes is filled with brilliant insights about what it's like to be young and alive. You haven't met Lauren Gibaldi, but she already knows you." — DC Pierson, author of Crap Kingdom and The Boy Who Couldn't Sleep And Never Had To
HarperTeen, 9780062302205, 320pp.
Publication Date: June 14, 2016
About the Author
Lauren Gibaldi is a librarian in Orlando, Florida, where she lives with her husband and daughter. The Night We Said Yes and Autofocus were her two first books for young adults, and This Tiny Perfect World is her third. Find her online at www.laurengibaldi.com or on Twitter @laurengibaldi.
or
Not Currently Available for Direct Purchase