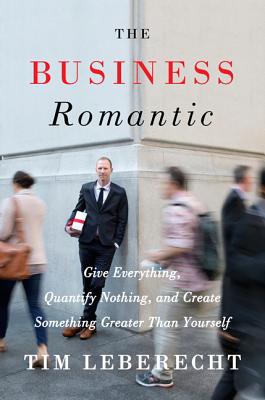 The Business Romantic
Give Everything, Quantify Nothing, and Create Something Greater Than Yourself
Hardcover

* Individual store prices may vary.
Description
 In this smart, playful, and provocative book, one of today's most original business thinkers argues that we underestimate the importance of romance in our lives and that we can find it in and through business—by designing products, services, and experiences that connect us with something greater than ourselves.
Against the backdrop of eroding trust in capitalism, pervasive technology, big data, and the desire to quantify all of our behaviors, The Business Romantic makes a compelling case that we must meld the pursuit of success and achievement with romance if we want to create an economy that serves our entire selves.
A rising star in data analytics who is in love with the intrinsic beauty of spreadsheets; the mastermind behind a brand built on absence; an Argentinian couple who revolutionize shoelaces; the founder of a foodie-oriented start-up that creates intimate conversation spaces; a performance artist who offers fake corporate seminars for real professionals—these are some of the innovators readers will meet in this witty, deeply personal, and rousing ramble through the world of Business Romanticism.
The Business Romantic not only provides surprising insights into the emotional and social aspects of business but also presents "Rules of Enchantment" that will help both individuals and organizations construct more meaningful experiences for themselves and others.
The Business Romantic offers a radically different view of the good life and outlines how to better meet one's own desires as well as those of customers, employees, and society. It encourages readers to expect more from companies, to give more of themselves, and to fall back in love with their work and their lives.  
Praise For The Business Romantic: Give Everything, Quantify Nothing, and Create Something Greater Than Yourself…
"Every hard, calculating member of the executive team can benefit from this book's unabashedly soft, humanistic approach to unlocking the potential in organizations—because at the end of the day, enabling the humans in one's organization is the only way to unlock the romantic quest for better businesses."
— JOHN MAEDA, Partner, Kleiner Perkins Caufield & Byers and author of The Laws of Simplicity and Redesigning Leadership

"The Business Romantic makes an uplifting case for injecting greater meaning into work. If more people and workplaces followed his rules, our jobs would be more fulfilling."
— ADAM GRANT, Wharton professor and New York Times bestselling author of Give and Take

"The Business Romantic is a wonderfully unusual business book that encourages us in a playful yet reflective way to find beauty and meaning in our work lives and shows us how small, everyday actions can help us build a more humane economy."
— KLAUS SCHWAB, Founder and Executive Chairman, World Economic Forum

"Leberecht has successfully articulated why passion and romance are important, yet often missing in today's enterprises. The Business Romantic gives us permission to use romance to create companies and products that people truly love."
— DOREEN LORENZO, President, Quirky

"I'm in love with Tim Leberecht's celebration of Business Romantics. This big-hearted book will inspire you to think bigger, aim higher, and do something meaningful."
— WILLIAM C. TAYLOR, Founding Editor, Fast Company and Author, Practically Radical

"Tim Leberecht offers a glimpse of how work can be meaningful and momentous. Surprise, suffering, drama, and most of all, hope are welcome in Tim's showcase of some of today's most exciting and progressive business ventures. Tim shows us how to bring inspiration and romance to our professional selves."
— LIZ MAW CEO, Net Impact

"A playful and probing book about how to re-think and re-enchant business and our engagement with work…arguing that it is the recognition of the human heart of business that increasingly drives success."
— Forbes.com (Top 10 Creative Leadership Book of 2015)

"This books turns the entire idea of "work is toil" on its head and reveals that work can be (and frequently is) is a source of great pleasure in our lives."
— Inc.com (Top 10 Motivational Books of 2015)
Harper Business, 9780062302519, 320pp.
Publication Date: January 6, 2015
About the Author
Tim Leberecht is the chief marketing officer of NBBJ, a global design and architecture firm that helps organizations such as Amazon, the Bill & Melinda Gates Foundation, Boeing, Microsoft, Samsung, Starbucks, and Tencent create meaningful experiences. He is the former chief marketing officer of Frog Design, a product-innovation and strategy firm acclaimed for its work with Apple and many other Fortune 500 brands. His writing has appeared in publications such as Fast Company, Forbes, Fortune, and Wired. He has spoken at such venues as TEDGlobal, the Economist Big Rethink, DLD, the Silicon Valley CEO Summit, and the World Economic Forum. His TED Talk "3 Ways to (Usefully) Lose Control of Your Brand" has been viewed by almost a million people to date. He was born and raised in Germany, and lives in San Francisco with his wife and daughter.
or
Not Currently Available for Direct Purchase