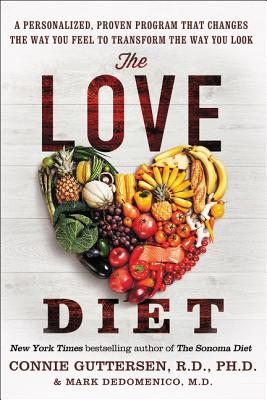 The Love Diet
A Personalized, Proven Program That Changes the Way You Feel to Transform the Way You Look
Hardcover

* Individual store prices may vary.
Other Editions of This Title:
Paperback (3/28/2017)
Description
All You Need is Love: From the New York Times best-selling author of The Sonoma Diet and the acclaimed medical director of 20/20 Lifestyles—one of the country's most successful weight loss clinics—comes the revolutionary plan that will forever change the way you feel about food, yourself, and how you look.
According to doctors Connie Guttersen and Mark Dedomenico, the secret to successfully losing weight isn't HDL, LDL, or DNA. It's LOVE: loving yourself, loving your body, loving your overall health. Self-doubt and self-loathing are responsible for our dysfunctional relationships with food and our destructive health habits, which inevitably lead to poor nutrition, unwanted weight, and dangerously low self-esteem. Learning to recognize your own worth is the first step to finding the waistline—and the life—you deserve.
Drawing on their revelatory research, the latest science on nutrition and weight loss, and thousands of patients' accounts, Dr. Guttersen and Dr. Dedomenico have developed the Love Diet, an accessible, practical, and proven plan to transform your body, emotionally, mentally, and physically, from the inside out.
The Love Diet includes:
• 21 days of meal plans for breakfast, lunch, snacks and dinner, based on ideal nutrient distribution and nutritional strategies for both men and women;
• Illustrated "power pairings" for feel-good meals and easy-to-manage portion control;
• Anti-inflammatory diet strategies to limit the metabolic syndromes of obesity;
• Low-glycemic meals specifically designed to optimize your body's blood sugar level, decrease cravings, improve energy, and promote weight loss;
• Micronutrient information related to the science behind the "gut-brain connection."
Combining good nutrition with positive emotional reinforcement, The Love Diet can deliver sustained weight-loss and radically transform you mind, body, and soul.
Praise For The Love Diet: A Personalized, Proven Program That Changes the Way You Feel to Transform the Way You Look…
This is an informative, comprehensive, and practical resource by two experienced medical nutrition practitioners. It offers step-by-step advice to help the reader transform unhealthy, self-defeating habits and mindsets to maintain a way of life that honors oneself. — Lilian Cheung, D.Sc., R.D. Director of Health Promotion & Communication, Department of Nutrition, Harvard T.H. Chan School of Public Health, Co-author ofSavor - Mindful Eating, Mindful Life
"More than just a diet guide, this book presents a comprehensive plan for lifestyle changes. What sets this book apart from the deluge of other diet books on the market is its long-term focus on lifestyle and behavioral changes and on learning the importance of self-respect." — Publishers Weekly
HarperOne, 9780062303059, 320pp.
Publication Date: May 3, 2016
About the Author
Connie Guttersen, R.D., Ph.D., is the New York Times bestselling author of The Sonoma Diet, a registered dietitian and nutrition instructor at the world-famous Culinary Institute of America, and has consulted with a broad range of corporations and Fortune 500 companies. She lives with her family in Northern California.
Mark Dedomenico, M.D., is the founder and medical director of the renowned 20/20 LifeStyles program. A former cardiovascular surgeon, he has done extensive research in the field of metabolic disease control and weight management to correct metabolic disorders without medication. He lives in Seattle, Washington.