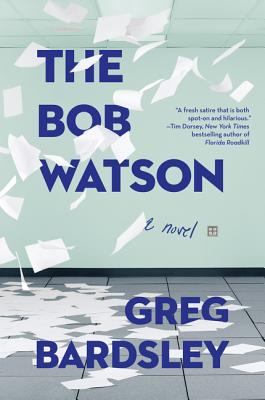 The Bob Watson
A Novel
Paperback

* Individual store prices may vary.
Other Editions of This Title:
Digital Audiobook (11/7/2016)
Compact Disc (11/8/2016)
MP3 CD (11/8/2016)
Compact Disc (11/8/2016)
Description
From the author of Cash Out, a hilarious novel about one working stiff's day of hooky—reminiscent of Ferris Bueller's Day Off and Office Space—and the insanity that ensues.
Rick Blanco walks out of meetings. He's a serial meeting ditcher. A walk-out artist. He's so good that no one seems to notice when he just gets up and walks out. A corporate illusionist of the covert kind, he learned his trade studying a former colleague, the master of meeting ditches, Bob Watson. Rick continues Bob's legacy, going for more frequent and longer ditches, building on the art with every boring corporate meeting.

Now, Rick wants to pull off his most important Bob Watson yet—skipping out of work to see his young nephew before he moves with his parents to Argentina. But things soon get complicated. As Rick leaves the office, he's mistaken for the company's human resources executive Dick Rayborne, a man made famous in HR circles for creating the hot new labor practice of "consourcing"—like "outsourcing" but with convicted felons. Convinced that he is the scummy Dick Rayborne, two cons, and a granny they call Mama, force Rick into six hours of mayhem, complete with home break ins and emergency board of directors meetings. Along the way, Rick realizes he has the opportunity to pull off the most meaningful Bob Watson imaginable, and still give his nephew a hug goodbye.

Refreshing, witty, and clever, The Bob Watson is a madcap tale of danger, adventure, and personal discovery.


Praise For The Bob Watson: A Novel…
"A madcap, riotous adventure ... Bardsley excels at fast-paced, observational wit that manages to poke fun at our modern life while adding a little heart. For fans of Joshua Ferris, Sam Lypsite, and The Office" — Booklist
"Bardsley renders the absurd credible in his hilarious 'Bob Watson.' … One of the more zany and imaginative novels to arrive on bookstore shelves." — San Jose Mercury News
"Does the ever-modernizing, depersonalizing corporate world make you want to stop and yell time out? Bardsley warns us to be careful what we wish for in a fresh satire that is both spot-on and hilarious." — Tim Dorsey, New York Times bestselling author of Florida Roadkill
"Anyone who's ever sat in a corporate meeting for more than ten minutes will revel in the glorious and wacky corporate take-down in The Bob Watson. There's a tender, touching story in here, too-peeking out and shining through all the laugh-out-loud madness." — Jessica Anya Blau, author of The Trouble with Lexie
"Greg Bardsley has a keen sense of the absurdity of everyday life, particularly Corporate America. But he gets the real things right, too, like all the messy stuff that makes us human. My advice: ditch your next meeting, find a coffee shop, and start reading. You won't regret it." — Matthew Norman, author of We're All Damaged and Domestic Violets
"Likably wry and dementedly screwball, THE BOB WATSON is a novel full of both sharp wit and genuine emotion." — Lou Berney, Edgar Award winning author of The Long and Faraway Gone
"For those who have resented sitting through drawn-out, tedious work meetings, Greg Bardsley's second novel will immediately strike a chord. … Through his colorful, cinematic lens, even the most mundane settings contain hilarity and humanity." — Shelf Awareness
"Pays homage to all the worker bees stuck in corporate meetings. Goes awry with mistaken identity and mayhem." — Fort Worth Star-Telegram
Harper Perennial, 9780062304797, 336pp.
Publication Date: November 8, 2016
About the Author
Greg Bardsley has worked as a Silicon Valley speechwriter, a news-paper reporter, and a weekly columnist. His ghostwriting for high-profile business executives has appeared in Newsweek, USA Today, and the Financial Times. His short fiction has appeared in numerous journals and anthologies, including 3:AM magazine, Plots with Guns, Uncage Me, and Sex, Thugs, and Rock & Roll. He lives in the San Francisco Bay Area.