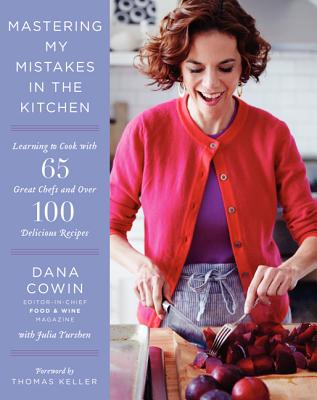 Mastering My Mistakes in the Kitchen (Hardcover)
Learning to Cook with 65 Great Chefs and Over 100 Delicious Recipes
Ecco, 9780062305909, 320pp.
Publication Date: October 14, 2014
* Individual store prices may vary.
Description
An uproarious, inspiring cookbook from the longtime editor-in-chief of Food & Wine magazine, in which the first lady of food spills the secret of her culinary ineptitude, while learning—finally—to cook, side-by-side with some of the greatest chefs working today, from David Chang to Alice Waters to Thomas Keller.
For years, Dana Cowin kept a dark secret: From meat to veggies, broiling to baking, breakfast to dinner, she ruined literally every kind of dish she attempted. Now, in this cookbook confessional, the vaunted "first lady of food" finally comes clean about her many meal mishaps. With the help of friends—all-star chefs, including April Bloomfield, Alex Guarnaschelli, and Tom Colicchio, among many others—Cowin takes on 100 recipes dear to her heart. Ideal dishes for the home cook, each recipe has a high "yum" factor, a few key ingredients, and a simple trick that makes them special. With every dish, she attains a critical new skill, learning invaluable lessons along the way from the hero chefs who help her discover exactly where she goes wrong.
Hilarious and heartwarming, encouraging and instructional, Mastering My Mistakes in the Kitchen showcases Cowin's plentiful cooking mistakes, inspiring anyone who loves a good meal but fears its preparation. Featuring gorgeous full color photography, it is an intimate, hands-on cooking guide from a fellow foodie and amateur home chef, designed to help even the biggest kitchen phobics overcome their reluctance, with delicious results.
About the Author
Dana Cowin, Food & Wine's editor-in-chief since 1995, has been covering the world of food, wine, style, and design for more than thirty years. She sits on the board of directors of City Harvest, a New York City hunger-relief organization; Wholesome Wave, dedicated to providing access to sustainable foods; and Hot Bread Kitchen, an organization that helps train low-income men and women to join the culinary workforce. In 2012, she was an inductee into the James Beard Foundation's Who's Who of Food & Beverage in America. She is an alumna of Brown University and lives in New York City with her husband and two children. To read more about Dana's adventures, follow her at @fwscout on Twitter and Instagram.
Praise For Mastering My Mistakes in the Kitchen: Learning to Cook with 65 Great Chefs and Over 100 Delicious Recipes…
"A hilarious, inspiring cookbook from the longtime editor-in-chief of Food & Wine magazine, in which the first lady of food spills her secret culinary ineptitude, while learning-finally-to cook, side-by-side with some of the greatest chefs working."
— Publishers Weekly, Fall 2014 Top Ten Cookbooks

"[T]his cookbook is foremost a collection of reliable recipes and straightforward advice... [that] relies on simple equipment, techniques, and ingredients."
— Library Journal

"Delightful…candidly humorous… accessible…sure to motivate home cooks to head fearlessly for their kitchens and try these tempting ideas. The simple and tasteful dishes are accompanied by extremely helpful tips…Cowin's culinary education makes for a charming and important book for both would-be and accomplished chefs."
— Publishers Weekly (starred review)

"In her new cookbook, Mastering My Mistakes in the Kitchen, Cowin embarks on a journey to improve her cooking--and to give readers easy, smart tricks that will help them, too… The resulting cookbook is densely packed with advice that will turn anyone into a better cook."
— Today.com

"In this honest, confessional cookbook, Cowin shares lessons she's learned from her magazine's staff and 65 top chefs, including things like never cutting corners, getting to know your oven's quirks, and not trusting your instincts until you're entirely sure your instincts deserve to be trusted."
— The Oregonian (Portland)

"[An] entertaining (and educational!) cookbook."
— Seattle King 5- TV / New Day NW

"[An] ultra-accessible guide to becoming a more than passable home cook."
— BookPage

"[Cowin] promises not just cooking lessons from master chefs, but cookable recipes from them, and a few life lessons along the way. Having lived with [Mastering My Mistakes in the Kitchen] for over a month, I'd have to say she delivers on all counts."
— Bookotron

"The end result is gorgeous, simple recipes that even a rank beginner can manage. Plus, you get to see some of your favorite celebrity chefs hamming it up in Cowin's kitchen."
— NPR, Best Books of 2014

"The editor of Food & Wine magazine consults dozens of great chefs and comes away with plenty of handy tips--as well as lots of manageable recipes."
— New York Times Book Review

"This cookbook is charming and encouraging-a breath of relief for all of us who worry about our skills in the kitchen."
— The Kitchn