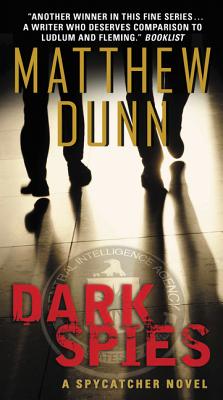 Dark Spies
A Spycatcher Novel
Mass Market

* Individual store prices may vary.
Other Editions of This Title:
Hardcover (10/7/2014)
MP3 CD (5/5/2015)
Compact Disc (5/5/2015)
Description
On the run from the CIA, intelligence operative Will Cochrane heads to the U.S. to uncover a diabolical spymaster at the center of an international conspiracy in this thrilling follow up to Slingshot.
When Will Cochrane encounters a Russian spymaster—codenamed Antaeus—who everyone believes is dead, he is thrust into a deadly game set in motion by powerful players deep inside the U.S. intelligence community. Will has worked with the CIA for years and knows them all. But now he knows there's no one he can trust.
His orders from Langley are clear: ANTAEUS MUST NOT BE TOUCHED. FURTHER INQUIRIES REQUIRE PROJECT FERRYMAN CLEARANCE. But as Antaeus and his men then attempt to execute the CIA's best agents, Will decides to take his own shot at the spymaster, knowing it will make him a marked man.
Now, the only way to save his career—and his life—is to get into the U.S. and expose the truth about Project Ferryman. But to accomplish that he's got to outmaneuver four deadly Russian assassins and an elite FBI team controlled by shadowy officials who will stop at nothing to keep their sins and secrets safe. 
Praise For Dark Spies: A Spycatcher Novel…
"Another deep and intense thriller that feels authentic in terms of how it conveys the spy world… Dunn has crafted another winner in this fine series. The world of spy fiction has a writer who deserves comparison to Ludlum and Fleming."
— Booklist

"Just when you think you have this maze of double-dealing figured out-surprise, it isn't what you think. All the elements of a classic espionage story are here. The novel moves with relentless momentum, scattering bodies in its wake."
— Kirkus Reviews

Praise for Matthew Dunn: "Great talent, great imagination, and real been-there done-that authenticity make this one of the year's best thriller debuts. Highly recommended."
— Lee Child on Spycatcher

"Dunn's exciting fourth Spycatcher novel finds Will Cochrane . . . in the Norwegian Arctic. . . . Cochrane's few allies are almost helpless as he treks back from Norway to Washington, D.C. . . . Great action sequences and a clever if complicated plot make this a satisfying read."
— Publishers Weekly

"There are many unforeseen twists in the tale and we are as surprised as Cochrane to discover who is really behind the acts of sabotage and treason. . . . An exciting read that is solidly grounded in the real world."
— ReviewingTheEvidence.com

"In this supremely suspenseful story of spy versus spy, Matthew Dunn serves up a hero who can beat them all - the indomitable William Cochrane. . . . The golden age of the spy novel is not over, not with the master (Matthew Dunn) and his top notch agent."
— Iron Mountain Daily News

"Features MI6/CIA task force operative Will Cochrane, who lacks James Bond's gadgets but relies on encyclopedic knowledge, physical prowess, and an off-the-charts degree of self-sufficiency that even Jack Reacher would envy… The author's prose is lean and compelling, and the pace is frantic."
— Publishers Weekly on Dark Spies

"A superb and exciting spy thriller that is solid with verisimilitude and precision throughout. . . . Dark Spies is one of the finest modern spy thrillers I've ever read. Don't let this one get away from you."
— OverMyDeadBody.com
Harper, 9780062309488, 464pp.
Publication Date: April 28, 2015
About the Author
As an MI6 field officer, Matthew Dunn recruited and ran agents, coordinated and participated in special operations, and acted in deep-cover roles throughout the world. He operated in environments where, if captured, he would have been executed. Dunn was trained in all aspects of intelligence collection, deep- cover deployments, small arms, explosives, military unarmed combat, surveillance, and infiltration.
Medals are never awarded to modern MI6 officers, but Dunn was the recipient of a rare personal commendation from the secretary of state for work he did on one mission, which was deemed so significant that it directly influenced the success of a major international incident.
During his time in MI6, Matthew conducted approximately seventy missions. All of them were successful. He currently lives in England, where he is at work on his next novel.
or
Not Currently Available for Direct Purchase