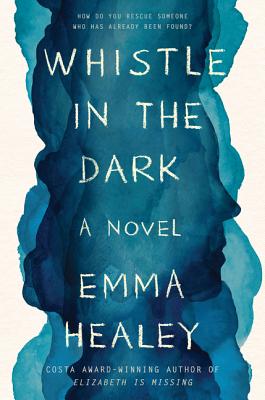 Whistle in the Dark
A Novel
Hardcover

* Individual store prices may vary.
Other Editions of This Title:
Paperback (6/18/2019)
Library Binding, Large Print (11/7/2018)
Compact Disc (7/24/2018)
Compact Disc (7/24/2018)
MP3 CD (7/24/2018)
Description
Emma Healey follows the success of her #1 internationally bestselling debut novel Elizabeth Is Missing, winner of the Costa First Novel Award, with this beautiful, thought-provoking, and psychologically complex tale that affirms her status as one of the most inventive and original literary novelists today.
Jen and Hugh Maddox have just survived every parent's worst nightmare.
Relieved, but still terrified, they sit by the hospital bedside of their fifteen-year-old daughter, Lana, who was found bloodied, bruised, and disoriented after going missing for four days during a mother-daughter vacation in the country. As Lana lies mute in the bed, unwilling or unable to articulate what happened to her during that period, the national media speculates wildly and Jen and Hugh try to answer many questions.
Where was Lana? How did she get hurt? Was the teenage boy who befriended her involved? How did she survive outside for all those days? Even when she returns to the family home and her school routine, Lana only provides the same frustrating answer over and over: "I can't remember."
For years, Jen had tried to soothe the depressive demons plaguing her younger child, and had always dreaded the worst. Now she has hope—the family has gone through hell and come out the other side. But Jen cannot let go of her need to find the truth. Without telling Hugh or their pregnant older daughter Meg, Jen sets off to retrace Lana's steps, a journey that will lead her to a deeper understanding of her youngest daughter, her family, and herself.
A wry, poignant, and masterfully drawn story that explores the bonds and duress of family life, the pain of mental illness, and the fraught yet enduring connection between mothers and daughters, Whistle in the Dark is a story of guilt, fear, hope, and love that explores what it means to lose and find ourselves and those we love.
Praise For Whistle in the Dark: A Novel…
"[An] absorbing thriller. . . . Healey writes movingly about motherly love, and the pain that comes when you can't protect your own, even from themselves."
— The New Yorker

"For those who like their thrillers a little more literary, this one's for you. Healey's follow-up to her breakout Elizabeth Is Missing promises a psychologically arresting mystery surrounding the disappearance of a 15-year-old girl. Intriguing commentary on mental illness, trauma, and family life abounds."
— Entertainment Weekly, "Summer's 11 Hottest Thrillers"

"What starts with a thrillerish seteup—missing teen—takes us to a more familiar but equally disturbing place. Trying to understand what happened to her daughter, Jen learns that we may be our own greatest fear."
— Family Circle, "Summer's Best Books"

"You have to read Whistle in the Dark. . . . A powerful novel about shared trauma, the effects of mental health on the family, and the pressures of motherhood, this is a slow-burning and utterly unsettling domestic thriller you will have a hard time putting down."
— Bustle

"Gripping psychological suspense pitting a hostile teen who won't explain herself against a mom turned detective who'll risk even her sanity to reach her daughter."

— People, "The Best New Books"

"An absorbing view of a family, with the emphasis on the mother-daughter connection, in which—flaws aside—love shines through."
— Booklist (starred review)

"I don't know anyone else who writes like this. Emma Healey's voice soars, sings, and startles as she takes you right under the skin of her characters. She 'magics' the ordinary into the extraordinary and, just as impressively, transposes the extraordinary to the ordinary. Unforgettable."  
— Jane Corry, author of My Husband's Wife and Blood Sisters

PRAISE FOR ELIZABETH IS MISSING:
— :

"[A] knockout debut...Ms. Healey's audacious conception and formidable talent combine in a bravura performance that sustains its momentum and pathos to the last."
— Wall Street Journal

"Spellbinding."
— New York Times Book Review

"Elizabeth is Missing will stir and shake you: an investigation into a seventy-year-old crime, through the eyes of the most likeably unreliable of narrators. But the real mystery at its compassionate core is the fragmentation of the human mind."
— Emma Donoghue, author of Room

"Part mystery, part meditation on memory, part Dickensian revelation of how apparent charity may hurt its recipients, this is altogether brilliant."
— Booklist (starred review)

"A poignant novel of loss."
— Kirkus Reviews

"British author Healey draws on her own grandmothers' experiences to create the distinctive narrator of her first novel… an absorbing tale."
— Publishers Weekly

"Bold, touching and hugely memorable."
— Sunday Times (London)

"What's truly astonishing about the book is that its author—a web administrator at the University of East Anglia—isn't even 30 years old. How can she know what it's like for a person to lose herself, bit by bit? How can her descriptions of World War II, with all the shabbiness and rationing and black-market intrigue, be so vivid? Of course, Healey is able to imagine and empathize on such a level because she's simply a brilliant writer. Let's hope we hear much more from her over the years."
— BookPage
Harper, 9780062309716, 336pp.
Publication Date: July 24, 2018
About the Author
Emma Healey grew up in London where she studied for her first degree in bookbinding. She then worked for two libraries, two bookshops, two art galleries and two universities, before completing an MA in Creative Writing at the University East Anglia. Her first novel, Elizabeth is Missing, was published to critical acclaim in 2014, became a Sunday Times (London) bestseller and won the Costa First Novel Award. She lives in Norwich, England with her husband and daughter.