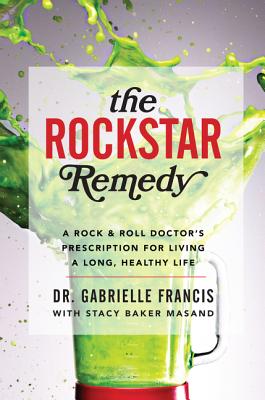 The Rockstar Remedy (Hardcover)
A Rock & Roll Doctor's Prescription for Living a Long, Healthy Life
Harper Wave, 9780062310606, 352pp.
Publication Date: December 30, 2014
* Individual store prices may vary.
Description
From the woman known to some of the most famous bands in the world as the "Rock n' Roll Doctor" comes a holistic prescription to achieving health and balance—even when you don't live like a saint.
As a holistic practitioner and therapeutic masseuse to the music industry's elite, Gabrielle Francis has helped famous rockers to repair, recover, and refuel from the demanding schedules and occasional overindulgences that come along with the rock star lifestyle. Now for the first time, Gabrielle shares her sought-after, insider secrets with readers everywhere. Because being overscheduled, sleep-deprived, on the road, or occasionally eating or drinking to excess aren't lifestyle habits unique to the music industry: they are the same challenges faced by all of us, every day.
In The Rockstar Remedy, Gabrielle shares her unique strategies for boosting your energy and looking and feeling your best—even when your schedule doesn't seem to allow it. She shows readers that their health exists on a spectrum, and the simple act of making better choices every day—even if they're not the best choices—helps us achieve balance in both mind and body. With tips for improving energy levels, lists of foods to aim for and avoid, a simple no-starvation detox, and her popular "damage mitigation techniques," which show you secret ways to reverse the damage causes by less-than-perfect choices, Gabrielle offers a simple, effective plan for staying healthy and happy amid the chaos of our daily lives.
About the Author
Dr. Gabrielle Francis has been practicing natural medicine for more than thirty-three years, while touring and working with the most famous rock bands in the world. A naturopathic doctor, chiropractor, acupuncturist, and massage therapist, Gabrielle maintains a thriving practice in New York City. Visit her online at www.theherbanalchemist.com. She is also the sole proprietor of Backstage Alternative, A Rock N Roll Natural Medicine Show, which provides natural medicine for performing artists on tour.
Stacy Baker Masand is the cowriter of the New York Times bestseller Your Best Body Now and has written and edited for a variety of national women's magazines, including InStyle, Shape, Self, Fitness, Prevention, and many more.
Praise For The Rockstar Remedy: A Rock & Roll Doctor's Prescription for Living a Long, Healthy Life…
"Read this book!"
— Dave Navarro, Guitarist, Singer, Songwriter, Jane's Addiction, Red Hot Chili Peppers

"The Rockstar Remedy takes the message of health in body and mind and the principles of Functional Medicine to a new audience that may have never considered getting healthy."
— Mark Hyman, MD, Director, Cleveland Clinic Center for Functional Medicine, bestselling author of The Blood Sugar Solution

"Do the things that bring you joy while being mindful of your health and you can still party like a rock star…Francis's simple, no-nonsense plan gently guides readers toward healthy, nutrient-dense foods, fit-anyone's-schedule exercise options, and easy-to-incorporate damage control tips"
— Publishers Weekly

"So much for sex and drugs and rock 'n' roll. Francis instead touts herbs 'n' sleep 'n' acupuncture...even skeptics may get a kick out of the many inspirational quotes from born-again health nuts such as Steven Tyler of Aerosmith and Dave Navarro of Jane's Addiction."
— Booklist

"Dr. Francis taught me that living a rock & roll life didn't have to mean being unhealthy. The recommendations in this book have led to my feeling stronger onstage and more present, focused, and creative."
— Michael Franti, Guitarist, Singer, Songwriter, Michael Franti and Spearhead

"I am happy and healthy, and I hope the people who read this book will learn a little, and perhaps see that true happiness starts with taking care of the mind, body, and soul."
— Steve Lukather, Guitarist, Singer, Songwriter, Toto, Ringo Starr's All-Star Band

"Dr. Francis's book has dispelled the myth: sex, drugs, and rock & roll really have been replaced with mind, body, and spirit in the quest for the ultimate artistic experience. This book more appropriately pins the musician's life against that of a professional athlete in terms of diet, strength, and endurance."
— David Ellefson, Bassist, Megadeth

"Traveling around the world in close quarters with twelve other people for months at a time is hard enough when you're healthy, let alone feeling like crap. Dr. G's book will show you how it's done!"
— Scott Ian, Guitarist, Anthrax