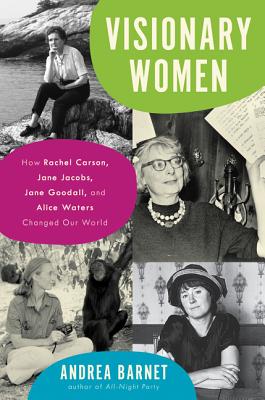 Visionary Women
How Rachel Carson, Jane Jacobs, Jane Goodall, and Alice Waters Changed Our World
Hardcover

* Individual store prices may vary.
Other Editions of This Title:
Digital Audiobook (3/12/2018)
Paperback (3/5/2019)
Compact Disc (3/13/2018)
MP3 CD (3/13/2018)
Compact Disc (3/13/2018)
Description
A Finalist for the PEN/Bograd Weld Prize for Biography
Four influential women we thought we knew well—Jane Jacobs, Rachel Carson, Jane Goodall, and Alice Waters—and how they spearheaded the modern progressive movement
This is the story of four visionaries who profoundly shaped the world we live in today. Together, these women—linked not by friendship or field, but by their choice to break with convention—showed what one person speaking truth to power can do. Jane Jacobs fought for livable cities and strong communities; Rachel Carson warned us about poisoning the environment; Jane Goodall demonstrated the indelible kinship between humans and animals; and Alice Waters urged us to reconsider what and how we eat. 

With a keen eye for historical detail, Andrea Barnet traces the arc of each woman's career and explores how their work collectively changed the course of history. While they hailed from different generations, Carson, Jacobs, Goodall, and Waters found their voices in the early sixties. At a time of enormous upheaval, all four stood as bulwarks against 1950s corporate culture and its war on nature. Consummate outsiders, each prevailed against powerful and mostly male adversaries while also anticipating the disaffections of the emerging counterculture.
All told, their efforts ignited a transformative progressive movement while offering people a new way to think about the world and a more positive way of living in it. 
Praise For Visionary Women: How Rachel Carson, Jane Jacobs, Jane Goodall, and Alice Waters Changed Our World…
"Vivid." — New Yorker
"A thorough examination of the life and work of four fascinating women . . . superb . . . Barnet has added greatly to our understanding of the way human beings with a vision can change society for the better by pursuing their dreams. — St. Louis Post-Dispatch
"Fascinating and deliciously detailed . . . Barnet [makes] clear that women's history is longer, richer, more important and more interlinked by time and culture than many may have realized." — Dallas News
"These four gave their moment—and ours—a unique and compelling way to perceive the interconnections within a society, as well as its relationship to its surroundings." — Bill McKibben, The Nation
"Wide-reaching and exciting . . . Barnet is smart, engaging, and highly-readable. With enthusiasm and eloquence . . . she tells the women's stories, while making her larger point that each was responsible for helping to change the world." — The Lakeville Journal
"A rich portrait . . . They didn't so much break the rules as create and follow their own, and Barnet seems to be doing the same in her deft, quilted treatment of these pivotal women in a pivotal time." — The Post and Courier
"With both resonant detail and purposeful distillation, Barnet tells their dramatic stories within the context of the counterculture of 50 years ago, charts the ongoing vitality and influence of their compassionate visions, and asks if we will yet accomplish what these four "accidental revolutionaries" call on us to do." — Booklist (starred review)
"Inspirational. Barnet has written the provocative tales of four women who became moral voices in the 1960s through a passion for truth and a perseverance that defied expectations. They questioned blind faith in technology and the conquest of nature to shape a sensibility that protected our values and our world." — Walter Isaacson, author of Leonardo da Vinci and Steve Jobs
"Fascinating, thoughtful, and surprising, Andrea Barnet's Visionary Women portrays the world we know through four extraordinary women who did so much to shape it." — Susan Orlean, author of The Orchid Thief
"What a perfect moment for this enlightening book. These quite different women each worked alone. But now that Andrea Barnet has masterfully woven together their stories -- four passionate outsiders transforming the world during the 1960s and 70s -- I'll always think of them as a team of superheroes." — Kurt Andersen, author of Fantasyland
"Fascinatingly original and enormously timely in this resurgent-feminist moment.  Barnet unearths the fact that Jacobs, Carson, Goodall, and Waters improved the way we experience our global home and our daily lives with scintillating clarity. After you read this thought-provoking book, you'll never think of 'major pioneers' as masculine again." — Sheila Weller, author of Girls Like Us and The News Sorority
"Barnet presents a fascinating cohort of four brilliant, impassioned women who singly and collectively transformed the way we view life on this planet. Sounding the alarm against the culture's assault on the natural world, each bravely advocated healing and unity. Here are life lessons for today." — Linda Lear, author of Rachel Carson: Witness for Nature
"Barnet interlinks these women and their achievements in a penetrating manner, revealing her subjects' philosophical connections and the impact their vision had on the culture of the 1960s and beyond.  Narrated with an urgent sense of mission, the four stories unfold like a novel. I couldn't stop reading this book." — Brooke Allen, author of Benazir Bhutto: Favored Daughter
"Each of Barnet's beautifully drawn portraits casts a light on the others, but what her shining prose illuminates most of all are the beliefs these women shared about the interconnectedness of the human community, animal species, natural world and built environment, convictions that have transformed the way we live now." — Akiko Busch, author of The Incidental Steward
"These four remarkable women pioneered practices that have collectively come to shape the world we live in. At a moment in history that will likely be remembered for the hard-won consequences of revelatory truths, Barnet's magnificent book is a stunning reminder that women are extraordinary—and character is everything." — Jessica Helfand, author of Design: The Invention of Desire
Ecco, 9780062310729, 528pp.
Publication Date: March 13, 2018
About the Author
Andrea Barnet is the author of All-Night Party: The Women of Bohemian Greenwich Village and Harlem, 1913–1930, a nonfiction finalist for the 2004 Lambda Literary Awards. She was a regular contributor to the New York Times Book Review for twenty-five years, and her journalism has appeared in Smithsonian, Self, Harper's Bazaar, and Elle, among other publications. She and her husband split their time between the Hudson Valley and New York City.
or
Not Currently Available for Direct Purchase