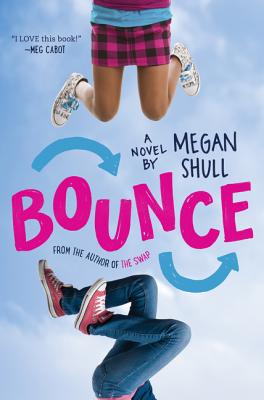 Bounce (Hardcover)
Katherine Tegen Books, 9780062311726, 384pp.
Publication Date: September 6, 2016
Other Editions of This Title:
Digital Audiobook (9/5/2016)
Paperback (3/6/2018)
Compact Disc (9/6/2016)
Compact Disc (9/6/2016)
* Individual store prices may vary.
Description
YouTube star Jojo Siwa to star in the upcoming movie adaptation! "Bounce is a heartwarming story about a teenage girl who wishes she could trade her family for a new one on Christmas Eve. Her wish is granted and she finds herself 'bouncing' into the lives of other girls and living Christmas Day on repeat—learning the value of family, finding your voice, and the power of love." (Variety)
A celebration of the power of love and connection, Megan Shull's extraordinary novel captures one girl's journey to find her voice, heal her heart, and discover the joy of bouncing back.
Seventh grader Frannie Hudson wonders what it would be like to trade in her family for a new one. Her big brother ignores her. Her mean older sister can't stand her. And her parents have just announced they're going on a last-minute vacation—without her.
When Frannie makes one desperate, crazy wish—BOOM!—she magically bounces into a whole new life, with a totally different family. And. It. Is. Amazing! There's only one catch: waking up as someone else keeps happening.
Plunged into lives and adventures she's only imagined—from being a pop star to meeting one super-cute boy—Frannie finds courage in the unforgettable friends and families she meets along the way. But as her new life spins out of control, Frannie begins to worry if she'll ever get back home.
With Bounce, the author of The Swap, which is now a Disney Channel Original Movie, delivers another hilarious, heartwarming, and empowering story about a girl who relives the same day over and over again—each time as someone new. Megan Shull's novel is perfect for fans of Wendy Mass, Holly Goldberg Sloan, and Meg Cabot.

About the Author
Megan Shull is the award-winning author of many books for kids, including The Swap, now a Disney Channel Original Movie. Megan holds a doctorate in educational psychology from Cornell University, where she also earned her undergraduate degree. Born and raised in Ithaca, New York, Megan lives and writes in her hometown—a small college town surrounded by waterfalls, quiet, rolling hills, and secret swimming holes.
Praise For Bounce…
"I LOVE this book! Bounce will make you laugh, then break your heart, then make you laugh some more. Megan Shull is the real deal."
— Meg Cabot, #1 New York Times bestselling author of The Princess Diaries series

"The ride is funny, magical, heart wrenching, and thoughtful. I ADORE this book!"
— Maureen Sherry, author of OPENING BELLE and WALLS WITHIN WALLS

"A beautiful story about the transformative power of our minds, our experiences, and our relationships. Along with Frannie, we discover that we do not have to be at the mercy of our emotions or circumstances. I adore this book!"
— Dr. Tina Payne Bryson, New York Times bestselling author coauthor of THE WHOLE-BRAIN CHILD and NO-DRAMA DISCIPLINE

"Inspirational without being overly didactic. Hand this empowering novel to readers that need a boost of self-confidence."
— School Library Journal

"A beautiful feat of swapped voices. Hilarious! Seriously, truly, fearlessly funny. And I don't want guys to miss it."
— Jon Scieszka, New York Times bestselling author and founder of Guys Read, on THE SWAP

"THE SWAP kept me turning pages way past my bedtime! Hilarious and yet surprisingly touching at the same time."
— Meg Cabot, #1 New York Times bestselling author of The Princess Diaries series, on THE SWAP

"The book is heartbreaking and hilarious—truly evocative of middle school experiences. A great, entertaining read that will appeal to boys and girls."
— School Library Journal, on THE SWAP

"THE SWAP is funny and smart and heartwarming. And when I say funny, I mean I put the book down and laughed. It's a fantastic story!"
— Natalie Lloyd, New York Times bestselling author of A SNICKER OF MAGIC, on THE SWAP

"Bawling because I just finished Megan Shull's THE SWAP. Bawled the whole way through. I LOVE IT SO MUCH!"
— Lauren Myracle, author of Wishing Day and the bestselling Winnie Years series, on THE SWAP

"Funny, honest, and touching, THE SWAP is the perfect book for tweens ready to learn what's going on inside the minds (and bodies) of the opposite gender. Jack and Ellie are such wonderful characters and those brothers—wow!"
— Frances O'Roark Dowell, New York Times bestselling author of Dovey Coe and The Secret Language of Girls, on THE SWAP

"Readers curious about how the other half lives will thrill at this view from the far side of the fence."
— Kirkus Reviews, on THE SWAP

"Fast and fun. The premise will leave readers with plenty to think about."
— Publishers Weekly, on THE SWAP