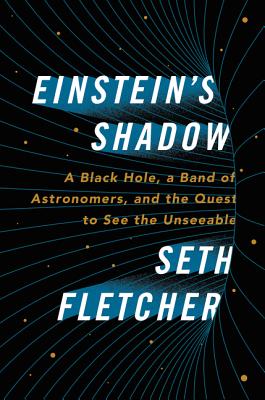 Einstein's Shadow
A Black Hole, a Band of Astronomers, and the Quest to See the Unseeable
Hardcover

* Individual store prices may vary.
Other Editions of This Title:
Digital Audiobook (10/8/2018)
Paperback (10/8/2019)
Compact Disc (10/9/2018)
MP3 CD (10/9/2018)
Compact Disc (10/9/2018)
Description
A NEW YORK TIMES EDITOR'S CHOICE
Einstein's Shadow follows a team of elite scientists on their historic mission to take the first picture of a black hole, putting Einstein's theory of relativity to its ultimate test and helping to answer our deepest questions about space, time, the origins of the universe, and the nature of reality
Photographing a black hole sounds impossible, a contradiction in terms. But Shep Doeleman and a global coalition of scientists are on the cusp of doing just that. 
With exclusive access to the team, journalist Seth Fletcher spent five years following Shep and an extraordinary cast of characters as they assembled the Event Horizon Telescope, a virtual radio observatory the size of the Earth. He witnessed their struggles, setbacks, and breakthroughs, and along the way, he explored the latest thinking on the most profound questions about black holes. Do they represent a limit to our ability to understand reality? Or will they reveal the clues that lead to the long-sought Theory of Everything?
Fletcher transforms astrophysics into something exciting, accessible, and immediate, taking us on an incredible adventure to better understand the complexity of our galaxy, the boundaries of human perception and knowledge, and how the messy human endeavor of science really works.
Weaving a compelling narrative account of human ingenuity with excursions into cutting-edge science, Einstein's Shadow is a tale of great minds on a mission to change the way we understand our universe—and our place in it.  
Praise For Einstein's Shadow: A Black Hole, a Band of Astronomers, and the Quest to See the Unseeable…
"[Fletcher] has knack for deft, accurate explanations that are quick to read and easy to understand, with memorably vivid language. His excellent prose and a powerful story fuel this shining quasar of a book." — New York Times Book Review
"A compelling behind-the-scenes story of scientists struggling as much with funding and competition as with the challenges of seeing Sagittarius A*. . . . Address[es] the seeming absurdities of [the] subject with authority and wit." — Nature
"Ambitious and richly detailed . . . a refreshingly fast-paced account of this extraordinary scientific enterprise." — Science
"In the paradoxical nihilism of black holes, we might discover the biggest, grandest truths about the universe." — Wired
"With stakes this high and writing this lucid, readers will be drawn into the narrative as easily as matter being drawn toward the event horizon itself... This is scientific storytelling at its best." — Kirkus Reviews (starred review)
"Engaging . . . captivating and informative." — Booklist
"Fletcher manages to humanize a complicated scientific project while providing readers with a comprehensive guide to the cosmos." — Library Journal
"A thoughtful and riveting ethnography of an ambitious project to map the sacred boundary of our local black hole, at the heart of the Milky Way, drawing attention to the psychological drives that inspire us scientists to quest for the exciting discoveries that await..." — Priyamvada Natarajan, Astrophysicist, Yale University, author of Mapping the Heavens: The Radical Scientific Ideas That Reveal the Cosmos
"Mind-bending and suspenseful, Einstein's Shadow tells a story about the immense black holes that pierce galaxies, and the humans trying to take their picture. Fletcher is there with them every step of the way, capturing the thrill of a wild and beautiful quest." — Jason Fagone, author of The Woman Who Smashed Codes: A True Story of Love, Spies, and the Unlikely Heroine Who Outwitted America's Enemies
"Fletcher has crafted an extraordinary narrative, explaining the most mind-bending physics with impressive clarity and vividly bringing to life a mostly unsung band of characters who are turning the crazy-sounding idea of taking a picture of a black hole into a reality." — Michael D. Lemonick, author of The Perpetual Now and Mirror Earth
Ecco, 9780062312020, 288pp.
Publication Date: October 9, 2018
About the Author
Seth Fletcher is chief features editor at Scientific American and author of Bottled Lightning: Superbatteries, Electric Cars, and the New Lithium Economy. He lives in New York's lower Hudson Valley with his wife and daughter.
or
Not Currently Available for Direct Purchase