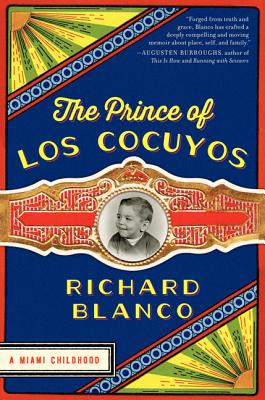 The Prince of los Cocuyos
A Miami Childhood
Hardcover

* Individual store prices may vary.
Other Editions of This Title:
Paperback (6/23/2015)
Description
A poignant, hilarious, and inspiring memoir from the first Latino and openly gay inaugural poet, which explores his coming-of-age as the child of Cuban immigrants and his attempts to understand his place in America while grappling with his burgeoning artistic and sexual identities.
Richard Blanco's childhood and adolescence were experienced between two imaginary worlds: his parents' nostalgic world of 1950s Cuba and his imagined America, the country he saw on reruns of The Brady Bunch and Leave it to Beaver—an "exotic" life he yearned for as much as he yearned to see "la patria."
Navigating these worlds eventually led Blanco to question his cultural identity through words; in turn, his vision as a writer—as an artist—prompted the courage to accept himself as a gay man. In this moving, contemplative memoir, the 2013 inaugural poet traces his poignant, often hilarious, and quintessentially American coming-of-age and the people who influenced him.
A prismatic and lyrical narrative rich with the colors, sounds, smells, and textures of Miami, Richard Blanco's personal narrative is a resonant account of how he discovered his authentic self and ultimately, a deeper understanding of what it means to be American. His is a singular yet universal story that beautifully illuminates the experience of "becoming;" how we are shaped by experiences, memories, and our complex stories: the humor, love, yearning, and tenderness that define a life. 
Praise For The Prince of los Cocuyos: A Miami Childhood…
"In this vibrant memoir, Obama-inaugural poet Richard Blanco tenderly, exhilaratingly chronicles his Miami childhood amid a colorful, if suffocating, family of Cuban exiles, as well as his quest to find his artistic voice and the courage to accept himself as a gay man." — O, The Oprah Magazine
"Richard Blanco takes us on a thought-provoking, often hilarious ride in ... his coming-of-age memoir. The Cuban and Spanish intellectual, who was the first Latino, openly gay man and immigrant to be commissioned a presidential inaugural poet, illustrates the story of his childhood in the 1970s." — Latina Magazine
"The Prince of Los Cocuyos had me laughing time and again with its warm, sweetly self-deprecating portrait of an immigrant family attempting to straddle Cuban traditions and American trends." — Andrew Solomon, author of Far From the Tree
"Thank you, Richard, for this. The Prince of los Cocuyos is revelation and homecoming." — Sandra Cisneros, author of The House on Mango Street
"I adored every minute spent with young 'Riqui' and his endearing extended family. And at the end-an ending so beautiful and throat-catching-I felt wonderfully drenched in love." — Monica Wood, author of When We Were the Kennedys
"[The Prince of los Cocuyos] includes portraits and scenes, intimately and lovingly rendered… Having honored our nation as a whole in verse, he honors it again, but this time as witness to the life and fortune of one exceptionally American family." — Los Angeles Review of Books
"... the anecdotes Blanco shares – such as trying to convince his grandmother to go shopping at the Winn-Dixie supermarket she so feared – are muy cubano and will give readers a sense of Cuban family spirit.: — TheGuardian.com
"In Richard Blanco's Miami, memories linger outside coffee windows and in Cuban grocery store aisles… In a series of loosely intertwined stories, Blanco describes a childhood marked by loss, humor and hints of an exotic land called America." — Associated Press
"A warm, emotionally intimate memoir." — Kirkus Reviews
"Blanco has a natural, unforced style that allows his characters' vibrancy and humor to shine through." — Publishers Weekly (Starred Review)
"A work that is incredibly poignant at one moment, yet hysterically funny with the turn of the page." — Huffington Post
"Filled with colorful characters, often poignant and sometimes melancholy, Blanco's episodic memoir is a meditation on belonging, on self-acceptance, and on his family's almost mystical connection to Cuba." — Booklist
"Blanco's touching reminiscence has a deep emotional truth. . . . [An] alternately hilarious and moving new memoir." — Bookpage
"... this memoir is an exceptional introduction to the writer and his capabilities. The Prince of los Cocuyos embodies the best of his poetic style, in particular his eye for detail and ability to put the reader right in the place where he is." — Orlando Weekly
"[A] sensual new memoir… Blanco's ear for poetry comes to light in the memoir's full-bodied language and knack for description… [evoking] the flavors, fabrics and smells of rundown South Beach hotels, all-night pig roasts, disco-era Quinces debuts." — Atlanta Journal-Constitution
"Forged from truth and grace, Blanco has crafted a deeply compelling and moving memoir about place, self and family." — Augusten Burroughs, author of This Is How and Running With Scissors
"The Prince of Los Cocuyos is equal parts touching, heart-ache-inducing, and laugh-out-loud funny." — The Daily Beast
"Funny and poignant, Richard Blanco's The Prince of Los Cocuyos follows the author and his Cuban-American family in Miami. The details of this very American, yet immigrant experience make all the difference." — Los Angeles Campus Circle
"Like many a great bildungsroman, The Prince of Los Cocuyos ... portrays a character who feels torn between several different worlds. . . . His search for identity, belonging, and home is one that any reader, regardless of sexual orientation or ancestry, is one that anyone can identify with." — The Advocate
"His eloquent and poetic writing has the ability to induce laughter, tears, and anger, sometimes on the same page… Highly recommended, Richard Blanco's coming-of-age story is told with humor and humility and is a pleasure to read." — Edge Media Network
Ecco, 9780062313768, 272pp.
Publication Date: September 30, 2014
About the Author
An accomplished author, engineer, and educator, Richard blanco has published several volumes of acclaimed poetry. He is a Woodrow Wilson Visiting Fellow, a recipient of several honorary doctorates, and a dynamic speaker supporting diversity, marriage equality, immigration, poetry in education, cultural exchange, and other important issues of our day. Currently, he shares his time between Boston and Bethel, Maine.
Coverage from NPR
or
Not Currently Available for Direct Purchase