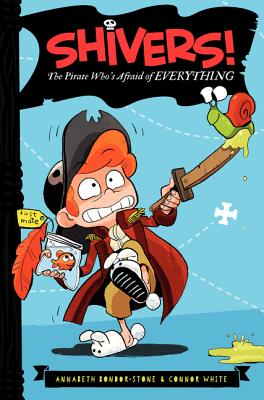 The Pirate Who's Afraid of Everything (Shivers! #1) (Hardcover)
HarperCollins, 9780062313874, 192pp.
Publication Date: February 24, 2015
* Individual store prices may vary.
Description
Recommended for summer reading by The Huffington Post!
"When Shivers sets sail, adventure—and laughs—abound."—Tom Watson, author of the Stick Dog series
Meet Shivers, the scaredy-est pirate to ever sail the Seven Seas. Along with his best friend, Margo, and his loyal fishmate, Albee, Shivers battles a giant squid, discovers hidden treasures, and gets pooped on by a pigeon to save his parents from the clutches of evil. You'll laugh, you'll cry, you'll never eat snails again. So put on your pantaloons, batten down the hatches, and join Shivers on his first (but still very dangerous) adventure.
Comic book–like illustrations in each chapter bring Shivers to life and invite even the most reluctant readers to join the adventure.
About the Author
Annabeth Bondor-Stone is the coauthor of Time Tracers and the Shivers the Pirate series. She is a producer for the Story Pirates and a mentor with WriteGirl, an organization that empowers teen girls through creative writing. Her plays have been produced in Chicago, Los Angeles, and Louisville.
Connor White is the coauthor of Time Tracers and the Shivers the Pirate series. When he is not writing books, Connor is a director and producer for the Story Pirates, an arts organization that teaches kids creative writing, then turns their stories into a sketch comedy show.