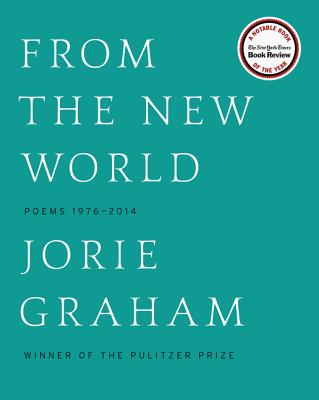 From the New World (Hardcover)
Poems 1976-2014
Ecco, 9780062315403, 384pp.
Publication Date: February 17, 2015
Other Editions of This Title:
Paperback (2/16/2016)
* Individual store prices may vary.
Description
Los Angeles Times Book Prize for Poetry
An indispensable volume of poems, selected from almost four decades of work, that tracks the evolution of one of our most renowned contemporary poets, Pulitzer Prize-winner Jorie Graham.
The Poetry Foundation has named Jorie Graham "one of the most celebrated poets of the American post-war generation." In 1996, her volume of poetry selected from her first five books, Dream of a Unified Field, won the Pulitzer Prize. Now, twenty years later, Graham returns with a new selection, this time from eleven volumes, including previously unpublished work, which, in its breathtaking overview, illuminates of the development of her remarkable poetry thus far.
In From the New World—Poems 1976-2014, we can witness the unfolding of Graham's signature ethical and eco-political concerns, as well as her deft exploration of mythology, history, love and, increasingly, love of the world in a time of crisis. As the work evolves, the depth of compassion grows—gradually transforming, widening and expanding her extraordinary formal resources and her inimitable style.
These pages present a brilliant portrait one of the major voices of American contemporary poetry. As critic Calvin Bedient says, "If Graham has proved oversized as a poet in the field of contemporary poetry, it is because she continually recalls the great Western tradition of philosophical and religious inquiry . . . tenaciously thinking and feeling her way through layer after layer of perception, like no poet before her."
About the Author
Jorie Graham is the author of twelve collections of poetry, including The Dream of the Unified Field, which won the Pulitzer Prize. She lives in Cambridge, Massachusetts, where she teaches at Harvard University. The recipient of numerous awards, including the Pulitzer, the Forward Prize and the International Nonino Prize, Graham's work is widely translated.
Praise For From the New World: Poems 1976-2014…
"Ms. Graham is a central figure in the last four decades of American poetry. Her poems, with their long verse lines and Emily Dickinson-like dashes, are as instantly recognizable as Joni Mitchell's voice on a turntable."
— New York Times, Dwight Garner

"Like the greatest filmmakers, Graham is miraculously gifted at tracing those inexplicable moments that carry a thing — a crow, the sun, a snowflake — from stillness to motion, from wholeness to disintegration and back again."
— Flavorwire

"I know of no living poet whose work so aligns with their reason for writing; I know of no living poet with a better reason for writing poetry."
— Flavorwire

"From the New World is an indispensable addition to any literary library, a tour de force selection of Jorie Graham's critically important poems to date."
— New York Journal of Books

"A well-curated representation…a long view of the aesthetic development and ethical awakening of one of America's most important and critically lauded poets…The scale of thought and perception…is a testament to Graham's work and her willingness to push herself into new territory with each new book."
— Publishers Weekly (starred and boxed review)

"Graham is to post-1980 poetry what Bob Dylan is to post-1960 rock: She changed her art form, moved it forward, made it able to absorb and express more than it could before. It permanently bears her mark."
— New York Times Book Review

"Graham is one of our great poets. Her words will long outlast all this chatter."
— New York Times Book Review

"One of our most important purveyors of the form traces her artistic evolution in this collected work, demonstrating herself to be an eloquent observer of nature and guardian of myth."
— O, the Oprah Magazine

"Graham is a wizard at representing spatial environments, no easy task in a verbal art that largely avoids narrative. . . . There are four new poems here, among the finest that Graham has written."
— The New Yorker

"Graham's poetry over the decades hasn't followed a single line of inquiry; rather, like a universe unto itself, it has expanded, broadened, and deepened its questioning, as though total inclusion were the only way to attempt to apprehend the unfathomable."
— Boston Globe

"In 1995, Graham won the Pulitzer Prize for her first book of selected poetry... her latest effort exceeds that one. . . . These poems detach us from comfortable moorings, leaving us pleasantly adrift. Here is exceptional proof that contemporary poetry retains access to the sublime."
— Richmond Times-Dispatch

"I firmly believe that Graham's is the best poetry written in English in the last 40 years. The achievement of her verse is not only to make something happen: Graham's poetry is something happening."
— Los Angeles Review of Books

We will always need to read Jorie Graham, and to read her closely, if we want to understand the last 40 years of poetry in America (as well as abroad, where her reputation is only growing)…From the New World is now the place to start.
— Los Angeles Review of Books

"Legions of poets have been influenced by Pulitzer Prize-winner Graham over the course of her four-decade career... [These poems] display a continued willingness to experiment and push her art in new directions.
— Publishers Weekly