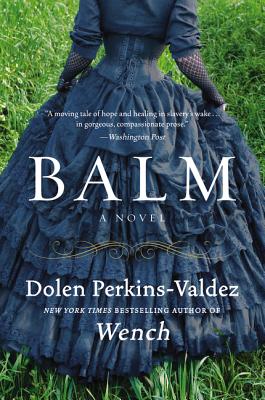 Balm
A Novel
Paperback

* Individual store prices may vary.
Other Editions of This Title:
Digital Audiobook (5/25/2015)
Compact Disc (5/26/2015)
Compact Disc (5/26/2015)
Hardcover (5/26/2015)
Description
The New York Times bestselling author of Wench returns to the Civil War era to explore the next chapter of history—the trauma of the War and the end of slavery—in this powerful story of love and healing about three people who struggle to overcome the pain of the past and define their own future.
The Civil War has ended, and Madge, Sadie, and Hemp have each come to Chicago in search of a new life.
Born with magical hands, Madge has the power to discern others' suffering, but she cannot heal her own damaged heart. To mend herself and help those in need, she must return to Tennessee to face the women healers who rejected her as a child.
Sadie can commune with the dead, but until she makes peace with her father, she, too, cannot fully engage her gift.
Searching for his missing family, Hemp arrives in this northern city that shimmers with possibility. But redemption cannot be possible until he is reunited with those taken from him.
In the bitter aftermath of a terrible, bloody war, as a divided nation tries to come together once again, Madge, Sadie, and Hemp will be caught up in a desperate, unexpected battle for survival in a community desperate to lay the pain of the past to rest.
Beautiful in its historical atmosphere and emotional depth, Balm is a stirring novel of love, loss, hope, and reconciliation set during one of the most critical periods in American history.
Praise For Balm: A Novel…
"Moving…In gorgeous, compassionate prose, Perkins-Valdez continues our national conversation about people working together to heal our communities."
— Washington Post

"A powerful novel inspired by our nation's past…a tale of individual loves, longings, and losses bound together by the healing balm of hope. Perkins-Valdez truly captures the American spirit."
— New York Journal of Books

"Elegantly crafted …captures the fierce energy, diversity, and suffering of Civil War-era Chicago…Perkins-Valdez moves gracefully among her three protagonists' viewpoints as they struggle to claim their authentic gifts and free themselves of the pain of their pasts. Her spare, lyrical voice is unsentimental yet compassionate."
— Publishers Weekly

"A deeply moving, beautifully written novel told from the heart."
— USA Today

"From the first page, I fell under the spell of the magical BALM. Powerful characters and exquisite prose bring to life a tumultuous period of American history that still demands our attention…With emotional depth and evocative detail, Dolen Perkins-Valdez has written a beautiful novel I will not soon forget."
— Tara Conklin, New York Times bestselling author of HOUSE GIRL

"Full of love and loss, meaning and mystery, BALM draws you into a world in tumultuous transition. Hold on tight as Dolen Perkins-Valdez weaves a story you have not heard before; one which you will find impossible to forget. "
— Pearl Cleage, author of THINGS I SHOULD HAVE TOLD MY DAUGHTER: LIES, LESSONS AND LOVE AFFAIRS

"In BALM, Dolen Perkins-Valdez effectively reveals the emotional injury suffered by everyone following the Civil War. All of the characters came alive and I cared for them deeply. That, to me, is the best kind of book."
— Kathleen Grissom, author of THE KITCHEN HOUSE

"Dolen Perkins-Valdez is an ambitious writer who looks to the past with a calm gaze and a sympathetic heart. In her new novel BALM, as in her startling debut novel WENCH, the complexity of her characters and visual power of her prose make for riveting reading."
— Valerie Martin, author of THE GHOST OF THE MARY CELESTE

"Gorgeously written…the perfect post-Charleston novel."
— Washington Post

"Fiercely creative and exquisitely rendered...In sweeping prose, Perkins-Valdez transports you to Chicago after the Civil War, with Madge, a freeborn black woman, Sadie, a young white woman, and Hemp, a freedman looking for his wife. Their journeys of love, loss and reconciliation become your journeys. A must read."
— Lalita Tademy, New York Times bestselling author of CANE RIVER and RED RIVER
Amistad, 9780062318664, 304pp.
Publication Date: February 2, 2016
About the Author
Dolen Perkins-Valdez is the author of the New York Times bestselling novel Wench. In 2011 she was a finalist for two NAACP Image Awards and the Hurston-Wright Legacy Award for fiction. She was also awarded the First Novelist Award by the Black Caucus of the American Library Association. She lives in Washington, D.C. @Dolen / dolenperkinsvaldez.com