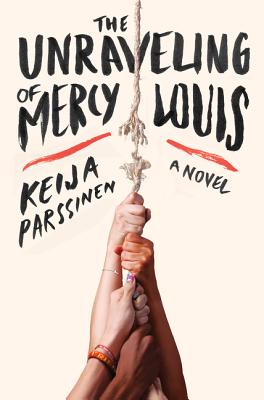 The Unraveling of Mercy Louis
A Novel
Hardcover

* Individual store prices may vary.
Other Editions of This Title:
Paperback (1/26/2016)
Description
Winner of a 2016 Alex Award 
Named a Best Book of 2015 by the Kansas City Star
In this intricate novel of psychological suspense, a fatal discovery near the high school ignites a witch-hunt in a Southeast Texas refinery town, unearthing communal and family secrets that threaten the lives of the town's girls.
In Port Sabine, the air is thick with oil, superstition reigns, and dreams hang on making a winning play. All eyes are on Mercy Louis, the star of the championship girls' basketball team. Mercy seems destined for greatness, but the road out of town is riddled with obstacles. There is her grandmother, Evelia, a strict evangelical who has visions of an imminent Rapture and sees herself as the keeper of Mercy's virtue. There are the cryptic letters from Charmaine, the mother who abandoned Mercy at birth. And then there's Travis, the boy who shakes the foundation of her faith.
At the periphery of Mercy's world floats team manager Illa Stark, a lonely wallflower whose days are spent caring for a depressed mother crippled in a refinery accident. Like the rest of the town, Illa is spellbound by Mercy's beauty and talent, but a note discovered in Mercy's gym locker reveals that her life may not be as perfect as it appears.
The last day of school brings the disturbing discovery, and as summer unfolds and the police investigate, every girl becomes a suspect. When Mercy collapses on the opening night of the season, Evelia prophesies that she is only the first to fall, and soon, other girls are afflicted by the mysterious condition, sending the town into a tailspin, and bringing Illa and Mercy together in an unexpected way.
Evocative and unsettling, The Unraveling of Mercy Louis charts the downfall of one town's golden girl while exploring the brutality and anxieties of girlhood in America.
Praise For The Unraveling of Mercy Louis: A Novel…
"An impeccably rendered depiction of the strains of adolescence. . . . Broadly relevant to our present cultural moment . . . This is a beautifully written, humane, and extremely compelling book."
— Emily St. John Mandel, Book of the Month pick

"Rapturous. . . . Like a deft Texas two-step, Parssinen's work swings through local terror and youthful awakening."
— Time Out New York

"Blend H.G. Bissinger's "Friday Night Lights" and Arthur Miller's "The Crucible" with Laura Moriarty's "The Center of Everything" and you would have the flavor of this atmospheric book."
— Kansas City Star

"The finest Salem-inspired novel since Esther Forbes' 1928 A Mirror for Witches. . . . Parssinen keeps her plot tight (and increasingly unsettling, even creepy), she never lets her characters become mere chess pieces, and she is near perfect in portraying her swampy southeast Texas setting."
— Dallas Morning News

"Beautiful and awful, enraging and sad, atmospheric and page-turning: an accomplished novel."
— Kirkus Reviews (starred review)

"I devoured The Unraveling of Mercy Louis. It is everything I hope for in a book: beautifully written, loaded with suspense, and filled with characters I cared deeply about. A great novel that I will be recommending to everyone."
— Kathleen Grissom, New York Times Bestselling author of The Kitchen House

"Urgent, deliciously dark and sumptuously gothic. . . . Like the girls on Mercy's basketball team, who 'balance so perfectly between control and chaos,' Parssinen has an intuitive grasp of language's vital rhythms."
— New York Times Book Review

"Beautifully written and skillfully crafted, The Unraveling of Mercy Louis is a compelling tale of longing and loss that evocatively examines the harsh realities of female adolescence."
— Kimberly McCreight, New York Times bestselling author of Reconstructing Amelia

"Past crimes run a dark thread through this coming-of-age fable that calls to mind Laura Lippman's stand-alone novels and even The Scarlet Letter. Parssinen excels here at capturing the dueling emotions that rule teenage girls' relationships, and the dire consequences of societal pressures."
— Booklist

"The Unraveling of Mercy Louis is the story of a Texas town that fears everything its girls offer. A deft and thoughtful novel of feints and dodges about a community brought to its knees by prejudice, disappointments, and a past that can't be changed."
— Miranda Beverly-Whittemore, New York Times bestselling author of Bittersweet

"A mysterious murder sends a quiet town--and a quiet girl--into turmoil."
— Cosmopolitan

"Parssinen is an incredible writer and storyteller. . . . She transports you to teenaged life in small town Texas, and presents the evangelical and psychic/psychological with nuance and thoughtfulness. . . . Keija's storytelling grips, while dangling you beyond the precipice of comfort."
— Ann Imig, Founder & Editor, Listen to Your Mother

"The language is lyrical and the story beyond gripping. . . . This is a book you can truly get lost in, and trust me, you will not want to be found."
— Hello Giggles

"A page-turning oracle of a novel and a chilling reminder of the consequences rendered when young women are exalted as pillars of perfection and demonized for daring to be human."
— Ploughshares

"An intricate and suspenseful literary novel that makes you want to slow down to appreciate Parssinen's rich prose. . . . A compelling, thought-provoking story."
— Bustle

"A propulsive, soulful novel about heat of all kinds: the sultry oppressiveness of a bayou summer, the searing power of first love and of religious fervor, the sweaty euphoria of sports, the unpredictable crackle of adolescence. Parssinen's storytelling grabs, her characters haunt."
— Maggie Shipstead, author of Astonish Me and Seating Arrangements

"A powerful and profoundly haunting novel--as explosive as a thriller, as wise as a myth, and as chilling as the news. . . Parssinen illuminates the dark heart of a modern hysteria and the complicated humanity of the people caught in its grip."
— Jennifer duBois, author of Cartwheel and A Partial History of Lost Causes

"This is the best work of fiction inspired by the Salem witch trials in decades."
— The Week

"Keija Parssinen's novel is a pitch perfect look at where we so often go wrong in raising our girls, using religion as a weapon against female desire. With echoes of Megan Abbott and Stephen King, The Unraveling of Mercy Louis is bravely unsettling."
— Attica Locke, author of Pleasantville and Black Water Rising

"A lovely, thoughtful, disquieting story of the effects of small-town pressures on a remarkable young woman."
— Shelf Awareness

"The solid pacing and strong characters provide a captivating read with the same tension and pleasures of being caught up in a well-matched and high-energy basketball game."
— Library Journal

"Sumptuous and thoughtful."
— Missouri Life

"A suspenseful novel about a Texas town's golden girl and the mysterious condition that takes her down."
— popsugar.com

"This small oil refinery town is the perfect setting for Keija Parssinen's winning Southern gothic novel about high school basketball star Mercy Louis. . . . This book may keep you up at night, but it's worth it."
— Bookish

"Parssinen weaves romance, mystery and fantasy with contemporary issues. Mercy's story depicts what happens when girls are expected to be perfect and end up being human."
— Vox Magazine

"Parssinen's work is a cry from the heart against the merciless manner in which young women are raised in ultra-conservative communities."
— Iron Mountain Daily News

"A powerful novel that beautifully demonstrates how we grow and change. . . . Parssinen is an author to keep in our sights."
— Cedar Rapids Gazette

"A thrilling mystery that combines the power of Stephen King's CARRIE with those same accusatory girls from the Salem Witch trials . . . A rich and compelling novel."
— TeenReads.com

"Vivid imagery…mysteries swirl about the town…Like the best-seller Gone Girl by Gillian Flynn, the ending is not neatly wrapped up with all questions answered. That's life. There is always uncertainty. Unlike Flynn, Parssinen offers hope that better days lie ahead."
— Tulsa World

"Parssinen has created fully realized teen characters in a small, religious Southern town straight out of a Carson McCullers short story."
— School Library Journal
Harper, 9780062319098, 336pp.
Publication Date: March 10, 2015
About the Author
Keija Parssinen is the author of The Ruins of Us, which won a Michener-Copernicus Award. Raised in Saudi Arabia and Texas, she is a graduate of Princeton University and the Iowa Writers' Workshop, where she was a Truman Capote Fellow. Parssinen is an assistant professor of English at Kenyon College, where she teaches fiction writing.
or
Not Currently Available for Direct Purchase