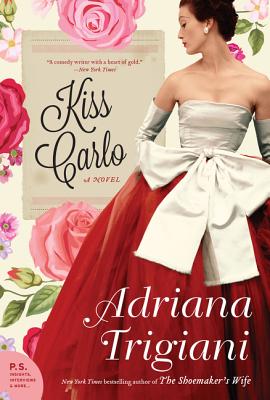 Kiss Carlo (Paperback)
A Novel
Harper Paperbacks, 9780062319234, 560pp.
Publication Date: January 16, 2018
Other Editions of This Title:
Digital Audiobook (6/19/2017)
Hardcover (6/20/2017)
Paperback, Large Print (6/27/2017)
Compact Disc (6/20/2017)
Pre-Recorded Audio Player (8/20/2017)
* Individual store prices may vary.
Description
From Adriana Trigiani, the beloved New York Times-bestselling author of The Shoemaker's Wife, comes an exhilarating epic novel of love, loyalty, and creativity—the story of an Italian-American family on the cusp of change.
It's 1949 and South Philadelphia bursts with opportunity during the post-war boom. The Palazzini Cab Company & Western Union Telegraph Office, owned and operated by Dominic Palazzini and his three sons, is flourishing: business is good, they're surrounded by sympathetic wives and daughters-in-law, with grandchildren on the way. But a decades-long feud that split Dominic and his brother Mike and their once-close families sets the stage for a re-match. 
Amidst the hoopla, the arrival of an urgent telegram from Italy upends the life of Nicky Castone (Dominic and his wife's orphaned nephew) who lives and works with his Uncle Dom and his family. Nicky decides, at 30, that he wants more—more than just a job driving Car #4 and more than his longtime fiancée Peachy DePino, a bookkeeper, can offer. When he admits to his fiancée that he's been secretly moonlighting at the local Shakespeare theater company, Nicky finds himself drawn to the stage, its colorful players and to the determined Calla Borelli, who inherited the enterprise from her father, Nicky must choose between the conventional life his family expects of him or chart a new course and risk losing everything he cherishes.
From the dreamy mountaintop village of Roseto Valfortore in Italy, to the vibrant streets of South Philly, to the close-knit enclave of Roseto, Pennsylvania, to New York City during the birth of the golden age of television, Kiss Carlo is a powerful, inter-generational story that celebrates the ties that bind, while staying true to oneself when all hope seems lost.
Told against the backdrop of some of Shakespeare's greatest comedies, this novel brims with romance as long buried secrets are revealed, mistaken identities are unmasked, scores are settled, broken hearts are mended and true love reigns. Trigiani's consummate storytelling skill and her trademark wit, along with a dazzling cast of characters will enthrall readers. Once again, the author has returned to her own family garden to create an unforgettable feast. Kiss Carlo is a jubilee, resplendent with hope, love, and the abiding power of la famiglia.
About the Author
Adriana Trigiani is the bestselling author of seventeen books, which have been published in thirty-six countries around the world. She is a playwright, television writer/producer, and filmmaker. She wrote and directed the film version of her novel Big Stone Gap, which was shot entirely on location in her Virginia hometown. She is cofounder of the Origin Project, an in-school writing program that serves more than one thousand students in Appalachia. She lives in Greenwich Village with her family.
Praise For Kiss Carlo: A Novel…
Praise for
Kiss Carlo
: "For Adri-addicts and newcomers alike,
Kiss Carlo
is a delightfully retro read from novelist Adriana Trigiani, best-selling author of
The Shoemaker's Wife.
Carlo
is a sprawling story that stretches from Italy to Philadelphia and New York to interweave the lives of hard-working Italian families making a living in the years after World War II. . . . Nicky and Calla's chemistry is crackling; they don't talk so much as banter. The path they must travel to each other's side is winding but rewarding, mostly because of the characters they meet along the way. . . . At a time when crass seems to trump class in popular culture,
Kiss Carlo
may be just what we need, a warmhearted romp that's a welcome escape from novels about girls who are gone/on a train/tattooed.
Kiss Carlo
is set in a world where people don't eat pasta, they eat macaroni, and the secret isn't in the sauce but in the gravy. Now that's Italian—and an incredibly satisfying dish to dig into. Three and a half out of four stars."
—
USA Today
Trigiani's boisterous, maddening, devoted Italian clan will have you wishing they'd adopt you too."
—
People
"If you are looking for a page turner this summer, pick up Adriana Trigiani's
Kiss Carlo
. . . I look forward to every new book by Adriana Trigiani. She is not only delightful in person, but her books are a joy to read. That includes her latest novel
Kiss Carlo
, this month's book buyer pick. . .The sweeping multigenerational story effortlessly transports readers from Italy to the streets of South Philly to New York City, while the characters explore the ties that bind, tradition, wanting more from life, Shakespeare and much more. As they examine what they want for themselves, they also celebrate love, hope and family. . . Best of all? Trigiani tells this story with her trademark wit and joie de vivre."
—
The Costco Connection
"Using motifs and themes from the Bard,
Kiss Carlo
is an epic novel about family, secrets, and pursuing your dreams."
—
Popsugar
"Accompanying Nicky on his journey of self-discovery is worth the trip."
—
Richmond Times-Dispatch
"An important story that goes beyond the meaning of family to the deeper question of what it means to have a life well-lived."
—
The Mountain Times
 "A world of warm, lively characters whose charming idiosyncrasies lead them to collide and ricochet along the way to love.... A delightfully sprawling comedy full of extended families."
— Kirkus Reviews
Praise for Adriana Trigiani: "A comedy writer with a heart of gold"
—
New York Times
"Delightful, energetic.... Trigiani is a seemingly effortless storyteller."
—
Boston Globe
"Seamlessly superb storytelling.... Trigiani never loses hold of the hearts of her characters of the wisdom that tragedy and redemption are also part of life."
—
St. Louis Post-Dispatch
"If you're meeting her work for the first time, get ready for a lifelong love affair."
— Kathryn Stockett, author of
The Help
"Trigiani is a master of palpable and visual detail."
—
Washington Post