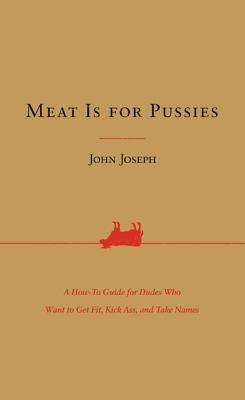 Meat Is for Pussies (Hardcover)
A How-To Guide for Dudes Who Want to Get Fit, Kick Ass, and Take Names
Harper Wave, 9780062320322, 320pp.
Publication Date: July 8, 2014
* Individual store prices may vary.
Description
John Joseph wants men to know, in no uncertain terms, that they don't need to eat steak, burgers, wings, ribs, or any other animal product, for that matter, to be strong—in fact, he would argue, eating animals is for the weak. Because when your protein sources come from animals, you're missing out on all of the nutritional benefits of a plant-based diet—a diet that can make you more fit, more sexy, and more manly. ??
In Meat is for Pussies, Joseph presents a throw-down of information, offering both personal and scientific evidence that a plant-based diet offers the best path to athleticism, endurance, strength, and overall health. In addition to handily dispelling the myths surrounding meat, Joseph offers workout advice, a meal plan, and recipes that make going plant-based easy. Flavor and vitamin-packed options like the Working Man Stew and Veggie Chili with Cornbread will keep men's (and women's) bodies healthy and energized, while workouts that emphasize cardio and strength training build endurance and stamina and prove that you don't need meat to build muscle.??
Joseph also offers living proof that living a plant-based lifestyle is badass, from super-athlete Brendan Brazier to MMA champion Jake Shields to Joseph himself, who is an Ironman Triathlete and still rocking out (at the age of fifty-two) on world tours as the frontman for his legendary band the Cro-Mags. Joseph's passion for educating the world about the benefits of a plant-based diet comes through on each page, in a voice and a vocabulary that is uniquely his own. At the end of the day, he wants readers to live a long, healthy, happy life . . . and he won't take no for an answer. 
About the Author
John Joseph is the front man for the legendary punk band the Cro-Mags and the author of the self-published memoir The Evolution of a Cro-Magnon. He is an Ironman triathlete and has been strictly plant-based for thirty-three years and counting. He lives in New York City.
Praise For Meat Is for Pussies: A How-To Guide for Dudes Who Want to Get Fit, Kick Ass, and Take Names…
"John Joseph has more energy than a Tasmanian Devil, is more charismatic than Regis, and has led more lives than an alley cat."
— Rip Esselstyn, New York Times bestselling author of The Engine 2 Diet, triathlete and firefighter

"In language that cannot be misunderstood, John has written the quintessential pussy-transformation guide."
— Brendan Brazier, author of Thrive: The Vegan Nutrition Guide To Optimal Performance in Sports and Life

"John's book proves you don't need meat to be strong, kick ass and be athletically competitive."
— Jake Shields, MMA Champion Fighter

"Meat is for Pussies is a book for real men ... the kind who are made of real meat!"
— Morgan Spurlock, Supersize Me/ Inside Man (CNN)

"When we are born, our bodies are turbo engines. After years of eating junk food and animal products, we turn our bodies into clunkers. John Joseph's raw honesty drives that point home to perfection. And his advice works: The benefits of a plant based diet can be profound. "
— Robert Ostfeld, MD, Director of the Cardiac Wellness Program, Montefiore Hospital and Associate Professor of Clinical Medicine, Albert Einstein College of Medicine

"The plant-based movement is exploding thanks to people like John Joseph, who has never worn a pair of Birkenstocks. John has long shown how there's nothing tough, manly, or rebellious about willfully participating in an animal-based, junk-food, big pharma system..."
— Brian Wendel, Producer, Forks Over Knives

"Think meat makes you strong and tough? Think again! This book blows away the myths and tells it like it is. Current meat-heavy diet fads, especially the Paleo diet, are based on pure fantasy, backed by years of lies and misinformation. Want the truth? Read this book now!"
— James Wilks, UFC Fighter, Winner of Ultimate Fighter US vs. UK

"John destroys the stereotype of a 'wimpy vegetarian' and shows that anyone can live a cruelty-free life."
— Chef Tal Ronen, author The Conscious Cook

"I'm really glad that John Joseph is finally showing that vegans are some of the strongest, healthiest, and toughest people on the planet."
— Moby

"Smashing mainstream stereotypes and preconceived notions about the way vegetarians live their lives, John Joseph tells his story with true NYC grit and doesn't pull any punches."
— Mac Danzig, UFC Fighter and Winner of the Ultimate Fighter 6