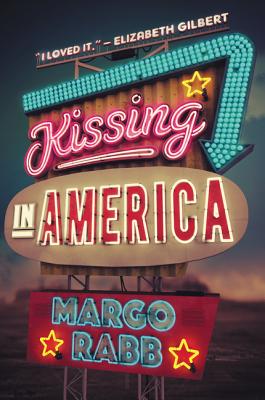 Kissing in America
Paperback

* Individual store prices may vary.
Other Editions of This Title:
Digital Audiobook (5/25/2015)
Hardcover (5/26/2015)
Compact Disc (5/26/2015)
Compact Disc (5/26/2015)
Description
Acclaimed writer Margo Rabb's Kissing in America is "a wonderful novel about friendship, love, travel, life, hope, poetry, intelligence, and the inner lives of girls," raves internationally bestselling author Elizabeth Gilbert (Eat, Pray, Love).
In the two years since her father died, sixteen-year-old Eva has found comfort in reading romance novels—118 of them, to be exact—to dull the pain of her loss that's still so present. Her romantic fantasies become a reality when she meets Will, who can relate to Eva's grief. Unfortunately, after Eva falls head-over-heels for him, he picks up and moves to California with barely any warning. Not wanting to lose the only person who has been able to pull her out of sadness—and, perhaps, her first shot at real love—Eva and her best friend, Annie, concoct a plan to travel to the west coast. As they road trip across America, Eva and Annie confront the complex truth about love. 
In this honest and emotional journey that National Book Award Finalist Sara Zarr calls "gorgeous, funny, and joyous," readers will experience the highs of infatuation and the lows of heartache as Eva contends with love in all of its forms. 
Since publication, this novel received 4 starred reviews and has been named:
A Chicago Public Library Best Teen Book of 2015
A New York Public Library Best Book for Teens 2015
A Miami Herald Best Book of the Year
A Spirit of Texas selection
A TAYSHAS High School Reading List Selection
An Oprah Summer Reading List selection
A Junior Library Guild selection
An Amazon Best Book of the Month
A Publisher's Lunch 2015 Buzz Book for Young Adults
Praise For Kissing in America…
"Wonderful . . . Margo Rabb has created nothing less than a women's map of American mythologies, navigating from Emily Dickinson to Barbara Cartland, from the cowboys of the rodeos to the makeup studios of Hollywood, and from the bottom of the Atlantic to the spacious skies of the USA."
— E. Lockhart, New York Times bestselling author of We Were Liars

"A wonderful novel about friendship, love, travel, life, hope, poetry, intelligence and the inner lives of girls. Margo Rabb writes with compassion and clarity about lives that are worth telling, journeys that need to be taken, peace that needs to be reached. I loved it."
— Elizabeth Gilbert, New York Times bestselling author of Eat, Pray Love

"That Margo Rabb can write a story so gorgeous, funny, and joyous that is also unsentimental and honest is a testament to her skill and to her heart. I loved everything about Eva and the supporting cast in this beautiful novel."
— Sara Zarr, author of The Lucy Variations

"It is a marvel and I love every word of it: the carefully structured plot, the memorable characters, the wholly apposite style and tone. It is funny, sad, wistful, wise, and altogether memorable."
— Michael Cart

"Rabb's funny and big-hearted second novel is bursting with resonant themes of love, death, family, art and identity, fully embodied in a diverse cast of wonderfully fallible and entertaining characters."
— New York Times Book Review

"This feminist rom-com reminds us it's never about the boy but the joyride."
— O Magazine

"Rabb eloquently gets grief right in this compassionate, perceptive, and poignant story, deftly leavened with irreverent humor, of a girl in conflict with her mother. Wise, inspiring, and ultimately uplifting—not to be missed."
— Kirkus Reviews (starred review)

"A smart teen's novel. [The] characters are authentic and complex. Rabb knows the perfect point to interject humor to diffuse a potentially devastating situation—a leavening of sorts to the reality that death and love inexplicitly alter the landscape of a person's life."
— Booklist (starred review)

"In this indelible coming-of-age story, Rabb seamlessly weaves together multiple narratives. Sprinkled with the poetry Eva reads and writes, this story makes for a hilarious, thought-provoking, wrenching, and joyful quest."
— Publishers Weekly (starred review)

"[A] well-balanced read that exposes readers to weighty ideas and difficult feelings while keeping them entertained and emotionally invested."
— Bulletin of the Center for Children's Books (starred review)

"With a full cast of multidimensional characters, this novel explores the complex nature of relationships and the many faces of grief and love with equal parts humor and poignancy."
— School Library Journal

"Humor and depth . . . Often entertainingly snarky"
— The Horn Book

"A young-adult novel that deftly weaves humor and snippets of poetry into its road-trip story. A beautifully crafted coming-of-age story that illuminates the layers of relationships."
— Austin Statesman

"It made me laugh until I choked, and it made me cry-it's a book that made my heart feel full."
— Leila Roy, Kirkus Reviews Blog

"Tender, expansive . . . Eva is a likable, sympathetic character whose horizons expand literally —during a New York-to-L.A. bus trip with a friend—and metaphorically."
— Chicago Tribune

"Kissing in America" is a road-trip story with humor and heart.
— Boston Globe

"Rabb's coming-of-age story has a sweep as wide as the star-spangled sky. [Her] snapshots of America are witty and perceptive and appropriately poetic. There's not just one love story in Kissing in America, there are many.
— Austin Chronicle
HarperCollins, 9780062322388, 416pp.
Publication Date: May 24, 2016
About the Author
Margo Rabb is the author of the novels Kissing in America and Cures for Heartbreak; both received four starred reviews and were named to multiple best-of-the-year lists. Her essays and short stories have appeared in the New York Times, The Atlantic, and Seventeen and have been broadcast on NPR. She received the grand prize in the Zoetrope short story contest, first prize in the Atlantic fiction contest, and a PEN Syndicated Fiction Project Award. Margo grew up in Queens, NY, and currently lives near Philadelphia with her family. Visit her online at www.margorabb.com.
or
Not Currently Available for Direct Purchase