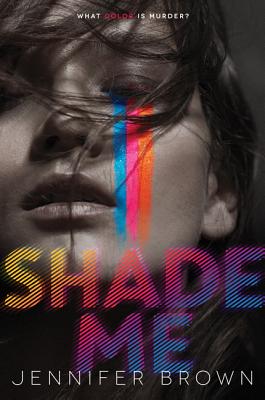 Shade Me (Paperback)
Katherine Tegen Books, 9780062324443, 464pp.
Publication Date: January 17, 2017
Other Editions of This Title:
Hardcover (1/19/2016)
* Individual store prices may vary.
Description
The first book in acclaimed author Jennifer Brown's thrilling suspense series, Shade Me is the story of a girl born with rare synesthesia who becomes unwittingly entangled in the mystery of an attack on a classmate and involved with a boy who may be a suspect. Perfect for fans of Sara Shepard's Pretty Little Liars, Shade Me is a thriller you won't want to put down.
Nikki Kill does not see the world like everyone else. In her eyes, happiness is pink, sadness is a mixture of brown and green, and lies are gray, thanks to a rare phenomenon called synesthesia that makes her senses overlap.
That's why Nikki decides to answer the phone the night a mysterious call lights it up bright orange—the color of emergencies. It's the hospital and they need Nikki to identify a Jane Doe who is barely hanging on to life after a horrible attack. Nikki IDs the victim as Peyton Hollis, a popular girl from her school who she hardly knows. As Nikki tries to discover why her number was the only one in Peyton's phone, she finds herself swept up in the mystery behind Peyton's attack—and she finds herself drawn toward Peyton's handsome, rebellious older brother, Dru…who may be the primary suspect.
About the Author
Jennifer Brown is the author of the young adult novels Shade Me, Bitter End, Perfect Escape, Thousand Words, and Torn Away. Her debut young adult novel, Hate List, was chosen as an ALA Best Book for Young Adults, a VOYA Perfect Ten, and a School Library Journal Best Book of the Year. She lives in the Kansas City, Missouri, area with her husband and children. You can visit Jennifer online at www.jenniferbrownya.com.
Praise For Shade Me…
"SHADE ME is a wild ride, illuminating the gritty side of Los Angeles and the beautiful people who populate it. Fans of Veronica Mars will fall in love with Nikki Kill."
— Michelle Gagnon, author of the Don't Turn Around trilogy

"This dark tale hits all the hallmarks of a traditional hardboiled mystery, full of dirty secrets and potential betrayals. Brown (Torn Away) skillfully uses Nikki's condition to put a fresh spin on time-honored noir conventions."
— Publishers Weekly

"Nikki is a complex character with potential for growth, and her gritty determination to find the truth, while it almost undoes her, is what makes her compelling."
— Voice of Youth Advocates (VOYA)