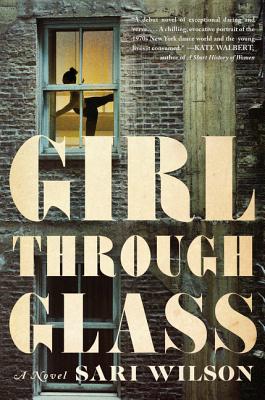 Girl Through Glass
A Novel
Hardcover

* Individual store prices may vary.
Other Editions of This Title:
Paperback (1/24/2017)
Description
Long-listed for the Center for Fiction First Novel Prize
An Amazon Best Book of the Month 
A Buzzfeed Most Exciting Book of the Year
A The Millions Most Anticipated Book of the Year & Bestseller
Selected as a Skimm Read 
A Refinery 29 Best Book of the Year
Chosen as a Rumpus Book Club Selection
Chosen as a Bustle Best Literary Debut Novel Written By Women in the Last 5 Years
An enthralling literary debut that tells the story of a young girl's coming of age in the cutthroat world of New York City ballet—a story of obsession and the quest for perfection, trust and betrayal, beauty and lost innocence.
In the roiling summer of 1977, eleven-year-old Mira is an aspiring ballerina in the romantic, highly competitive world of New York City ballet. Enduring the mess of her parent's divorce, she finds escape in dance—the rigorous hours of practice, the exquisite beauty, the precision of movement, the obsessive perfectionism. Ballet offers her control, power, and the promise of glory. It also introduces her to forty-seven-year-old Maurice DuPont, a reclusive, charismatic balletomane who becomes her mentor.
Over the course of three years, Mira is accepted into the prestigious School of American Ballet run by the legendary George Balanchine, and eventually becomes one of "Mr. B's girls"—a dancer of rare talent chosen for greatness. As she ascends higher in the ballet world, her relationship with Maurice intensifies, touching dark places within herself and sparking unexpected desires that will upend both their lives.
In the present day, Kate, a professor of dance at a Midwestern college, embarks on a risky affair with a student that threatens to obliterate her career and capsizes the new life she has painstakingly created for her reinvented self. When she receives a letter from a man she's long thought dead, Kate is hurled back into the dramas of a past she thought she had left behind.
Told in interweaving narratives that move between past and present, Girl Through Glass illuminates the costs of ambition, secrets, and the desire for beauty, and reveals how the sacrifices we make for an ideal can destroy—or save—us.
Praise For Girl Through Glass: A Novel…
"A tragic depiction of a girl adored far too soon by a grown-up world…Artfully rendered through the viewpoint of an adolescent dancer who performs with great maturity while remaining fatefully naïve...So visceral, so real." — Washington Post
"Masterful…Wilson's New York City imagery is applied exquisitely and dynamically…In the end, the well-honed story line of GIRL THROUGH GLASS is not unlike a certain kind of stylized psychological ballet, á la Antony Tudor, with heightened characters dancing along dire boundaries. Powerfully stark." — Los Angeles Review of Books
"A haunting portrait of obsession, ambition, sacrifice, and the secrets one woman thought she left in the past." — Buzzfeed
"A nimble, nuanced psychological drama that leaps through time and place with an appropriate and assured agility...Wilson speaks with vibrant authority and acute vulnerability as she exposes the conflicted and competitive behind-the-scenes world of professional ballet." — Booklist (starred review)
"Intense and mesmerizing." — People Magazine
"The book's subject is less the ballet itself than the costs of early virtuosity—the feeling of being propelled by a force you don't understand and can't control—and the dangerous intoxication of the perfect, weightless moments when everything but 'air, motion, height' falls away." — New York Times Book Review
"Few novels have affected me as deeply as Sari Wilson's GIRL THROUGH GLASS…I loved, loved, loved this novel. So much so that I hid from my kids in the bathroom so I could read it!" — Joanna Rakoff, author of MY SALINGER YEAR
"Powerful. Gripping. Incandescent…As powerful storytelling kept me turning the pages, Wilson's extraordinary voice whispered to me about the things that both bind and divide us: desire, ambition and love. This book will stay in my heart for a long time." — Jean Kwok, New York Times bestselling author of GIRL IN TRANSLATION
"Wilson's take on the New York City dance scene is pungent and vivid and slyly satirical…This novel of a girl who grows up way too soon is deftly plotted and beautifully written, and is about as suspenseful and affecting as a coming-of-age story can be." — Daniel Orozco, author of ORIENTATION AND OTHER STORIES
"An astonishing debut. At once chilling and sensual, furious and tender, GIRL THROUGH GLASS…will leave you haunted, mesmerized, and wanting more. I loved it." — Elizabeth L. Silver, author of THE EXECUTION OF NOA P. SINGLETON
"Only a writer of very remarkable gifts could have the stylistic brilliance, the athletic daring, speed, power of ellipsis, the leap—to tell this dark story correctly, and to bring to life its principals…In her stunning first novel, Sari Wilson has done just this." — Jaimy Gordon, author of LORD OF MISRULE, Winner of the National Book Award
"GIRL THROUGH GLASS explores a lost New York through the eyes of a gifted young dancer struggling to harness the ecstatic power she wields…Lush with the shame and exhilaration that lie at the lip of adolescence, Sari Wilson's debut novel bravely explores the risks of celebrating precocity." — Miranda Beverly-Whittemore, New York Times bestselling author of BITTERSWEET
"Sari Wilson has created a dark and beautiful world in these pages filled with complex and fascinating characters. GIRL THROUGH GLASS is an impressive debut novel that will thrill readers with its steadily mounting tension, which builds, layer upon layer, to a surprising and satisfying conclusion." — John Searles, bestselling author of HELP FOR THE HAUNTED and STRANGE BUT TRUE
"In her lyrical debut novel, GIRL THROUGH GLASS, Sari Wilson explores the beauty and complexity of time and the emergence of a woman's identity. This engrossing story, told with great artistry, captures the romance and rigor of art-making. Sari's prose is balletic: elegant, musical, and captivating." — Ruth Ozeki, bestselling author of A TALE FOR THE TIME BEING, shortlisted for the Booker Prize and the National Book Critics Circle Award
"A debut novel of exceptional daring and verve, Sari Wilson's GIRL THROUGH GLASS is a chilling, evocative portrait of the 1970s New York dance world and the young lives it consumed." — Kate Walbert, author of OUR KIND, National Book Award finalist
"…an intense, engrossing novel." — National Review
"Uniformly engrossing…Mira and Maurice's relationship has the fairy tale feel of Beauty and the Beast, but the pages brim with the realism of gritty, crime-riddled New York…Surprising and bittersweet…elevates the coming-of-age story with a dark undercurrent about the cost of obsession." — Publishers Weekly
"An absorbing novel, rich with detail both about ballet and New York. Alongside the unusual setting of Mira's realm of dance are the…emotional struggles of a young woman dealing with adolescence, complicated by precocious talent…For readers who appreciate complex characters and a carefully crafted style." — Library Journal
"Compelling…Mira's story is fueled by a rage that burns intensely; the sacrifice, the dark side of her pursuit, will touch readers to the core…This portrayal of a ballerina's transformation and sacrifice burns with the beauty of fire: it's powerful, it's destructive, and it dares you to try and look away." — Kirkus Reviews
"…a complex coming-of-age debut." — The Week
"Poignant, dark and powerfully written…" — PureWow
"Wonderful…Sari's writing is a thing of beauty; her expressions are refreshing and original… She exposes the stark realities of the ballet world with an authenticity that will make real ballerinas nod in agreement, and delivers it in a beautifully written story about characters I came to love." — InsideBallet.com
Harper, 9780062326270, 304pp.
Publication Date: January 26, 2016
About the Author
Sari Wilson trained as a dancer with the Harkness Ballet in New York and was on scholarship at Eliot Feld's New Ballet School. She was a Wallace Stegner Fellow at Stanford University, a fellow of the Provincetown Fine Arts Center, and her fiction has appeared in Agni, the Oxford American, Slice, and Third Coast. She lives in Brooklyn with her husband, the cartoonist Josh Neufeld.
Coverage from NPR
or
Not Currently Available for Direct Purchase