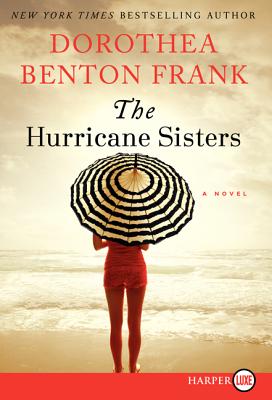 The Hurricane Sisters
Paperback

* Individual store prices may vary.
Other Editions of This Title:
Digital Audiobook (6/2/2014)
Paperback (4/7/2015)
Description
Hurricane season begins early and rumbles all summer long, well into September. Often people's lives reflect the weather and The Hurricane Sisters is just such a story.
Once again New York Times bestselling author Dorothea Benton Frank takes us deep into the heart of her magical South Carolina Lowcountry on a tumultuous journey filled with longings, disappointments, and, finally, a road toward happiness that is hard earned. There we meet three generations of women buried in secrets. The determined matriarch, Maisie Pringle, at eighty, is a force to be reckoned with because she will have the final word on everything, especially when she's dead wrong. Her daughter, Liz, is caught up in the classic maelstrom of being middle-age and in an emotionally demanding career that will eventually open all their eyes to a terrible truth. And Liz's beautiful twenty-something daughter, Ashley, whose dreamy ambitions of her unlikely future keeps them all at odds.
Luckily for Ashley, her wonderful older brother, Ivy, is her fierce champion but he can only do so much from San Francisco where he resides with his partner. And Mary Beth, her dearest friend, tries to have her back but even she can't talk headstrong Ashley out of a relationship with an ambitious politician who seems slightly too old for her.
Actually, Ashley and Mary Beth have yet to launch themselves into solvency. Their prospects seem bleak. So while they wait for the world to discover them and deliver them from a ramen-based existence, they placate themselves with a hare-brained scheme to make money but one that threatens to land them in huge trouble with the authorities.
So where is Clayton, Liz's husband? He seems more distracted than usual. Ashley desperately needs her father's love and attention but what kind of a parent can he be to Ashley with one foot in Manhattan and the other one planted in indiscretion? And Liz, who's an expert in the field of troubled domestic life, refuses to acknowledge Ashley's precarious situation. Who's in charge of this family? The wake-up call is about to arrive.
The Lowcountry has endured its share of war and bloodshed like the rest of the South, but this storm season we watch Maisie, Liz, Ashley, and Mary Beth deal with challenges that demand they face the truth about themselves. After a terrible confrontation they are forced to rise to forgiveness, but can they establish a new order for the future of them all?
Frank, with her hallmark scintillating wit and crisp insight, captures how a complex family of disparate characters and their close friends can overcome anything through the power of love and reconciliation. This is the often hilarious, sometimes sobering, but always entertaining story of how these unforgettable women became The Hurricane Sisters.
HarperLuxe, 9780062326362, 448pp.
Publication Date: June 24, 2014
About the Author
New York Times bestseller Dorothea Benton Frank was born and raised on Sullivans Island, South Carolina. Until her passing in 2019, Dorothea and her husband split their time between New Jersey and South Carolina. A contemporary voice of the South, Dorothea Benton Frank was beloved by fans and friends alike since her debut novel Sullivans Island. Readers from coast to coast fell for the quick wit and the signature humor that permeated her many bestselling novels.