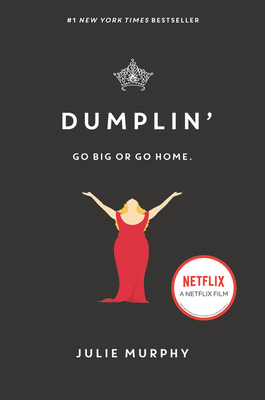 Dumplin'
Paperback

* Individual store prices may vary.
Other Editions of This Title:
Digital Audiobook (9/14/2015)
Hardcover (9/15/2015)
Library Binding, Large Print (6/5/2019)
Paperback, Korean (2/10/2020)
Compact Disc (9/15/2015)
Compact Disc (9/15/2015)
Prebound (3/14/2017)
Description
Now a popular Netflix feature film, starring Jennifer Aniston, Danielle Macdonald, and Dove Cameron, as well as a soundtrack from Dolly Parton!
The #1 New York Times bestseller and feel-good YA of the year—about Willowdean Dixon, the fearless, funny, and totally unforgettable heroine who takes on her small town's beauty pageant.
Self-proclaimed fat girl Willowdean Dickson (dubbed "Dumplin'" by her former beauty queen mom) has always been at home in her own skin. Her thoughts on having the ultimate bikini body? Put a bikini on your body.
With her all-American beauty best friend, Ellen, by her side, things have always worked . . . until Will takes a job at Harpy's, the local fast-food joint. There she meets Private School Bo, a hot former jock. Will isn't surprised to find herself attracted to Bo. But she is surprised when he seems to like her back.

Instead of finding new heights of self-assurance in her relationship with Bo, Will starts to doubt herself. So she sets out to take back her confidence by doing the most horrifying thing she can imagine: entering the Miss Clover City beauty pageant—along with several other unlikely candidates—to show the world that she deserves to be up there as much as any girl does.
Along the way, she'll shock the hell out of Clover City—and maybe herself most of all.
Praise For Dumplin'…
"Will's singular voice compels readers to think about all that goes into building-and destroying-self-esteem...Splendid" — Booklist (starred review)
"I'm obsessed with this book. Wickedly funny, heartbreakingly real, full of characters to love and cheer for. DUMPLIN' is such a star." — Katie Cotugno, author of How to Love and 99 Days
"DUMPLIN' should be required reading for anyone who has ever felt even slightly uncomfortable in his or her skin. Julie Murphy's star continues to shine with this groundbreaking, poignant story that will surely change lives." — John Corey Whaley, award-winning author of Noggin and Where Things Come Back
"Murphy…successfully makes every piece of the story…count, weaving them together to create a harmonious, humorous, and thought-provoking whole." — Publishers Weekly (starred review)
"[A] richly enjoyable novel...a clever and funny book to please lovers of thoughtful romance and secret pageant fans." — Bulletin of the Center for Children's Books
"Genuine, romantic, and with a dash of Texan charm, this is a novel that celebrates being who you are while also acknowledging that it's incredibly difficult to do." — The Horn Book
"Portrays and challenges sterotypes about beauty pageants, size issues, and women's concerns...Powerful." — Voice of Youth Advocates (VOYA)
Praise for SIDE EFFECTS MAY VARY: "Honest and unflinching, this is a compelling story of one teen's struggle with cancer, love, and living. A worthwhile addition." — School Library Journal
Praise for SIDE EFFECTS MAY VARY: "Readers will turn the last page wanting to know where the next chapter leads." — Kirkus Reviews
Praise for SIDE EFFECTS MAY VARY: "Alice and Harvey's relationship is raw, honest, moving, and unapologetic in its depiction of their individual, and collective, pain." — Booklist
Praise for SIDE EFFECTS MAY VARY: "Julie Murphy weaves together a tender and funny tale of love, friendship, heartache, and redemption. SIDE EFFECTS MAY VARY explodes with brutal honesty, brilliant wit, and unflinching heart." — John Corey Whaley, winner of the Michael L. Printz Award for WHERE THINGS COME BACK
Praise for SIDE EFFECTS MAY VARY: "Julie Murphy's SIDE EFFECTS MAY VARY is a funny, heartfelt, honest look at the beauty and the risk of getting a second chance. An inspiring novel about all the things worth living for. I adored this debut!" — Siobhan Vivian, author of The List
Praise for SIDE EFFECTS MAY VARY: "A funny and touching novel about a strong-willed heroine who finds facing death simple, but facing life heart-wrenchingly complicated. A real original." — Jennifer Echols, author of GOING TOO FAR
Praise for SIDE EFFECTS MAY VARY: "A tale of unlikely romance, impossible obstacles, and mortality, this book is a must-read."- — Teen Vogue
Praise for SIDE EFFECTS MAY VARY: "It's equal parts fun, cringe-worthy, and totally fearless!" — Seventeen Magazine
Praise for SIDE EFFECTS MAY VARY: "An unexpected twist on the typical cancer story." — Voice of Youth Advocates (VOYA)
Balzer + Bray, 9780062327192, 400pp.
Publication Date: March 14, 2017
About the Author
Julie Murphy lives in North Texas with her husband who loves her, her dog who adores her, and her cats who tolerate her. After several wonderful years in the library world, Julie now writes full-time. When she's not writing or reliving her reference desk glory days, she can be found watching made-for-TV movies, hunting for the perfect slice of cheese pizza, and planning her next great travel adventure. She is also the author of the young adult novels Dumplin' (now a film on Netflix), Puddin', Ramona Blue, and Side Effects May Vary. You can visit Julie at www.juliemurphywrites.com.
1."I was scared someone might look at me and decide I wasn't good enough." –Lucy (p26). How does the fear of what others will think affect Willowdean throughout the novel—not just her own fear, but that of her mother and her aunt Lucy? What other characters are scared they might not be good enough, and how do they deal with it? Have you or your friends ever felt the way Aunt Lucy describes? What helped you to overcome it?
2."You don't always have to win a pageant to wear a crown." –Donna Lufkin (p67). What does Donna mean by her statement to Willowdean? What does the crown represent to Will, and how does she feel when she tries it on? Why do you think Will ultimately decides to enter the pageant? Do you think Will wants to win the Miss Teen Blue Bonnet crown? Why or why not?
3."Perfection is nothing more than a phantom shadow we're all chasing." –Willowdean (p212). Who is Willowdean referring to in her statement about perfection, and what does she mean by it? Do you agree with her? How does the search for perfection affect various characters in the novel, in either positive or negative ways? Do you think it's better to strive for perfection or to accept flaws, and why?
4."I want to put a label on this." –Bo (p290). Why do Willowdean and Bo each feel the way they do about labeling their relationship? What are some of the other labels that characters wear in the novel, and why do they matter? Do you experience labeling at your own school, or among your friends? Do you think labeling is positive or negative, and why?
5."Loyalty is being there for someone. It's selfless. It's about standing by someone's side even when you don't want to." –Willowdean (p333). How does Willowdean's definition of loyalty apply to her relationships—family, friends, and romantic interests—throughout the novel? Do you think Will is loyal, and can you describe examples from the novel that support your conclusion? How would you define loyalty, and who are the people in your life who fit your definition?
6."And now there's no one here to remember her. Not in the way she'd want to be remembered." –Willowdean (p22). What do you think Willowdean means by her statement, and do you agree with her? What are some of the ways that Will copes with her grief after Lucy's death? Why do you think Will and her mother react so differently to the personal effects in Lucy's room, and what does this reveal about each character? How do other people in her life help Will honor Lucy's memory?
7."I'm fat. It's not a cuss word. It's not an insult. At least it's not when I say it." –Willowdean (p9). Why does Willowdean embrace the word "fat" to describe herself, and what does her statement reveal about her character? How does the meaning of the word "fat" change based on the person saying or hearing it? What was your reaction to Will calling herself fat? Can you think of examples in the media or in your own life of people using the word "fat" to describe themselves or others? How was the word used, and why?
8."Lucy always said that the greatest friends have nothing and everything in common all at once." –Willowdean (p79). How does Lucy's statement reflect the friendship between Willowdean and Ellen? What are the things they have in common, versus the ways they are different? How does Lucy's statement apply to Will's friendships with Millie, Amanda, and Hannah? Do you agree with Lucy's description of friendship? How does it apply to your own friendships?
9."This is what happens, I think, when a secret turns into a lie." –Willowdean (p95). Why do you think Willowdean keeps her relationship with Bo a secret from important people in her life, like Ellen and her mother? Why do you think Bo keeps their relationship a secret? Why is Will angry at Bo, and do you think her anger is justified? What other examples of secrets turning into lies can you find in this novel? How does keeping secrets affect Will's relationships?
10."I think you gotta be who you want to be until you feel like you are whoever it is you're trying to become." –Mitch (p239). What does Mitch's statement mean to you, and what does it reveal about his character? How do you think it might apply to Willowdean and her friends, or to other characters in the novel? What do you think it means to "be who you want to be," and why is it sometimes hard to do that? Can you think of examples from your own life that demonstrate Mitch's statement?