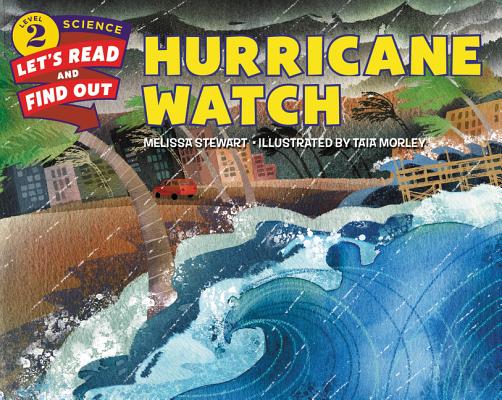 Hurricane Watch (Let's-Read-and-Find-Out Science 2)
Paperback

* Individual store prices may vary.
Other Editions of This Title:
Hardcover (6/9/2015)
Description
Read and find out about how hurricanes form, how scientists track the storms, and what you can do to keep yourself safe if one strikes in this colorfully illustrated nonfiction picture book.
Winds whip. Waves crash. Rain pours down. A superstorm moves across the ocean and gets closer and closer to land. Hurricane watch! 
Perfect for budding meteorologists, and recognized as an Outstanding Science Trade Book by the National Science Teachers Association, Hurricane Watch is bursting with fascinating facts paired with engaging visuals and diagrams.
This picture book also includes a Find Out More section with an activity on air pressure, web research prompts, and a glossary of storm and weather vocabulary. Both text and artwork were vetted by Dr. William J. Brennan of the National Oceanic and Atmospheric Administration for accuracy.
This is a clear and appealing science book for early elementary age kids, both at home and in the classroom. It's a Level 2 Let's-Read-and-Find-Out, which means the book explores more challenging concepts for children in the primary grades. The 100+ titles in this leading nonfiction series are:
hands-on and visual
acclaimed and trusted
great for classrooms
Top 10 reasons to love LRFOs:
Entertain and educate at the same time
Have appealing, child-centered topics
Developmentally appropriate for emerging readers
Focused; answering questions instead of using survey approach
Employ engaging picture book quality illustrations
Use simple charts and graphics to improve visual literacy skills
Feature hands-on activities to engage young scientists
Meet national science education standards
Written/illustrated by award-winning authors/illustrators & vetted by an expert in the field
Over 130 titles in print, meeting a wide range of kids' scientific interests
Books in this series support the Common Core Learning Standards, Next Generation Science Standards, and the Science, Technology, Engineering, and Math (STEM) standards. Let's-Read-and-Find-Out is the winner of the American Association for the Advancement of Science/Subaru Science Books & Films Prize for Outstanding Science Series.
HarperCollins, 9780062327758, 40pp.
Publication Date: June 9, 2015
About the Author
Melissa Stewart is the award-winning author of more than 180 science and nature books for young readers. Hurricane Watch, her first Let's-Read-and-Find-Out title, was recognized as an Outstanding Science Trade Book by the National Science Teachers Association. While gathering information for her books, Melissa has hiked in tropical rainforests, gone on safari in Africa, and swum with sea lions in the Galápagos Islands. She lives in Boston, Massachusetts. You can visit her online at www.melissa-stewart.com.
Taia Morley has worked as a toy and game designer for several toy companies and is also an illustrator whose work appears in books and magazines and on packaging. She even illustrated the surface of the St. Paul Public Library Bookmobile. When she isn't working, she might be riding a bike, trying to hit a tennis ball, or napping. She has illustrated Hurricane Watch and The Sun and the Moon in the Let's-Read-and-Find-Out Science series. She is married to a wonderful guy, and they have four pretty great kids and one old brown dog. She lives in St. Paul, Minnesota.
or
Not Currently Available for Direct Purchase