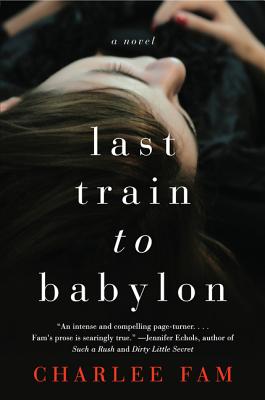 Last Train to Babylon
A Novel
Paperback

* Individual store prices may vary.
Description
Fans of Alice Sebold and John Green will be transfixed by this sophisticated, edgy debut novel packing dark humor, biting wit, and a lot of Jack Daniels.
Who put the word fun in funeral? I can't think of anything fun about Rachel's funeral, except for the fact that she won't be there.
Aubrey Glass has a collection of potential suicide notes—just in case. And now, five years—and five notes—after leaving her hometown, Rachel's the one who goes and kills herself. Aubrey can't believe her luck.
But Rachel's death doesn't leave Aubrey in peace. There's a voicemail from her former friend, left only days before her death, that Aubrey can't bring herself to listen to—and worse, a macabre memorial-turned-high-school reunion that promises the opportunity to catch up with everyone . . . including the man responsible for everything that went wrong between Aubrey and Rachel.
In the days leading up to the funeral and infamous after party, Aubrey slips seamlessly between her past and present. Memories of friendship tangle with painful new encounters while underneath it all Aubrey feels the rush of something closing in, something she can no longer run from. And when the past and present collide in one devastating night, nothing will be the same again.
But facing the future means confronting herself and a shattering truth. Now, Aubrey must decide what will define her: what lies behind . . . or what waits ahead.
Praise For Last Train to Babylon: A Novel…
An intense and compelling page-turner about what keeps us loyal to friends and lovers who betray us, and one young woman's struggle back from the brink. Fam's prose is searingly true. — Jennifer Echols, author of SUCH A RUSH and DIRTY LITTLE SECRET
"Fam creates a startling coming-of-age story that is neither sentimental nor clichéd." — Kirkus Reviews
"This debut novel is a stunner...Forget comparisons to other authors; Fam stands on her own in weaving the narrative between new adults and the teens they were before." — Romantic Times BOOKclub, Top Pick, 4 1/2 stars
[Fam] has created a powerful story, and beautifully developed characters that ring true, regardless of one's upbringing as the loss of innocence, betrayal, and teenage angst tend to be universal for almost everyone. — Examiner.com
William Morrow Paperbacks, 9780062328076, 352pp.
Publication Date: October 28, 2014
About the Author
Charlee Fam is a twentysomething novelist living in New York City. A native of Long Island, she graduated from Binghamton University in 2010 with a degree in creative writing and several awards to her name. Last Train to Babylon is her first novel.