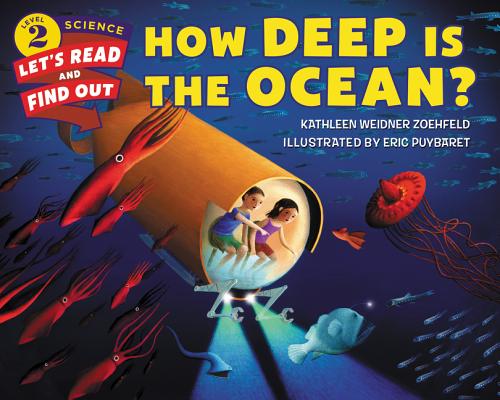 How Deep Is the Ocean? (Let's-Read-and-Find-Out Science 2)
Hardcover

* Individual store prices may vary.
Other Editions of This Title:
Paperback (7/5/2016)
Prebound (7/5/2016)
Description
The ocean covers almost three-quarters of the Earth, but how deep does it go? Put on your scuba gear and explore the ocean, from its shallowest waters to its deepest, most mysterious parts. As you dive deeper, you'll discover glowing animals, strange creatures that don't need sunlight to survive, and even the largest hunter in the world. This nonfiction picture book is an excellent choice to share during homeschooling, in particular for children ages 4 to 6. It's a fun way to learn to read and as a supplement for activity books for children.
With beautiful illustrations and engaging text, How Deep Is the Ocean? will guide young readers into the deepest parts of the ocean. Featuring a find-out-more section with a water-pressure experiment, a lesson in making a sounding line to learn how scientists measure the depth of the ocean, a glossary of new terms, and web research prompts, this book will begin children's explorations of the deep sea. Both the text and the artwork were vetted for accuracy by Dr. David Gruber, real-life deep sea explorer and professor of biology and environmental science at Baruch College.
This is a Level 2 Let's-Read-and-Find-Out Science title, which means the book explores more challenging concepts for children in the primary grades and supports the Common Core Learning Standards, Next Generation Science Standards, and the Science, Technology, Engineering, and Math (STEM) standards. Let's-Read-and-Find-Out Science is the winner of the American Association for the Advancement of Science/Subaru Science Books & Films Prize for Outstanding Science Series.
HarperCollins, 9780062328205, 40pp.
Publication Date: July 5, 2016
About the Author
Kathleen Weidner Zoehfeld is the award-winning author of more than seventy books for children.  She has written several books in the Let's Read And Find Out Science series, including:  WHAT LIVES IN A SHELL?, an NSTA/CBC "Outstanding Science Trade Book" and winner of the American Association for the Advancement of Science's "Best Children's Book" award; WHAT IS THE WORLD MADE OF?, a Children's Book of the Month Club Main Selection; WHAT'S ALIVE?, also named an AAAS "Best Children's Book";  HOW MOUNTAINS ARE MADE, an NSTA/CBC "Outstanding Science Trade Book," DINOSAUR TRACKS, "a great choice for even the most discriminating dinophiles" (School Library Journal); and DINOSAURS BIG AND SMALL, winner of the Oppenheim Toy Portfolio "Best Book Award"
Kathleen was a children's book editor for over ten years before becoming a full-time writer.  When she is not reading, researching, writing, or editing she loves to spend her free time exploring, doing fieldwork, and preparing and curating fossils for her local natural history museums.  She lives in Berkeley, CA.