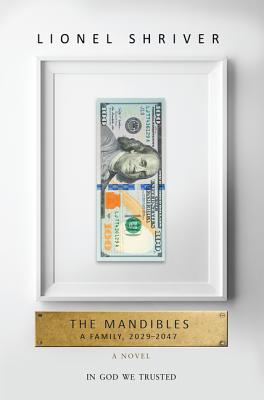 The Mandibles
A Family, 2029-2047
Hardcover

* Individual store prices may vary.
Other Editions of This Title:
Digital Audiobook (6/20/2016)
Digital Audiobook (6/20/2016)
Paperback, Large Print (6/21/2016)
Paperback (6/20/2017)
MP3 CD (6/21/2016)
Compact Disc (6/21/2016)
Compact Disc (6/21/2016)
Description
"A provocative and very funny page-turner..."--Wall Street Journal
With dry wit and psychological acuity, this near-future novel explores the aftershocks of an economically devastating U.S. sovereign debt default on four generations of a once-prosperous American family. Down-to-earth and perfectly realistic in scale, this is not an over-the-top Blade Runner tale. It is not science fiction.
In 2029, the United States is engaged in a bloodless world war that will wipe out the savings of millions of American families. Overnight, on the international currency exchange, the "almighty dollar" plummets in value, to be replaced by a new global currency, the "bancor." In retaliation, the president declares that America will default on its loans. "Deadbeat Nation" being unable to borrow, the government prints money to cover its bills. What little remains to savers is rapidly eaten away by runaway inflation.
The Mandibles have been counting on a sizable fortune filtering down when their ninety-seven-year-old patriarch dies. Once the inheritance turns to ash, each family member must contend with disappointment, but also—as the U.S. economy spirals into dysfunction—the challenge of sheer survival.
Recently affluent, Avery is petulant that she can't buy olive oil, while her sister, Florence, absorbs strays into her cramped household. An expat author, their aunt, Nollie, returns from abroad at seventy-three to a country that's unrecognizable. Her brother, Carter, fumes at caring for their demented stepmother, now that an assisted living facility isn't affordable. Only Florence's oddball teenage son, Willing, an economics autodidact, will save this formerly august American family from the streets.
The Mandibles is about money. Thus it is necessarily about bitterness, rivalry, and selfishness—but also about surreal generosity, sacrifice, and transformative adaptation to changing circumstances.
Praise For The Mandibles: A Family, 2029-2047…
"A provocative and very funny page-turner…"
— Wall Street Journal

"….[A] powerful work...Prescient, imaginative and funny, it also asks deep questions."
— The Economist

"Hilarious, brilliant new novel..."
— Elle

"Known for tackling big contemporary issues head-on, Shriver deals skilfully here with the implications of economic meltdown. The novel, set in a near-ish future, tells of the plight of the once wealthy Mandible family and the decline of four generations into penury, thieving and prostitution."
— Financial Times (A Summer Pick of 2016)

"[Shriver has] a sharp social eye and a blistering comic streak, and her focus on nailing down the economic nitty-gritty of her plot is only one piece of the great, disconcerting fun she has in sending the world as we know it so vividly to hell."
— The New Yorker's Page-Turner Blog

"Shriver has always seemed to be at least a few steps ahead of the rest of us, but her new novel establishes her firmly as the Cassandra of American letters….I don't remember the last time a novel held me so enduringly in its grip."
— New York Times Book Review

"It's scaring the hell out of me."
— Tracy Chevalier

The world that the Mandible family must negotiate is evoked in seamless detail… One thing I really like is her coining of made-up slang for her younger generation of characters and her resolutely materialist analysis of what could be coming.
— Jane Smiley, The Guardian

"Distinctly chilling."
— Independent (UK)

"This is a sharp, smart, snarky satire of every conspiracy theory and hot button political issue ever spun; one that, at first glance, might induce an absurdist chuckle, until one realizes that it is based on an all-too-plausible reality."
— Booklist (starred review)
Harper, 9780062328243, 416pp.
Publication Date: June 21, 2016
About the Author
Lionel Shriver's fiction includes The Mandibles; Property; the National Book Award finalist So Much for That; the New York Times bestseller The Post-Birthday World; and the international bestseller We Need to Talk About Kevin, adapted for a 2010 film starring Tilda Swinton. Her journalism has appeared in the Guardian, the New York Times, the Wall Street Journal, and many other publications. She's a regular columnist for the Spectator in Britain and Harper's Magazine in the US. She lives in London and Brooklyn, New York.
Coverage from NPR
or
Not Currently Available for Direct Purchase