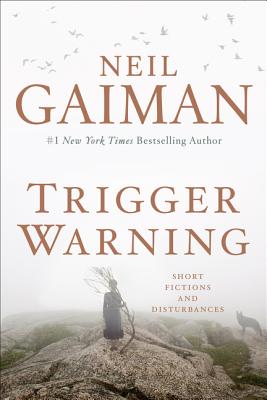 Trigger Warning
Short Fictions and Disturbances
Hardcover

* Individual store prices may vary.
Other Editions of This Title:
Digital Audiobook (2/2/2015)
Paperback, Large Print (2/24/2015)
Mass Market (12/29/2020)
Paperback (8/24/2021)
Paperback (10/27/2015)
CD-Audio (10/27/2015)
Description
Multiple award winning, #1 New York Times bestselling author Neil Gaiman returns to dazzle, captivate, haunt, and entertain with this third collection of short fiction following Smoke and Mirrors and Fragile Things—which includes a never-before published American Gods story, "Black Dog," written exclusively for this volume.
In this new collection, Neil Gaiman pierces the veil of reality to reveal the enigmatic, shadowy world that lies beneath. Trigger Warning includes previously published pieces of short fiction—stories, verse, and a very special Doctor Who story that was written for the fiftieth anniversary of the beloved series in 2013—as well "Black Dog," a new tale that revisits the world of American Gods, exclusive to this collection.
Trigger Warning explores the masks we all wear and the people we are beneath them to reveal our vulnerabilities and our truest selves. Here is a rich cornucopia of horror and ghosts stories, science fiction and fairy tales, fabulism and poetry that explore the realm of experience and emotion. In Adventure Story—a thematic companion to The Ocean at the End of the Lane—Gaiman ponders death and the way people take their stories with them when they die. His social media experience A Calendar of Tales are short takes inspired by replies to fan tweets about the months of the year—stories of pirates and the March winds, an igloo made of books, and a Mother's Day card that portends disturbances in the universe. Gaiman offers his own ingenious spin on Sherlock Holmes in his award-nominated mystery tale The Case of Death and Honey. And Click-Clack the Rattlebag explains the creaks and clatter we hear when we're all alone in the darkness.
A sophisticated writer whose creative genius is unparalleled, Gaiman entrances with his literary alchemy, transporting us deep into the realm of imagination, where the fantastical becomes real and the everyday incandescent. Full of wonder and terror, surprises and amusements, Trigger Warning is a treasury of delights that engage the mind, stir the heart, and shake the soul from one of the most unique and popular literary artists of our day.
Praise For Trigger Warning: Short Fictions and Disturbances…
"His mind is a dark fathomless ocean, and every time I sink into it, this world fades, replaced by one far more terrible and beautiful in which I will happily drown." — New York Times Book Review
"Gaiman displays an uncanny knack for compressing his expansive imagination into the close quarters of his stories' caves, cottages, and creepy rooms....[he] takes full advantage of his wide range, and it makes for exciting, often musical writing." — Boston Globe
"[Trigger Warning] showcases the breadth and depth of Gaiman's talent and the unique plangent warmth he brings to fantasy fiction. He is never anything less than a pleasure to read." — Financial Times
"Each of the stories and poems celebrates a different aspect of storytelling that has informed the author's life."
— NPR
"There's much to revel in here." — Huffington Post
Praise for Trigger Warning: "Everything that endears Gaiman to his legions of fans is on display ... Full of all manner of witches and monsters and things that creep in the night, this collection will thoroughly satisfy faithful fans and win new ones—if there's anyone out there left unconverted. — Kirkus Reviews
"[T]his collection of stories and poems doesn't disappoint....Gaiman has warned us about the monsters, but then come magic and miracles. And love." — Washington Post
"Gaiman's is one of the most distinctive voices in modern fantasy." — Locus
'All of [the stories] are told with an assured, masterly confidence that should please anyone who misses seeing a new Ray Bradbury collection on the shelf at the library." — Newsday
"Gaiman calls the stories a "hodgepodge," with no real interweaving theme throughout. But each of the stories and poems celebrates a different aspect of storytelling that has informed the author's life." — NPR
"Trigger Warning is a comfortable hodgepodge of material ... but there's enough serious-minded and deeply felt fantasy and horror to make readers hope that it won't be almost a decade before Gaiman completes another similar volume." — San Francisco Gate
"Lovingly crafted...gleefully enjoyable." — Bustle.com
"[I]t's the phenomenon of connecting mythology and modern life that makes Gaiman such a captivating author." — Winnipeg Free Press
"[T]his is not a 'best of' collection, though you'd be forgiven for thinking so at many instances, since Gaiman is, as always, a skilled storyteller." — Tor.com
"Neil Gaiman's writing is so present, so engaging, that it can send spasms of bone-chilling terror through your body and your reaction would still be, 'Please sir, I want some more.'" — Pittsburgh Post-Gazette
"Each short piece serves as an exciting foray into some macabre microcosm of his mind. ...It's a testament to Gaiman's versatility that he exhibits so many different styles of writing in this single anthology." — The Harvard Crimson
"The short stories in this collection are shocking, disturbing, funny, insightful ... Trigger Warning offers a good introduction to the works of Neil Gaiman, or a delightful addition to the collection of someone who has been following him for a long time. If you're a fan, don't miss this one." — Oklahoma City Oklahoman
"There is something for every type of Gaiman fan here, and those new to his work will find this to be a solid introduction to the type of stories he crafts: lyrical, literary, sometimes quite chilling, and always strange and provocative. ...This is a book to savor and enjoy." — Bookreporter.com
"Those who want to greet and shake hands, or settle in for a conversational catch-up with Gaiman's delightfully dramatic minstrel's tale-by-the-campfire style will love everything in Trigger Warning, naturally." — Booklist
"Gaiman is such a powerful and evocative writer that almost everything he churns out serves to justify the aforementioned cultural triumph of fantasy literature over realism and modernism. Gaiman's attention to craft, passion for language and profound respect for the mythological roots...come through even in his abbreviated prose fragments." — New York Times Book Review
William Morrow, 9780062330260, 352pp.
Publication Date: February 3, 2015
About the Author
Neil Gaiman is a #1 New York Times bestselling author of books for children and adults whose award-winning titles include Norse Mythology, American Gods, The Graveyard Book, Good Omens (with Terry Pratchett), Coraline, and The Sandman graphic novels. Neil Gaiman is a Goodwill Ambassador for UNHCR and Professor in the Arts at Bard College.
Neil Gaiman begins the introduction to Trigger Warning with two seemingly dissimilar ideas: taking a journey and wearing a mask. In what way is beginning a book like beginning a journey?generic viagra price canada
He writes, "We are all wearing masks. That is what makes us interesting. These are stories about those masks, and the people underneath them." Does this idea illuminate anything about the characters in the book for you? What does the idea of mask-wearing mean for you as a reader?generic viagra price canada
Also in the introduction, Gaiman refers to short stories as "small adventures" he can take as a writer. Are short stories also small adventures for readers? What are some of the pleasures and surprises one can find in a short story that aren't found in a novel?generic viagra price canada
Gaiman shares some background or inspiration about each story at the beginning of the book. Did you read this section before or after you read the stories themselves? How did reading these introductions before the stories color your reading of them? Or, how did the introductions enhance your understanding or appreciation of the stories after having read them? Did the introduction section and "Making a Chair" help you understand Gaiman's writing process and storytelling intentions?generic viagra price canada
What is a "trigger warning"? Why is it an apt reference and title for this collection? Gaiman explains that the book is "filled with stories in which things happen, and many of those stories end badly for at least one of the people in them. They are not safe, even if they are friendly." What triggers might the stories pull for readers? In this instance, can the emotional challenge of the tales be a positive thing?generic viagra price canada
In "The Truth is a Cave in the Black Mountains…" the narrator states "everything has its cost." What does that mean for the characters in this story in particular and for characters in other stories in the collection? Which characters lost the most or paid the highest costs? What do they gain in exchange, and does the high cost ever seem worth what they gain?generic viagra price canada
Secret, prophetic or mystical knowledge seems to be a trait shared by many of the characters in Trigger Warning. How trustworthy are characters like the guide in "A Lunar Labyrinth," the mother in "Adventure Story" or the wife in "Jerusalem"? Do you take their perspective at face value or look for a deeper cause or origin of their beliefs and actions? Do fantasy and horror stories need to be read with a suspension of disbelief, or can they be read from a purely psychological perspective as well?generic viagra price canada
In reading "And Weep Like Alexander," did anything come to mind that you think should be uninvented? What would be the consequences of uninventing it? Do you imagine uninvention, as Polkinghorn does, as "for the good of all" or as a more selfish or self-motivated act? Are we always stuck with the mistakes we've made or the disasters we've created? How would the world be different if we could change the mistakes or erase the disasters?generic viagra price canada
"Nothing O'Clock" and "Diamonds and Pearls" which appear back to back in this collection, are very different types of stories. The first is a science fiction story starring Doctor Who and the second a fairy tale, but both take the bones of their respective genres and add new elements. In what ways do these stories seem familiar and referential, and in what ways are they surprising and inventive?generic viagra price canada
How do "Observing the Formalities" and "The Sleeper and the Spindle" play with the Sleeping Beauty and Snow White fables? Did you readily see this connection?generic viagra price canada
There are many and diverse dangers described in Trigger Warning. Some are physical and others metaphysical, some are emotional and some involve a threat to reason or logic. Which kind of danger do you find the most frightening and why? Which story was the scariest, the most chilling or the most disturbing?generic viagra price canada
The Queen in "The Thin White Duke" tells the Duke, "We are the end of everything, where nothing exists but what we create, by act of will or by desperation… You do not have to die. You can stay with me. You will be happy to have finally found happiness, a heart, and the value of existence. And I will love you." Do you think her promise is of the kind that most of the characters in the collection are searching for? If so, why does the Duke reject her offer? What motivates the characters in Trigger Warning the most, and what are they seeking or hoping for?generic viagra price canada
Think about the love letter that is "Feminine Endings" and compare the deceptively simple desires of that narrator with both the Queen and the Duke in "The Thin White Duke."generic viagra price canada
In what ways do the poetic pieces in this collection tell stories as full as the short stories? In what ways are the short stories as evocative and lyrical as the poems?generic viagra price canada
In the introduction, Gaiman writes that short story collections "should not, hodge-podge and willy-nilly assemble stories that were obviously not intended to sit between the same covers." He goes on to say that this particular collection "fails this test." Do you agree or disagree? What did you enjoy about the variety of styles and genres found in Trigger Warning?generic viagra price canada
What is your favorite story in the collection and why? Did you respond to it emotionally, intellectually or aesthetically?generic viagra price canada
Coverage from NPR