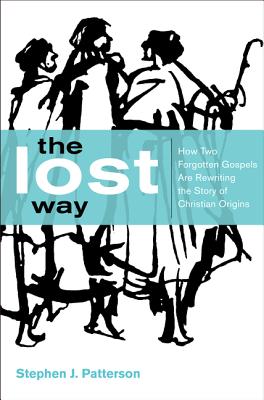 The Lost Way
How Two Forgotten Gospels Are Rewriting the Story of Christian Origins
Hardcover

* Individual store prices may vary.
Description
In this rigorously researched and thoughtful study, a leading Jesus Seminar scholar reveals the dramatic story behind the modern discovery of the earliest gospels, accounts that do not portray Jesus exclusively as a martyr but recover a lost ancient Christian tradition centered on Jesus as a teacher of wisdom.
The church has long advocated the Pauline view of Jesus as deity and martyr, emphasizing his death and resurrection. But another tradition also thrived from Christianity's beginnings, one that portrayed Jesus as a teacher of wisdom. In The Lost Way, Stephen Patterson, a leading New Testament scholar and former head of the Jesus Seminar, explores this lost ancient tradition and its significance to the faith.
Patterson explains how scholars have uncovered a Gospel that preceded at least three of those in the Bible, which is called Q. He painstakingly demonstrates how historical evidence points to the existence of this common source in addition to Mark—recognized as the earliest Gospel—that both Matthew and Luke used to write their accounts. Q contained a collection of Jesus's teachings without any narrative content and without accounts of the passion, though being the earliest version shared among his first followers—scripture that embodies a very different orientation to the Christian faith.
Patterson also explores other examples of this wisdom tradition, from the discovery of the Gospel of Thomas; to the emergence of Apollos, a likely teacher of Christian wisdom; to the main authority of the church in Jerusalem, Jesus's brother James. The Lost Way offers a profound new portrait of Jesus—one who can show us a new way to live.
Praise For The Lost Way: How Two Forgotten Gospels Are Rewriting the Story of Christian Origins…
"Since Jesus did not write, how did his teaching come down to us? Stephen Patterson's fascinating and wonderfully readable new book reveals how Jesus' followers told, wrote, rewrote, and handed down his teachings."
— Elaine Pagels, author of Revelations

"This accessible but scholarly introduction to the earliest Jesus traditions shares academic discoveries that do not usually reach the pews. It is a salutary reminder of how little we know about early Christianity and will introduce readers to the enriching complexity of any major tradition."
— Karen Armstrong, author of Fields of Blood

"In this book Stephen Patterson, a leading scholar in the Jesus Seminar, explores the terrain of primitive Christianity. He explodes popular myths and proposes startling new possibilities. One does not have to agree with all of his conclusions to find this book both fascinating and mind expanding!"
— John Shelby Spong, author, The Fourth Gospel: Tales of a Jewish Mystic

"Stephen Patterson's The Lost Way is at once a crisp and readable introduction to two 'lost' gospels, the Sayings Gospel Q, and the Gospel of Thomas, and an exposé of the unnoticed ways that alternate views about Jesus are present in the books of the New Testament."
— John Kloppenborg, University of Toronto, author of Q, the Earliest Gospel

"Reorients our basic understanding of the origins of Christianity and reclaims the missing strain of ancient Christian wisdom as part of the story of Christian origins. An illuminating, informative, and refreshingly accessible read - a book for anyone interested in the earliest layers of Christian tradition."
— Pamela Eisenbaum, authof of Paul Was Not a Christian

"A leading scholar of the Jesus Seminar . . . Patterson argues that [the earliest] sources reveal a different, fuller version of the historical Jesus and the way of 'Wisdom.' . . . clearly presented . . . a fascinating account."
— Library Journal
HarperOne, 9780062330482, 272pp.
Publication Date: October 21, 2014
About the Author
Stephen J. Patterson, Ph.D., is George H. Atkinson Professor of Religious and Ethical Studies at Willamette University, author of Beyond the Passion: Rethinking the Death and Life of Jesus, and coauthor of The Fifth Gospel: The Gospel of Thomas Comes of Age.
or
Not Currently Available for Direct Purchase