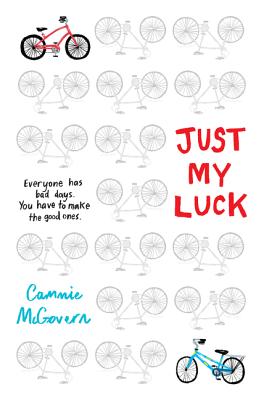 Just My Luck
Hardcover

* Individual store prices may vary.
Other Editions of This Title:
Digital Audiobook (2/22/2016)
Paperback (3/14/2017)
Compact Disc (2/23/2016)
Compact Disc (2/23/2016)
Description
Critically acclaimed author Cammie McGovern's powerful and heartwarming middle grade novel will appeal to readers who loved R. J. Palacio's Wonder, Holly Sloan's Counting by 7s, and Lynda Mullaly Hunt's Fish in a Tree. "This brave story, told with wry humor, is inspirational," raved Ann M. Martin, New York Times bestselling author of Rain Reign.
Fourth grade is not going at all how Benny Barrows hoped. He hasn't found a new best friend. He's still not a great bike rider—even though his brother George, who's autistic, can do tricks. And worst of all, he worries his dad's recent accident might be all his fault. Benny tries to take his mom's advice and focus on helping others, and to take things one step at a time. But when his dad ends up in the hospital again, Benny doesn't know how he and his family will overcome all the bad luck that life seems to have thrown their way.
Just My Luck is a deeply moving and rewarding novel about a down-on-his-luck boy whose caring heart ultimately helps him find the strength to cope with tragedy and realize how much he truly has to offer his friends and family.
Praise For Just My Luck…
"I loved this portrait of a young boy struggling to find his role in a family determined not to be defined by their differences. Benny's brave story, told with wry humor, is inspirational." — Ann M. Martin, New York Times bestselling author of Rain Reign
"In narrator Benny, readers find a resilient and very observant 9-year-old who accepts those around him with their strengths and shortcomings alike. His story is insightful and inspirational." — Kirkus Reviews
"McGovern's thoughtful depiction of a family facing difficult situations without fracturing, coupled with a gentle message about not being too hard on oneself, will surely speak to middle schoolers with their own slate of worries." — Publishers Weekly
"A heart-filled story of a likable boy who doesn't realize that his natural gifts are recognizable and valued by a supportive family. There are many moments that will ring true to middle grade readers: feeling anxious about friendships, wanting to be noticed, and trying to do the right thing." — School Library Journal
"McGovern's observations about ordinary-seeming life and about the people around us, about small acts of kindness and healing and forgiveness, are perceptive and thought-provoking." — The Horn Book
"Benny's first-person narrative radiates with exactly the kind of compassion his mother recommends. Like many nine-year-olds, Benny can be guileless in one moment and wise beyond his years in another. Highly recommended for fans of realistic fiction by writers such as Ann M. Martin or Lisa Graff." — ALA Booklist
"McGovern writes convincingly about characters trying to figure out how best to live with the complications of a disability, both the person whom it most affects and also those around him or her. Benny's voice deserves to be read aloud in a classroom." — Voice of Youth Advocates (VOYA)
"McGovern's books make readers think carefully about the themes presented. Her beautifully written novels feature people who are different in some way; developmentally delayed or suffering from cerebral palsy, obsessive compulsive disorder, or autism. Her stories make people who are "different" more accessible to all of us." — Examiner.com
Praise for SAY WHAT YOU WILL: "This is a book to read, savor, and pass on and on until it has gone around the world twice." — Ron Koertge, author of Stoner & Spaz
"Exhilarating and heartrending.This novel is stunning." — ALA Booklist (starred review)
"Readers will be surprised, moved, amused, worried, hopeful, and grateful." — Publishers Weekly (starred review)
"McGovern's triumph is how well she normalizes and highlights the variety of disability experiences among teens and their often circuitous journeys toward claiming their voices and right to self-determination. Ultimately, a deeply engaging and rewarding story." — Kirkus Reviews
"What this book does best is move beyond the typical concerns and stigmas people with disabilities inevitably encounter to present an honest portrayal of the difficulties of growing up faced by these particular characters." — The Horn Book
"Cammie McGovern channels her knowledge and passion for specialneeds kids. Like the deservedly best-selling Wonder by R.J. Palacio—required reading for every family—this doesn't just get you talking, it gets you thinking, feeling and rejoicing." — Family Circle
HarperCollins, 9780062330659, 240pp.
Publication Date: February 23, 2016
About the Author
Cammie McGovern is the author of Say What You Will as well as the adult novels Neighborhood Watch, Eye Contact, and The Art of Seeing. Cammie is also one of the founders of Whole Children, a resource center that runs after-school classes and programs for children with special needs. She lives in Amherst, Massachusetts, with her husband and three children.