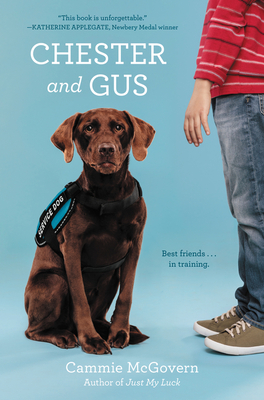 Chester and Gus
Hardcover

* Individual store prices may vary.
Other Editions of This Title:
Paperback (3/13/2018)
Prebound (3/13/2018)
Description
Critically acclaimed author Cammie McGovern presents a heartwarming and humorous middle grade novel about the remarkable bond that forms between an aspiring service dog and an autistic boy in need of a friend. "Joyful, inspiring, and completely winning, Chester and Gus is unforgettable," proclaimed Katherine Applegate, #1 New York Times bestselling author of the Newbery Medal winner The One and Only Ivan.
Chester has always wanted to become a service dog. When he fails his certification test, though, it seems like that dream will never come true—until a family adopts him. They want him to be a companion for their ten-year-old son, Gus, who has autism. But Gus acts so differently than anyone Chester has ever met. He never wants to pet Chester, and sometimes he doesn't even want Chester in the room. Chester's not sure how to help Gus since this isn't exactly the job he trained for—but he's determined to figure it out. Because after all, Gus is now his person.

In the spirit of beloved classics like Because of Winn-Dixie, Shiloh, and Old Yeller, Cammie McGovern's heartfelt novel—told from Chester's point of view—explores the extraordinary friendship between a child and a dog with a poignant and modern twist.
Praise For Chester and Gus…
Praise for CHESTER AND GUS: "In this delightful novel, Cammie McGovern has somehow managed to channel, with absolute perfection, the endearing voice of an aspiring service dog named Chester. Joyful, inspiring, and completely winning, Chester and Gus is unforgettable."
— Katherine Applegate, #1 New York Times bestselling author of the Newbery Medal winner The One and Only Ivan

"Beautifully imagined and deeply affecting, Cammie McGovern's sensitive portrait of one resilient family and their very special dog demonstrates that the best lives are lived when differences are cherished."
— Leslie Connor, award-winning author of Waiting for Normal and All Rise for the Honorable Perry T. Cook

"The quintessential book about a boy and his dog—perfectly beautiful."
— Huffington Post

"[Readers] will be charmed by Chester's warmth and loyalty."
— Publishers Weekly

"Gus' gradual, subtle interactions with his classmates ring true and sympathetic."
— Kirkus Reviews

Praise for JUST MY LUCK: "I loved this portrait of a young boy struggling to find his role in a family determined not to be defined by their differences. Benny's brave story, told with wry humor, is inspirational."
— Ann M. Martin, New York Times bestselling author of Rain Reign

"In narrator Benny, readers find a resilient and very observant 9-year-old who accepts those around him with their strengths and shortcomings alike. His story is insightful and inspirational."
— Kirkus Reviews

"McGovern's thoughtful depiction of a family facing difficult situations without fracturing, coupled with a gentle message about not being too hard on oneself, will surely speak to middle schoolers with their own slate of worries."
— Publishers Weekly

"A heart-filled story of a likable boy who doesn't realize that his natural gifts are recognizable and valued by a supportive family. There are many moments that will ring true to middle grade readers: feeling anxious about friendships, wanting to be noticed, and trying to do the right thing."
— School Library Journal

"McGovern's observations about ordinary-seeming life and about the people around us, about small acts of kindness and healing and forgiveness, are perceptive and thought-provoking."
— The Horn Book

"Benny's first-person narrative radiates with exactly the kind of compassion his mother recommends. Like many nine-year-olds, Benny can be guileless in one moment and wise beyond his years in another. Highly recommended for fans of realistic fiction by writers such as Ann M. Martin or Lisa Graff."
— ALA Booklist

"McGovern writes convincingly about characters trying to figure out how best to live with the complications of a disability, both the person whom it most affects and also those around him or her. Benny's voice deserves to be read aloud in a classroom."
— Voice of Youth Advocates (VOYA)

Praise for SAY WHAT YOU WILL: "Exhilarating and heartrending.This novel is stunning."
— ALA Booklist (starred review)

"Readers will be surprised, moved, amused, worried, hopeful, and grateful."
— Publishers Weekly (starred review)

Praise for A STEP TOWARD FALLING: "Universal human emotions and challenges link the characters across boundaries of gender, class, and I.Q. This is a beautiful, big-hearted book with important lessons embedded in compelling stories of two irresistible girls. Expertly executed and movingly realized."
— New York Times Book Review

"Without evading or sugarcoating difficult topics, McGovern shows that disabled and able aren't binary states but part of a continuum—a human one."
— Publishers Weekly (starred review)

"Told in alternating sections of Emily's and Belinda's voices, this book explores how even good people can fail morally. Belinda is written thoughtfully and respectfully. She has a distinct voice that reflects her cognitive disabilities but without condescension. Highly recommended."
— School Library Journal (starred review)

"Through alternating chapters, Emily comes to understand her inaction, prejudices, and failings, and Belinda learns to face her fears, find her voice, and take charge of her future. McGovern's ample experience with special needs youth is evident, as it allows this unique story shine from within."
— ALA Booklist (starred review)
HarperCollins, 9780062330680, 272pp.
Publication Date: April 4, 2017
About the Author
Cammie McGovern is the author of Say What You Will as well as the adult novels Neighborhood Watch, Eye Contact, and The Art of Seeing. Cammie is also one of the founders of Whole Children, a resource center that runs after-school classes and programs for children with special needs. She lives in Amherst, Massachusetts, with her husband and three children.