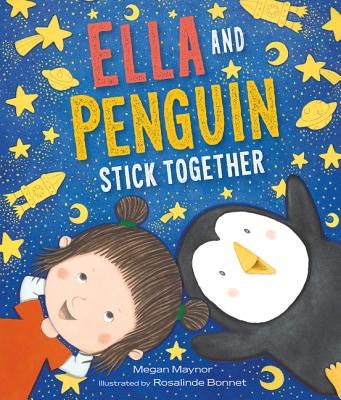 Ella and Penguin Stick Together
Hardcover

* Individual store prices may vary.
Description
Sometimes all you need is a good friend to help you be brave.
Ella has a surprise for Penguin—glow-in-the-dark stickers! But to see the stickers glow, Ella and Penguin must be in the dark. And the dark is so . . . dark! If only they could see the stickers glow in the light—but that won't work. Soon Ella and Penguin find out that if they stick together, they can face anything.
Megan Maynor's sweet and lively text, paired with Rosalinde Bonnet's irresistible illustrations, will have readers clamoring for more Ella and Penguin.
Praise For Ella and Penguin Stick Together…
"Maynor, making her debut, backs up her perceptive premise with solid comic writing; even though Ella and Penguin's search for a nonscary, semidark viewing environment proves unsuccessful, their attempts have the authentic ring of kid ingenuity at work." — Publishers Weekly
"A sprightly girl with double buns in her dark hair and a tiny, squat penguin realize being brave is easy when you have a friend close by (glow-in-the-dark stickers help, too). Maynor, in her picture-book debut, tackles an oft-addressed phobia in an appreciated nonbedtime setting." — Kirkus Reviews
HarperCollins, 9780062330888, 32pp.
Publication Date: January 5, 2016
About the Author
Megan Maynor, like Penguin, used to wear pants on her head and pretend she had long hair. She lives in Minnesota with her family and hardly ever does that anymore. But she does love writing about Ella and Penguin. This is her second book. Visit her online at www.meganmaynor.com and @megan_maynor.
Rosalinde Bonnet loved to draw when she was little. She would often get into trouble at school because she doodled all over her notebooks during class. After high school she studied at the École Nationale Supérieure des Arts Décoratifs in Paris. Since her graduation in 2004, she has written and/or illustrated numerous children's books, mainly published in France and England. She lives in Versailles, France. You can visit her at www.rosalindebonnet.com.