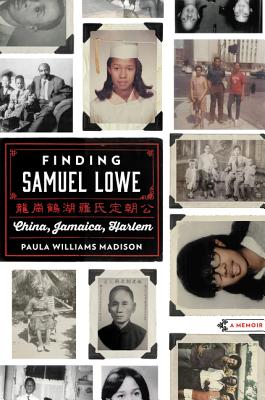 Finding Samuel Lowe
China, Jamaica, Harlem
Hardcover

* Individual store prices may vary.
Other Editions of This Title:
Digital Audiobook (6/29/2015)
Compact Disc (6/30/2015)
MP3 CD (6/30/2015)
MP3 CD (6/30/2015)
Compact Disc (6/30/2015)
Description
Spanning four generations and moving between New York, Jamaica, and China, a powerful memoir that is a universal story of one woman's search for her maternal grandfather and the key to her self-identity.
Thanks to her spiteful, jealous Jamaican mother, Nell Vera Lowe was cut off from her Chinese father, Samuel, when she was just a baby, after he announced he was taking a Chinese bride. By the time Nell was old enough to travel to her father's shop in St. Ann's Bay, he'd taken his family back to China, never learning what became of his eldest daughter. Bereft, Nell left Jamaica for New York to start a new life. But her Asian features set her apart from her Harlem neighbors and even her own children—a difference that contributed to her feeling of loneliness and loss which she instilled in her only daughter, Paula.
Years later, with a successful corporate career behind her and the arrival of her only grandchild raising questions about family and legacy, Paula decided to search for Samuel Lowe's descendants in China. With the support of her brothers and the help of encouraging strangers, Paula eventually pieced together the full story of her grandfather's life, following his story from China to Jamaica and back, and connecting with 300 surprised relatives who were overjoyed to meet her.
Finding Samuel Lowe is a remarkable journey about one woman's path to self-discovery. It is a story about love and devotion that transcends time and race, and a beautiful reflection of the power of family and the interconnectedness of our world.
Finding Samuel Lowe includes a 16-page black-and-white photo insert and photos in the text.
Praise For Finding Samuel Lowe: China, Jamaica, Harlem…
"How Madison ultimately connects with her grandfather's descendants in China will produce more OMG moments than any prime-time drama on cable or Netflix could ever hope to elicit."
— Essence

"A well-structured memoir told in brief, punchy vignettes alternating between past and present."
— Kirkus Reviews

Finding Samuel Lowe is simply the most exciting, daring and brilliant memoir I've read in the 21st century."
— Kiese Laymon

"Told through an intimate family portrait this story is a moving account of a vivid historic migration; an unyielding and dogged journey of the human spirit."
— Walter Mosley

"This is an extraordinary story of identities lost and found. Paula Madison's audacious search illuminates not only her own family's story, but a lost world of the Chinese diaspora in the Caribbean, Jamaica's mixing bowl of race and culture, and Harlem's melting pot of talent and ambition."
— Ben Jealous, Former President and CEO, NAACP

"From one corner of the world to another, from one culture to another, Madison expertly brings family together, showing that all of humanity is attached by a thread of love. This emotionally rich story is a must-read, to be sure."
— Harriette Cole, author of Jumping the Broom

"A fascinating family memoir that peeks inside the life of a 1960s Harlem kid, takes readers back a century to Jamaica, and then reads like a detective story... Madison writes with such passion that it's a treat to see how finding her grandfather means finding herself."
— The Bookworm Sez

"This memoir is a quick, fascinating read that sheds light on a little-known aspect of cross-cultural history."
— Bustle
Amistad, 9780062331632, 288pp.
Publication Date: April 14, 2015
About the Author
Paula Williams Madison is Chairman and CEO of Madison Media Management LLC, a division of Williams Group Holdings LLC, a Chicago-based investment company. She spent twenty-two years with NBC Universal and was most recently the Executive Vice President of Diversity as well as a Vice President of the General Electric Company. Honored for corporate leadership and community outreach, Madison was named one of the "75 Most Powerful African Americans in Corporate America" by Black Enterprise Magazine in 2005 and was included in Ebony magazine's "Power 100." She is Vice President of the Los Angeles Police Commission. On the occasion of the 2013 Centennial Anniversary of Delta Sigma Theta Sorority, Madison was inducted as a member of Honorary Centennial Six, a great career achievement. A native of Harlem, she and her husband reside in Los Angeles. This is her first book.