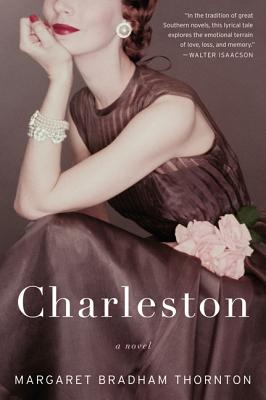 Charleston (Paperback)
A Novel
Ecco, 9780062332530, 320pp.
Publication Date: May 5, 2015
Other Editions of This Title:
Digital Audiobook (7/28/2014)
Compact Disc (1/7/2020)
Hardcover (7/29/2014)
MP3 CD (1/7/2020)
* Individual store prices may vary.
Description
A gifted writer makes her fiction debut with this lyrical and haunting story of missed chances and enduring love, set against the backdrop of high society Charleston, which probes the eternal question: can we ever truly go home again?
When Eliza Poinsett left the elegant world of Charleston for college, she never expected it would take her ten years to return. Now almost a decade later, she is an art historian in London with a charming Etonian boyfriend who adores her. But the past catches up with her when she runs into Henry, her childhood love, at a wedding in the English countryside.
Already unnerved by the encounter, Eliza's carefully guarded equilibrium is shattered when she meets Henry again in Charleston, where she's come for her stepsister's debut. Set against a backdrop of stately homes, the seductive Lowcountry landscape, and the entangled lives of families who trace their ancestors back for generations, Eliza has to decide if she is willing to risk everything for which she has worked so hard to be with the only man she has ever truly loved.
Charleston is an evocative, melancholy novel about one woman's love—for both a man and an unforgettable city. Emotionally resonant, beguiling in its atmosphere, it illuminates the elusive notion of home, and explores whether we can we truly ever go back to the place—and the people—that indelibly shaped us.
About the Author
Margaret Bradham Thornton is the author of Charleston and the editor of Tennessee Williams's Notebooks, for which she received the Bronze ForeWord Magazine Book of the Year Award in autobiography/memoir and the C. Hugh Holman Prize for the best volume of southern literary scholarship published in 2006, given by the Society for the Study of Southern Literature. She is a graduate of Princeton University and lives in Florida.
Praise For Charleston: A Novel…
"In the tradition of great Southern novels, this lyrical tale explores the emotional terrain of love, loss, and memory. It's about the tug of a person and of a place, leading us to confront what it means to look homeward again."
— Walter Isaacson

"The real femme fatale is the city itself, a place where the breeze in the laurel oak sounds 'like a slow kind of applause… and the citizens speak with 'dropped r's that almost sounded English,'… [demonstrating] the lyricism and precision Thornton brings to her description of the region."
— New York Times Book Review

"The seductions of her hometown--'sun, smell of pluff mud, sound of the tide going out'--cast their spell… [a] refined romance . . . Thornton writes with characteristic elegance and restraint."
— Wall Street Journal

"All the pieces are in place for… a Southern romance novel, a book-club pick, a beach read. What Thornton delivers...has more in common with her Williams book-an obsessive and poetic scaffolding of details...stitching them together into something larger while leaving the pieces to speak for themselves..."
— Paris Review

"Highly visual…far more evocative than many books ever manage... [Charleston] brings together a love story and a nuanced depiction of Charleston, which occupies a peculiar wrinkle within Southern culture...familiar to anyone who has contemplated returning to their hometown, wondering if it's a step back or a ... move forward."
— Minneapolis Star Tribune

September Hot Type title
— Vanity Fair

"Bradham Thornton's eye for detail is superb, from the swamps of the ACE Basin to a South of Broad dinner party. The final act . . . is so powerful as to necessitate a reread."
— Charleston Mercury

"[An] emotionally expansive, visually lush novel . . . a panoply of tints and tones"
— Edgefield Advertiser

"Margaret Thornton, in this beautiful novel, immerses us in a world, Charleston, a place both charmed and vexed by its many-layered history. Eliza's short, sharp season of happiness forms a complete love story-lush, bittersweet, and dear."
— Ron Carlson

"Eliza Poinsett is a fictional heroine, Southern at that. But she doesn't depend on the kindness of strangers, as do so many of the heroines of Tennessee Williams's plays. Eliza is the invention of Margaret Bradham Thornton...the award-winning [editor] of Tennessee Williams's Notebooks."
— Charlotte Observer

"Much more than a romance, for it delves into issues of identity, place, memory and more."
— Charleston Post & Courier

"A purposely quiet and subtle novel"
— Kirkus Reviews

"Prepare to be swept away..... Margaret Bradham Thornton does a spectacular job...Charleston is my favorite Southern city and Thornton does it true justice..... I couldn't put this novel down."
— San Francisco Book Review

Charleston is a character here, and in fact may rival Eliza for the lead role. . . . I read it in a day and wanted to get my plane ticket booked once I closed it."
— BookReporter

"Charleston is a novel of enormous southern charm and a deep, sweet wisdom. As Thornton so beautifully puts it, it is 'only okay to look for what was lost if you were prepared to find something unexpected.'"
— Anna Funder