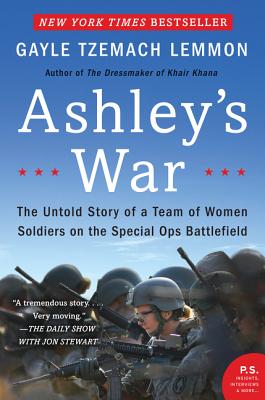 Ashley's War
The Untold Story of a Team of Women Soldiers on the Special Ops Battlefield
Paperback

* Individual store prices may vary.
Other Editions of This Title:
Digital Audiobook (4/20/2015)
Description
From Gayle Tzemach Lemmon, the author of the New York Times bestseller The Dressmaker of Khair Khana, comes the story of a unique team of warriors -- women who could not be Army Rangers and Navy SEALS in their own right, but who answered the call to get as close to the fight as the Army had ever allowed women to be -- including Ashley White, a beloved soldier who was killed serving her country's cause
In 2010, the Army created Cultural Support Teams, a secret pilot program to insert women alongside Special Operations soldiers battling in Afghanistan. The Army reasoned that women could play a unique role on Special Ops teams: accompanying their male colleagues on raids and, while those soldiers were searching for insurgents, questioning the women living at the compound. Their presence had a calming effect on enemy households, but more importantly, the CSTs were able to search adult women for weapons and gather crucial intelligence. They could build relationships in ways that male soldiers in an Islamic country never could.
In Ashley's War, Gayle Tzemach Lemmon uses on-the-ground reporting and a finely tuned understanding of the complexities of war to tell the story of CST-2, a unit of women hand-picked from the Army to serve in this highly specialized and challenging role. The pioneers of CST-2 proved for the first time, at least to some grizzled Special Operations soldiers, that women are physically and mentally tough enough to become one of them.
The price of this professional acceptance came in personal loss and social isolation: the only people who really understand the women of CST-2 are each other. At the center of this story is a friendship cemented by "Glee," video games, and the shared perils and seductive powers of up-close combat. At the heart of the team is the tale of a beloved and effective soldier, Ashley White.
Much as she did in her bestselling The Dressmaker of Khair Khana, Lemmon transports readers to a world they previously had no idea existed: a community of women called to fulfill the military's mission to "win hearts and minds" and bound together by danger, valor, and determination. Ashley's War is a gripping combat narrative and a moving story of friendship—a book that will change the way readers think about war and the meaning of service.
Praise For Ashley's War: The Untold Story of a Team of Women Soldiers on the Special Ops Battlefield…
"An unforgettable story of female soldiers breaking the brass ceiling. The women who answered America's call to serve show that our military is stronger when it engages both halves of the population. This book will inspire you and remind you of the power that comes with defying limits." — Sheryl Sandberg, author of Lean In
"Gayle Tzemach Lemmon expertly gives readers an inside look at what it takes to work alongside America's elite forces. The book is a gripping, moving, and well-told war story, but more importantly it offers the first glimpse into a historic program." — Kevin Maurer, author of Gentlemen Bastards
"Lemmon has done her homework. . . . She is a strong and capable guide. . . . With a fine eye for detail, she shows us what set this program apart." — Foreign Policy
"A tremendous story. . . . Very moving." — The Daily Show with Jon Stewart
"Ashley's War shares the remarkable stories of one of the first teams of women serving in the U.S. Army Special Operations Command. This team forged the path for American women who serve in harm's way all over the world and continue to make the ultimate sacrifice." — Senator John McCain
"Ashley's War quietly grips the reader with the untold story of a small group of women selected to serve in combat alongside the US's best soldiers. . . . Rich storytelling. . . . Compelling. . . . In battle as in life, these women refuse to quit." — Christian Science Monitor
"Fascinating and often moving, Ashley's War follows one of the early groups of women who volunteered to serve alongside special operations soldiers, vividly portraying their training, their early missions as they learn their jobs, their bonds of friendship, and their reckoning with the toll of war. Remarkable." — Phil Klay, author of Redeployment
"Remarkable." — New Yorker
"[A] transporting, enlightening book. . . The Dressmaker of Khair Khana is a fascinating window on Afghan life under the Taliban and a celebration of women the world over who support their loved ones with tenacity, inventiveness and sheer guts." — People
Harper Perennial, 9780062333827, 336pp.
Publication Date: April 12, 2016
About the Author
Gayle Tzemach Lemmon is a Senior Fellow at the Council on Foreign Relations and a contributor to Atlantic Media's Defense One, writing on national security and foreign policy issues. She is the bestselling author of The Dressmaker of Khair Khana and has written for Newsweek, the Financial Times, International Herald Tribune, Christian Science Monitor, CNN.com, and the Daily Beast, as well as for the World Bank and Harvard Business School.
or
Not Currently Available for Direct Purchase