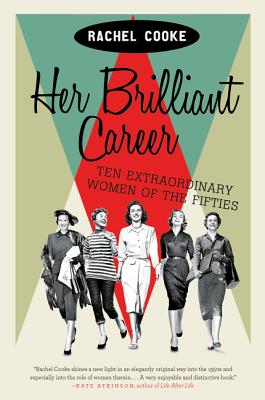 Her Brilliant Career
Ten Extraordinary Women of the Fifties
Paperback

* Individual store prices may vary.
Other Editions of This Title:
Digital Audiobook (3/5/2014)
Hardcover (12/2/2014)
Description
An exuberant group biography—"a splendidly various collection of 'brief lives' written with both gusto and sensitivity" (The Guardian)—that follows ten women in 1950s Britain whose pioneering lives paved the way for feminism and laid the foundation of modern women's success.
In Her Brilliant Career, Rachel Cooke goes back in time to offer an entertaining and iconoclastic look at ten women in the 1950s—pioneers whose professional careers and complicated private lives helped to create the opportunities available to today's women. These plucky and ambitious individuals—among them a film director, a cook, an architect, an editor, an archaeologist, a race car driver—left the house, discovered the bliss of work, and ushered in the era of the working woman.
Daring and independent, these remarkable unsung heroines—whose obscurity makes their accomplishments all the more astonishing and relevant —loved passionately, challenged men's control, made their own mistakes, and took life on their own terms, breaking new ground and offering inspiration. Their individual portraits gradually form a landscape of 1950s culture, and women's unique—and rapidly evolving—role.
Before there could be a Danica Patrick, there had to be a Sheila van Damm; before there was Barbara Walters, there was Nancy Spain; before there was Kathryn Bigelow, came Muriel Box. The pioneers of Her Brilliant Career forever changed the fabric of culture, society, and the work force.
This is the Fifties, retold: vivid, surprising and, most of all, modern.
Her Brilliant Career is illustrated with more than 80 black-and-white photographs.
Praise For Her Brilliant Career: Ten Extraordinary Women of the Fifties…
"Lively…. Cooke offers up a "sly kind of feminism" with this collection of rule-breakers and role models…What shines through in these intimate stories is Cooke's respect for her subjects' shared attitude of 'derring-do'."
— Joanna Scutts, Washington Post

"In a series of engaging, gossipy essays, filled with sharp observations, she examines the lives of 10 very different women…. It's clever and amusing, a series of sketches that provide a revealing glimpse into the culture of 1950s Britain."
— Moira Hodgson, Wall Street Journal

"Both entertaining and touching…. It's Cooke's intention to "make people reconsider the 'lost' decade between the war and feminism" and to "pull the reader along" with these tales of "derring-do." She succeeds on every count."
— Buzzy Jackson, Boston Globe

"Shines a new light in an elegantly original way into the 1950s…. A very enjoyable and distinctive book."
— Kate Atkinson, author of Life After Life

"Reveals the challenges, failures, triumphs and sex lives of those who came of age during World War II by defying society's expectations…The men and women, loves and losses that shaped them are a fascinating reminder of how the choices we make both imprison and free us."
— Patty Rhule, USA Today

"I always thought of British women of the sixties as cultural pioneers, but I had no idea how fascinating and accomplished—how daring and tough—were the women of the decade before. Thank you, Rachel Cooke, for stylishly adding a chapter to this provincial American's personal women's studies curriculum."
— Sheila Weller, author of Girls Like Us: Carole King, Joni Mitchell, Carly Simon-and the Journey of a Generation

"The lessons gleaned from these women of another era are timeless and relatable."
— Natasha Awasthi, Fast Company

"The stories are insightful and crafted with care…. A satisfying read for anyone interested in narratives about women's lives in the early to mid-20th century."
— Library Journal

"Rachel Cooke's Her Brilliant Career is that rare beast: a work of history as utterly enjoyable as it is important. Cooke writes with a novelist's authority, humor, and eye for detail and, in doing so, has crafted a history for the ages."
— Joanna Rakoff, author of My Salinger Year

"Witty, intelligent, poignant, and exuberantly opinionated. Each life history is as rich and strange as a novel, and Cooke has a novelist's feeling for story. She never condescends to the past but enters into the conditions of these lives with sympathy and imagination. A superb book."
— Tessa Hadley, author of Clever Girl

"Cooke's book provides a sparkling group of portraits that, taken together, cast the '50s in a new and modern light."
— Marilyn Dahl, Shelf Awareness

"Engrossing, entertaining and, yes, deliciously gossipy. Just as Eminent Victorians forever changed our view of the Victorian era, Her Brilliant Career demolishes the conventional wisdom of the fifties Woman. I, for one, will never think of this decade in the same way."
— Elsa Walsh, author of Divided Lives: The Public and Private Struggles of Three American Women

"Mad men, move over! Her Brilliant Career is Rachel Cooke's intelligent, informative and gossipy proof that women in the 1950s were doing a lot more than taking dictation, fixing the perfect dry martini, and going nuts in the suburbs."
— Francine Prose, author of Lovers at the Chameleon Club, Paris 1932: A Novel

"Fascinating. Each of the portraits illuminatingly details the struggles and triumphs of these women, who laid the groundwork for working women in the 1960s and beyond. Cooke's history of these uncelebrated heroines admirably fills in the gaps in the continuing story of women's role in the workplace."
— Kirkus

"Cooke's droll, pressing style is what binds the stories together; no sooner do we embark than we know we will not be disappointed, though every portrait is different, every life depicted complex and, at times, startling."
— Barbara Bamberger Scott, Bookreporter.com

"Delightful….Cooke offers seven mini-biographies of bold, brilliant, sexy women…whose lives are compulsively vivid, page-turning and rich in surprises."
— The London Times

"An exuberant gallop….There is a kind of glee in Ms. Cooke's writing about the 1950s which, by the end of the book, almost persuades readers that-men notwithstanding-those were the days."
— The Economist

"Vastly entertaining, cannily researched and sharply perceptive."
— Daily Telegraph

"Brilliant."
— Mail on Sunday

"Engrossing….Cooke's subjects are gloriously tough, too busy pursuing their dreams for introspection or self-doubt. These women achieved what they did because they were able to pierce the blanket of male supremacy. They were happy to achieve something; they weren't obsessed with having it all."
— London Sunday Times

"Tells the stories of ten women…who didn't let their skirts stop them….The full-skirted stereotype has been smashed by the end of Her Brilliant Career."
— Financial Times

"A marvellous, moving and funny book. Rachel Cooke makes history come alive. Written by a true storyteller with wonderful writing, a great sense of justice and splendid one-liners. Dorothy Parker with brains and proper prose."
— Carmen Callil, author of Bad Faith

"A gallery of vividly drawn portraits—witty, poignant, inspiriting—that opens up a new front in our understanding of the 'lost' Fifties."
— David Kynaston, author of Modernity Britain

"Eloquent, concise, fair-minded, witty and elegant."
— The Independent

"An exuberant, glass-chinking book….A splendidly various collection of 'brief lives' written with both gusto and sensitivity."
— The Guardian

"Delightful….Cooke offers seven mini-biographies of bold, brilliant, sexy women…whose lives are compulsively vivid, page-turning and rich in surprises....There is warmth and lightness of spirit to this book: it is witty, intelligent, kind and poignant.."
— The London Times

"Excellent….Looks back at a time when women's lives were undergoing amazing changes and completely demolishes any notion that the 50's were just a dull and domestic time for women."
— The Observer

"Cooke's bright, enjoyable group biography contains a double triumph. She brings to light the lives of 10 lesser-known women of the 1950s…and in so doing succeeds in recasting the entire decade."
— London Sunday Times

"A must-read biography of an era, featuring the sort of women who feel like something out of a novel but who were there in the 1950s-larger-than-life and far more thrilling than any housewife stereotype (however Mad Men glamorous)."
— Red Online

"Cooke is one of the outstanding British journalists of her generation."
— Sebastian Faulks

"Lively and thought-provoking."
— London Review of Books

"Collection of 'brief lives' written with elan and sensitivity by the Observer writer."
— The Observer
Harper Perennial, 9780062333872, 368pp.
Publication Date: December 8, 2015
About the Author
Rachel Cooke is an award-winning journalist. She writes for The Observer and is the television critic for the New Statesman. This is her first book.