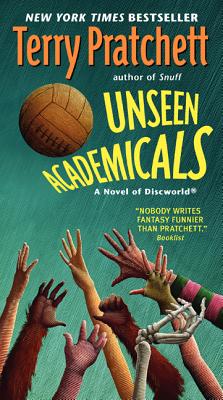 Unseen Academicals
A Novel of Discworld
Mass Market

* Individual store prices may vary.
Other Editions of This Title:
Digital Audiobook (10/5/2009)
CD-Audio (11/3/2009)
Paperback (7/7/2015)
Description
The wizards at Ankh-Morpork's Unseen University are renowned for many things—wisdom, magic, and their love of teatime—but athletics is most assuredly not on the list. So when Lord Vetinari, the city's benevolent tyrant, strongly suggests to Archchancellor Mustrum Ridcully that the university revive an erstwhile tradition and once again put forth a football team composed of faculty, students, and staff—or lose the funding that pays for their nine daily meals—the wizards of UU find themselves in a quandary. To begin with, they have to figure out what it is that makes this sport of foot-the-ball so popular with Ankh-Morporkians of all ages and social strata. Then they have to learn how to play it. Oh, and on top of that, they must win a football match without using magic.
And the thing about football—the most important thing about football— is that it is never just about football.
Praise For Unseen Academicals: A Novel of Discworld…
"In short, this is as busy and as daft as any other Discworld yarn, which means it is the quintessence of daft. Nobody writes fantasy funnier than Pratchett." — Booklist
"At its heart, this is an intelligent, cheeky love letter to football, its fans and the unifying power of sports. — Publishers Weekly
"This account of Unseen University's entry into the world of soccer (or, as they occasionally call it, "foot-the-ball") pushes past the usual conventions of satire to offer equal parts absurdist philosophy and heartwarming romance....A witty addition to the long-running fantasy series" — Kirkus Reviews
"Thirty-seven books in and ... Discworld is still going strong...and doing so with undimmed, triumphant exuberance. " — The Guardian
"It's a triumphant effort" — The Independent on Sunday
Harper, 9780062335005, 528pp.
Publication Date: October 28, 2014
About the Author
Sir Terry Pratchett was the internationally bestselling author of more than thirty books, including his phenomenally successful Discworld series. His young adult novel, The Amazing Maurice and His Educated Rodents, won the Carnegie Medal, and Where's My Cow?, his Discworld book for "readers of all ages," was a New York Times bestseller. His novels have sold more than seventy five million (give or take a few million) copies worldwide. Named an Officer of the British Empire "for services to literature," Pratchett lived in England. He died in 2015 at the age of sixty-six.