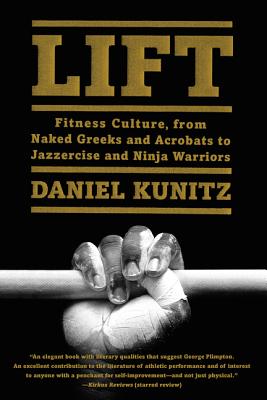 Lift
Fitness Culture, from Naked Greeks and Acrobats to Jazzercise and Ninja Warriors
Hardcover

* Individual store prices may vary.
Other Editions of This Title:
Paperback (7/4/2017)
Description
A riveting cultural history of fitness, from Greek antiquity to the era of the "big-box gym" and beyond, exploring the ways in which human exercise and physical ideals have changed over time—and what we can learn from our past.
How did treadmills and weight machines become the gold standard of fitness? Why have some of us turned our backs on the mirrors and gleaming devices of the traditional gym? What is the appeal of the stripped-down, functional approach to fitness that's currently on the rise?
In this captivating narrative, Daniel Kunitz sets out on a journey through history to answer these questions and more. What he finds is that, while we humans have been conditioning our bodies for more than 2,500 years, we've done so for a variety of reasons: to imitate gods, to be great warriors, to build nations and create communities, to achieve physical perfection, and, of course, to look good naked. Behind each of these goals is a story and method of exercise that not only illuminates the past but also sheds light on aspects of the widespread, multi-faceted fitness culture of today.
Lift begins with the ancient Greeks, who made a cult of the human body—the word "gymnasium" derives from the Greek word for "naked"—and then takes us on an enlightening tour through time, following Asian martial artists, Persian pahlevans, nineteenth-century German gymnasts, and the bronzed bodies of California's Muscle Beach. Kunitz uncovers the seeds of the modern gym in the late nineteenth-century with the invention of the first weightlifting machines, and brings us all the way up to the ultimate game-changer: the feminist movement, which kicked off the exercise boom of the 1970s with aerobics, and ultimately helped create the big-box gyms we know today.
Using his own decade-long journey to transform himself from a fast-food junkie into an ultra-fit—if aging—athlete as a jumping off point, Kunitz argues that another exercise revolution is underway now—a new frontier in fitness, in which the ideal of a bikini body is giving way to a focus on mastering the movements of life.
Praise For Lift: Fitness Culture, from Naked Greeks and Acrobats to Jazzercise and Ninja Warriors…
"An elegant book with literary qualities that suggest George Plimpton. An excellent contribution to the literature of athletic performance and of interest to anyone with a penchant for self-improvement-and not just physical." — Kirkus Reviews (starred review)
"A thoroughly researched and highly informative account… This thoughtful, accessible, and remarkably insightful cultural history of fitness will appeal to anyone who has set foot into a gym or laced up running shoes while wondering, 'Why am I doing this?'" — Booklist (starred review)
"An illuminating compendium… Writing in lucid anecdotal prose, Kunitz is a master at creating a compelling narrative." — Publishers Weekly
"Kunitz concludes that the most effective tools are already at hand and successfully shows how classic methods of conditioning can still be effective today… This book will be of interest to cultural historians and fitness enthusiasts." — Library Journal
"An inspiring read for all shapes and sizes." — Marie Claire, Health News Page, July 2016
"Kunitz artfully narrates the history of physical conditioning and our ever-shifting understanding of what it means to be fit." — Wall Street Journal
"[An] insightful premise." — Washington Post
"A thorough history of the activity and business of fitness." — New York Times Book Review
Harper Wave, 9780062336187, 336pp.
Publication Date: July 5, 2016
About the Author
Daniel Kunitz has served as editor in chief of Modern Painters, as well as an editor at the Paris Review and Details, and has been a contributor to Vanity Fair, Harper's Magazine, and New York. He is also an avid CrossFitter and weightlifter. He lives in New York City.
or
Not Currently Available for Direct Purchase