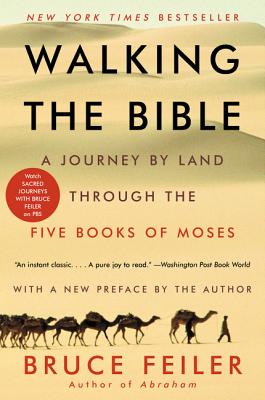 Walking the Bible (Paperback)
A Journey by Land Through the Five Books of Moses
William Morrow Paperbacks, 9780062336507, 496pp.
Publication Date: November 18, 2014
Other Editions of This Title:
Hardcover (3/20/2001)
Paperback (3/1/2002)
Paperback (8/2/2005)
CD-Audio, Abridged (8/16/2005)
Compact Disc (9/28/2004)
* Individual store prices may vary.
Description
Both a heart-racing adventure and an uplifting quest, Walking the Bible describes one man's epic odyssey—by foot, jeep, rowboat, and camel—through the greatest stories ever told. From crossing the Red Sea to climbing Mount Sinai to touching the burning bush, Bruce Feiler's inspiring journey will forever change your view of some of history's most storied events.
About the Author
Bruce Feiler is the author of six consecutive New York Times bestsellers, including Abraham, Where God Was Born, America's Prophet, The Council of Dads, and The Secrets of Happy Families. He is a columnist for the New York Times, a popular lecturer, and a frequent commentator on radio and television. He lives in Brooklyn with his wife and twin daughters.
Praise For Walking the Bible: A Journey by Land Through the Five Books of Moses…
"An instant classic. . . . A pure joy to read."
— Washington Post Book World

"Smart and savvy, insightful and illuminating."
— Los Angeles Times

"An exciting, well-told story informed by Feiler's boundless intellectual curiosity...[and] sense of adventure."
— Miami Herald

"An eloquently spiritual pilgrimage."
— Entertainment Weekly

"Feiler's accomplishment, and it's a profound one, is to confront his idea of God..."
— San Francisco Chronicle

"An inspirational oasis. . . . From the barren land, Feiler emerges, like those whose paths he traces, renewed and transformed."
— People

"An enthusiastic travelogue…Feiler delivers a wealth of information in an accessible and entertaining format."
— New York Times Book Review

"[Feiler] is an excellent guide...He has...invested [this book] with a keen intellectual curiosity."
— New York Times

"Bruce Feiler went looking for proof. He learned that proof doesn't matter."
— USA Today

"Evocative, descriptive, emotionally honest, and often funny."
— Christian Science Monitor

"Feiler, not unlike Mark Twain, brings a sharp sense of humor to the whole endeavor."
— Los Angeles Times

"A powerful and spiritual pilgrimage…in every way, marvelous if not indispensable reading for anyone remotely interested in the Torah."
— Chicago Sun-Times

"Feiler's accomplishment, and it's a profound one, is to confront his idea of God as spoken to him by the Bible...His trek through biblical history evolves into something far more fundamental, an intellectual and spiritual crusade to find common bond with the lands of his forebears."
— San Francisco Chronicle

"[Feiler] is an excellent guide and a worthy wrestler. He has put an enormous amount of information into this book and has invested it with a keen intellectaul curiosity."
— New York Times

"Evocative, descriptive, emotionally honest, and often funny...Feiler's most compelling writing is by far about the desert. For anyone wanting to know something of its terrifying strangeness, haunting beauty, and stark spirituality, as well as its possibilities for the future of Israel and the region."
— Christian Science Monitor

"Ranks among the great spiritual autobiographies...Feiler, a superb narrartor and storyteller with a gentle, ironic sense of humor, also possesses a potent intellect that at moments blazes forth, illuminating everything in its path."
— Washington Post Book World

"The perfect read for people who are interested in the Bible and the Middle East."
— Jerusalem Post

"Anyone who cares about the Bible or history or mankind should be grateful to bruce Feiler. His curiosity is prodigious, his intellect sharp, his legs willing to climb and climb."
— Stephen J. Dubner, author of Turbulent Souls

"An engrossing story...Anyone planning to visit the Middle East should definitely take at least two books with them-the Bible and this one."
— Calgary Herald

"A work of magic...[succeeds] in making the Bible exciting."
— Angelican Herald

"Goren and Feiler make for two of the most entertaining traveling buddies since Bob Hope and Bing Crosby."
— San Francisco Jewish Bulletin

"Walking The Bible is armchair reading with a spiritual bent...Feiler writes with a sense of poetry about the land."
— The Jewish Week

"This book belongs on the shelves next to the classics."
— Publishers Weekly (starred review)

"Anyone planning to visit the Middle East should take two books with them--the Bible and this one."
— Calgary Herald

"How on earth did Bruce Feiler come up with so many new, insightful, witty, and touching things to say...?"
— Melissa Fay Greene, author of Praying for Sheetrock

"Full of wonder and awe, yet written from a perspective of reasoned inquiry."
— Booklist (*starred review)