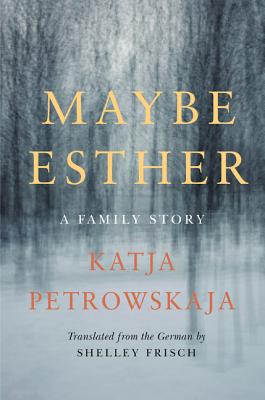 Maybe Esther
A Family Story
Hardcover

* Individual store prices may vary.
Other Editions of This Title:
Paperback (1/29/2019)
Description
An inventive, unique, and extraordinarily moving debut memoir that pieces together the fascinating story of one woman's family across twentieth-century Russia, Ukraine, Poland, and Germany.
Katja Petrowskaja wanted to create a kind of family tree, charting relatives who had scattered across multiple countries and continents. Her idea blossomed into this striking and highly original work of narrative nonfiction, an account of her search for meaning within the stories of her ancestors.
In a series of short meditations, Petrowskaja delves into family legends, introducing a remarkable cast of characters: Judas Stern, her great-uncle, who shot a German diplomatic attaché in 1932 and was sentenced to death; her grandfather Semyon, who went underground with a new name during the Bolshevik Revolution in Russia, forever splitting their branch of the family from the rest; her grandmother Rosa, who ran an orphanage in the Urals for deaf-mute Jewish children; her Ukrainian grandfather Vasily, who disappeared during World War II and reappeared without explanation forty-one years later—and settled back into the family as if he'd never been gone; and her great-grandmother, whose name may have been Esther, who alone remained in Kiev and was killed by the Nazis.
How do you talk about what you can't know, how do you bring the past to life? To answer this complex question, Petrowskaja visits the scenes of these events, reflecting on a fragmented and traumatized century and bringing to light family figures who threaten to drift into obscurity. A true search for the past reminiscent of Jonathan Safran Foer's Everything Is Illuminated, Daniel Mendelsohn's The Lost, and Michael Chabon's Moonglow, Maybe Esther is a poignant, haunting investigation of the effects of history on one family.
Praise For Maybe Esther: A Family Story…
"The kind of reading experience that makes me gasp, laugh, and feel inexpressibly grateful to a person who has decided to tell this story in this way… The book is breaking my heart, because I want to stop and quote from every other paragraph, and I want to give copies to people I love—I want, in other words, to stem the dissolution of storytelling that is the very point of this book.. I want it to last forever."
— Masha Gessen, The New Yorker

"Maybe Esther dwells between memory and oblivion, among the maybes, what-ifs, shoulds, and coulds of history…As she desperately tries to extract these last storytellers from their chosen oblivion, Petrowskaja assumes their forsaken role, bearing witness to events that she can only just imagine."
— Los Angeles Review of Books

"This is a work of ongoing history, written with the impressionistic eye of a novelist, a fervent meditation on language and loss surging with a remarkable cast of characters, forgotten to time and memory for decades, here vividly summoned to life. Wry, questing, discursive, it has, unsurprisingly, become a bestseller and literary prize-winner throughout Europe."
— Financial Times

"A fascinatingly inventive literary debut…In the hope of creating a family tree, Petrowskaja pieces together something far more complex and original, an account of her own search for meaning within the stories of her ancestors."                            
— Entertainment Weekly

"A mesmerizing memoir of Petrowskaja's tribe…from Berlin to Babi Yar, Mauthausen to Moscow…Even the tragedies are leavened by wit and lyricism."
— Jewish Chronicle

"The ultimate achievement of this remarkable book is to have forged a language out of muteness; a language quiet enough to describe the indescribable events of the last century with more beauty and curiosity than horror…At a time when the meaning of Europe has become a question, this is a book that suggests the answer lies in the intertwined histories of the rootless…Petrowskaya's relatives, as described in this bestselling Sebaldian memoir, collectively conjure up the Russian revolution, the world wars and the Holocaust."
— The Guardian

"This is writing that dazzles—deeply thoughtful and with insights that flash like sharp implements…sentences that swoop and soar…It is silences like these—the disappeared years and unspeakable (literally) experiences—that Petrowskaja excels at teasing back into life."
— New Statesman

"Intelligent, introspective, uniquely crafted, and erudite…The familial stories illuminate the history of troubling times in Russia, Ukraine, Poland and Germany…There is no denying that the characters are fascinating, like the history about which Petrowskaja writes."
— New York Journal of Books

"An incandescent family history…MAYBE ESTHER is rare in its lack of interest in requiting past wrongs. Petrowskaja reaches for neither repentance nor vindication, but rather an understanding of self, family, and history that can never be fully consummated…In these stories what is Jewish cannot be extricated from what is Ukrainian, Polish, Russian, Soviet—as if Jewishness accentuated already rich colors in a tapestry."
— Marci Shore, New York Review of Books


"Extraordinary and profoundly moving…Often elegiac, Maybe Esther bears comparison with W.G. Sebald's The Rings of Saturn…Notwithstanding the terrible nature of some of the events Petrowskaja records, there is considerable wit, humor and warmth in her intelligent and haunting story."
— The Times Literary Supplement

"An astonishing, eloquent and moving book about the traumas of the 20th century…It's a book about language, and memory, and about putting on someone else's language while, incongruously, retaining your own memory that was formed by a different language and by a reality other to the one surrounding you now… I also love her language. It is so polyphonic, she writes in German while thinking of words in Russian or English or other languages. Yet at the same time she does these complicated things very simply and very accessibly."
— Eugene Ostashevsky, Poetry Foundation

"This intimately told quest into the darkness of the 20th century is luminously unforgettable. The rich humanism of Petrowskaja's gaze, her many-cultured, good-humored sensitivity, and her visionary use of the themes that emerge from her family's histories—silence, muteness, disguise, survival—infuse this book with the qualities of a classic. Maybe Esther, on her civilizing journey 'against time', will stay with me forever."
— Kapka Kassabova, author of Border

"There's a literary miracle on every page here, the sort of book that makes you fall in love with reading. There's poetry and politics in this family memoir, but most of all there's the pleasure of being in the company of Petrowskaja's talent. A Proust for the Google age."
— Peter Pomerantsev, author of Nothing is True and Everything is Possible
Harper, 9780062337542, 272pp.
Publication Date: January 30, 2018
About the Author
Katja Petrowskaja was born in 1970 in Kiev. She studied at the University of Tartu, Estonia, and was also awarded research fellowships to study at Columbia University in New York, and Stanford in California. Katja Petrowskaja received her PhD in Moscow. Since 1999, she has lived and worked in Berlin. Maybe Esther is her first book, and is translated into 20 languages.
About the Translator
Shelley Frisch's numerous translations from the German, which include biographies of Friedrich Nietzsche, Albert Einstein, Leonardo da Vinci, Marlene Dietrich, Leni Riefenstahl, and Franz Kafka, have been awarded Modern Language Association and Helen and Kurt Wolff translation prizes. She lives in Princeton, New Jersey.
Shelley Frisch's numerous translations from the German, which include biographies of Friedrich Nietzsche, Albert Einstein, Leonardo da Vinci, Marlene Dietrich, Leni Riefenstahl, and Franz Kafka, have been awarded Modern Language Association and Helen and Kurt Wolff translation prizes. She lives in Princeton, New Jersey.
or
Not Currently Available for Direct Purchase