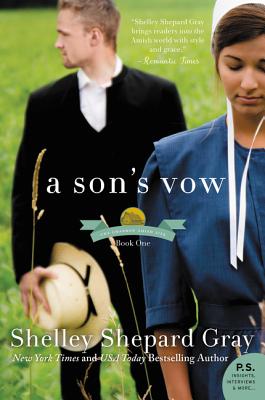 A Son's Vow
The Charmed Amish Life, Book One
Paperback

* Individual store prices may vary.
Other Editions of This Title:
Digital Audiobook (1/25/2016)
Mass Market (7/25/2017)
Compact Disc (1/26/2016)
Compact Disc (1/26/2016)
Description
Shelley Shepard Gray's first book in her Charmed Amish Life series is set in the quaint Amish village of Charm, Ohio, and tells the stories of the Kinsinger siblings who are each struggling to find both forgiveness and love in the face of tragedy.
Three months ago, everything changed for Darla Kurtz and her family. Darla's father was responsible for a terrible fire at Charm's lumber mill which killed five Amish men. And though he, too, lost his life, the town of Charm hasn't looked at her family the same since. Even Lukas Kinsinger—with whom Darla used to have a close friendship.
Now her brother's anger at the town is spilling over onto Darla, and she has the bruises to prove it. The accident already cost five lives, but if something doesn't change soon, Darla fears it will cost her—and her family—even more.
Lukas Kinsinger wants to mourn the loss of his father, but he can hardly find the time to breathe. Suddenly the head of his father's lumber mill and responsible for taking care of his three siblings, he's feeling the pressure. He has also never felt more alone—especially with the new tension between he and Darla. But when he learns of her troubles at home, Lukas knows he can't simply stand by and watch. Someone has to help her before another tragedy occurs.
As Lukas and Darla attempt to repair their families, they discover something deeper than friendship growing between them. But will Lukas and Darla's love be accepted after so much loss? Or will the pain of the past overcome any chance of future happiness?
Praise For A Son's Vow: The Charmed Amish Life, Book One…
Shelley Shepherd Gray has written a charming story that is sure to please fans of Amish fiction. A delightful start to a new series! — Kathleen Fuller, New York Times bestselling author of A Man of His Word
"A beautiful story of faith, hope, and second chances. Her characters are so real that they feel like old friends. Once you open the book, you won't put it down until you've reached the last page." — Amy Clipston, bestselling author of the Kauffman Amish Bakery Series Amy Clipston, bestselling author of the Kauffman Amish Bakery Series Amy Clipston, bestselling author of the Kauffman Amish Bakery Series
"With her endearing and delightful characters, written in her trademark descriptive style, author Shelley Shepard Gray has once again crafted a story that will capture readers' hearts from the first page." — Suzanne Woods Fisher, bestselling author
This contemporary Amish series-starter has something for everyone, including well-thought-out characters who hold their feelings close to protect their hearts. Gray writes about Amish life with charm and respect; she gives readers a glimpse into the simple way of life the Amish have embraced for generations. — Romantic Times BOOKclub, 4 stars, praise for HOPEFUL
Shelley is one of my favorites. An engaging, heartfelt story with characters who are easy to love. Sweet, heartwarming and wonderful. I savored every word. — New York Times bestselling author Jillian Hart
Once I began reading it, I couldn't set it aside until I had read every page...a delightful story. — Cindy Woodsmall, New York Times bestselling author of The Winnowing Season
Once again Shelley does an exceptional job at penning a story. I can always count on a good story line and a satisfying ending. — bestselling author Beth Shriver
"If this first book is any indication of how the remainder of the series will be, I can hardly wait! It is a quick read (I finished in less than a day), complete with surprising twists. Gray tactfully addresses topics not commonly found in many Amish-themed novels." — Romantic Times BOOKclub, 4 1/2 stars, Top Pick, praise for A SON'S VOW
Avon Inspire, 9780062337795, 288pp.
Publication Date: January 26, 2016
About the Author
Shelley Shepard Gray is a New York Times and USA Today bestselling author, a finalist for the American Christian Fiction Writers prestigious Carol Award, and a two-time HOLT Medallion winner. She lives in southern Ohio, where she writes full-time, bakes too much, and can often be found walking her dachshunds on her town's bike trail.
or
Not Currently Available for Direct Purchase