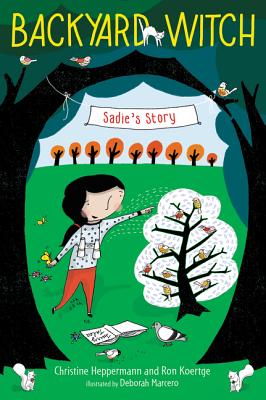 Sadie's Story (Backyard Witch #1) (Hardcover)
Greenwillow Books, 9780062338389, 176pp.
Publication Date: July 21, 2015
Other Editions of This Title:
Paperback (7/12/2016)
* Individual store prices may vary.
Description
A must-have for newly independent readers and fans of Ivy + Bean and Clementine! The first of a new series starring three young girls and a mysterious visitor who appears exactly when you need her—with just the right amount of magic.
Sadie has two best friends: Jess and Maya. But Jess can only take one friend on vacation with her, and Sadie is the one who gets left behind. How will Sadie ever survive the days of loneliness and boredom? But wait . . . what is that in her old playhouse in the backyard? A witch has moved in! A kind and funny witch, who's looking for her own two lost friends. Together, Sadie and the witch have a curious adventure, one that makes Sadie see her neighborhood—and herself—with new eyes. Acclaimed authors Ron Koertge and Christine Heppermann—writing together and for younger readers for the first time—have created a heroine to rival Mrs. Piggle-Wiggle and Ms. Frizzle. Short chapters, a satisfying mystery, gentle humor, magical dazzle, and adorable black-and-white illustrations throughout by debut artist Deborah Marcero make this an ideal pick for readers of Ivy + Bean, Just Grace, and Kate DiCamillo's young novels.
About the Author
Christine Heppermann is the author of Poisoned Apples: Poems for You, My Pretty, which received five starred reviews and was named to five best of the year lists in 2014, and Ask Me How I Got Here. She lives with her husband and two daughters in Highland, New York.
Deborah Marcero holds degrees in drawing and photography from the University of Michigan and an MFA in poetry from the School of the Art Institute of Chicago. This is her first book.
Christine Heppermann and Ron Koertge are the authors of acclaimed young adult books and are writing for young readers for the first time. After meeting through Hamline University's MFA program, they decided to collaborate. Christine lives in New York, and Ron lives in California, so they work most of their magic long-distance.
Praise For Sadie's Story (Backyard Witch #1)…
"A delightful adventure with humorous characters that will keep the interest of young readers."
— School Library Journal

"Charming...Ms. M's understated motivational techniques hit just the right note of subtle encouragement as Sadie looks inside herself and at the world around her to find a different kind of magic."
— Publishers Weekly

"Ms. M. is a combination of Mary Poppins (with her briskly sympathetic, no-nonsense demeanor) and a stand-up comedian.…She's great company…and, best of all, she's a birdwatcher.…Sprightly prose will pull in chapter book readers, and spot illustrations keep the page design lively."
— Horn Book Magazine

"Ms. M is no typical witch—her brand of magic is more natural and inspirational than built around potions and spells.…Marcero's occasional b&w illustrations play into the light, fun tone, and…Sadie looks inside herself and at the world around her to find a different kind of magic."
— Publishers Weekly

"Ms. M sports the usual black dress and pointy hat, but her brand of magic isn't so much eye of the newt, toe of the frog as it is about finding enchantment in the world around her. …Spot on for the age group."
— Bulletin of the Center for Children's Books
or
Not Currently Available for Direct Purchase