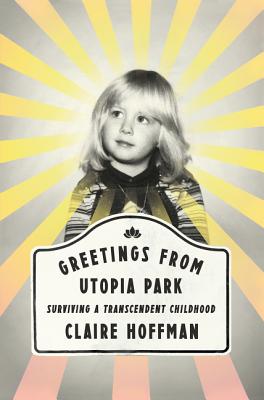 Greetings from Utopia Park (Hardcover)
Surviving a Transcendent Childhood
Harper, 9780062338846, 288pp.
Publication Date: June 7, 2016
Other Editions of This Title:
Digital Audiobook (6/6/2016)
Paperback (6/6/2017)
Compact Disc (6/7/2016)
Compact Disc (6/7/2016)
MP3 CD (6/7/2016)
* Individual store prices may vary.
Description
In this engrossing, provocative, and intimate memoir, a young journalist reflects on her childhood in the heartland, growing up in an increasingly isolated meditation community in the 1980s and '90s—a fascinating, disturbing look at a fringe culture and its true believers.
When Claire Hoffman's alcoholic father abandons his family, his desperate wife, Liz, tells five-year-old Claire and her seven-year-old brother, Stacey, that they are going to heaven—Iowa—to live in Maharishi's national headquarters for Heaven on Earth. For Claire's mother, Transcendental Meditation—the Maharishi's method of meditation and his approach to living the fullest possible life—was a salvo that promised world peace and enlightenment just as their family fell apart.
At first this secluded utopia offers warmth and support, and makes these outsiders feel calm, secure, and connected to the world. At the Maharishi School, Claire learns Maharishi's philosophy for living and meditates with her class. With the promise of peace and enlightenment constantly on the horizon, every day is infused with magic and meaning. But as Claire and Stacey mature, their adolescent skepticism kicks in, drawing them away from the community and into delinquency and drugs. To save herself, Claire moves to California with her father and breaks from Maharishi completely. After a decade of working in journalism and academia, the challenges of adulthood propel her back to Iowa, where she reexamines her spiritual upbringing and tries to reconnect with the magic of her childhood.
Greetings from Utopia Park takes us deep into this complex, unusual world, illuminating its joys and comforts, and its disturbing problems. While there is no utopia on earth, Hoffman reveals, there are noble goals worth striving for: believing in belief, inner peace, and a firm understanding that there is a larger fabric of the universe to which we all belong.
About the Author
Claire Hoffman writes for national magazines and holds a master's degree in religion from the University of Chicago and a master's degree in journalism from Columbia University. She was a staff reporter for the Los Angeles Times and Rolling Stone. She serves on the board of her family foundation, the Goldhirsh Foundation, as well as ProPublica and the Columbia School of Journalism. She lives in Los Angeles, California.
Praise For Greetings from Utopia Park: Surviving a Transcendent Childhood…
"With honesty and sincerity, this account of coming of age within the ostensible confines of an alternative lifestyle delivers valuable knowledge of another phenomenon of cultural divergence."
— Library Journal

"A clear-eyed critique that generously accounts for humanity's 'profoundly sincere and motivated' quest for happiness and peace."
— Kirkus Reviews

"In both a compelling memoir and a valuable testament, Claire Hoffman tells of the struggle to find her own path to truth while growing up amid the distractions and contradictions of a guru's prescribed utopia. Her triumph, and the reminder for us all, is in excusing the external guru and trusting the guide within."
— Melissa Coleman, author of This Life is in Your Hands

"In both a compelling memoir and a valuable testament, Claire Hoffman tells of the struggle to find her own path to truth while growing up amid the distractions and contradictions of a guru's prescribed utopia. Her triumph, and the reminder for us all, is in excusing the external guru and trusting the guide within."
— Lawrence Wright, Pulitzer Prize -winning author of The Looming Tower

"Claire Hoffman brilliantly captures a world that is at once familiar and exotic, yet it is more than that. It is about the meaning of faith in the modern world and how the simple desire for spiritual connection can sometimes lead to devastating consequences. I love it."
— Reza Aslan, author of the #1 New York Times bestselling Zealot

"As fascinating and unsettling as discovering a magical Oz in the middle of Kansas, Hoffman's unflinching memoir presents a remarkable landscape unlike any we're familiar with, one in which its narrator navigates her troubled way through a youth colored utterly by the cultlike atmosphere in which she finds herself. Dark, powerful, and ultimately uplifting, Greetings from Utopia Park is a book to be pondered and savored."
— Val Brelinski, author of The Girl Who Slept with God

"[A] wise, funny, and fascinating book."
— San Francisco Chronicle

"Wonderfully intimate: a cautionary tale that develops into one of inspiring self-determination."
— Booklist
Book Videos
Coverage from NPR
or
Not Currently Available for Direct Purchase