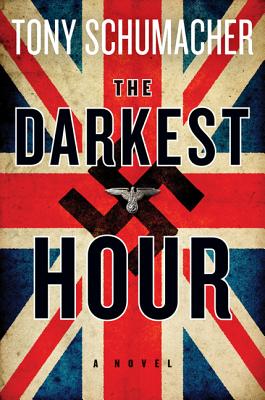 The Darkest Hour (Hardcover)
A Novel
William Morrow, 9780062339362, 432pp.
Publication Date: September 23, 2014
Other Editions of This Title:
Paperback (6/16/2015)
Compact Disc (9/30/2014)
MP3 CD (9/30/2014)
* Individual store prices may vary.
Description
"[A] convincing and swift-moving debut.… Schumacher's assured and atmospheric writing make this a memorable novel, reminiscent of writers from John Buchan to Ken Follett, and of directors from Alfred Hitchcock to Carol Reed."
   — Wall Street Journal
In this crackling, highly imaginative thriller debut in the vein of W.E.B. Griffin and Philip Kerr, set in German-occupied London at the close of World War II, a hardened, dispirited British detective jeopardizes his own life to save someone else and achieve the impossible—some kind of redemption.
London, 1946. The Nazis have won the war and now occupy Great Britain, using brutality and fear to control its citizens. They even use it to control those who work for them. John Henry Rossett, a decorated British war hero and former police sergeant, is one of those unlucky souls. He's a man accustomed to obeying commands, but he's now assigned a job he didn't ask for and knows he cannot refuse: rounding up Jews for deportation, including men and women he's known his whole life. Robbed of his family by a resistance bomb, and robbed of his humanity by the work he is forced to do, fate suddenly presents Rossett with an unexpected challenge that could change everything. He finds a boy hiding in an abandoned building and is faced with a momentous decision—to do something or to look the other way—yet whatever Rossett does, he will be pushed into a place where he could endanger all he holds dear.  
Played out against a city in ruin, a place divided between the conquered and the conquerors, The Darkest Hour is a tense, driving adventure thriller, a fascinating alternate history, and the unforgettable story of a man who will be broken—or given a completely new lease on life.  
About the Author
Tony Schumacher is a native of Liverpool, England. He is the author of The Darkest Hour and The British Lion, and was a finalist for the Sidewise Award for Alternate History in 2016. He has written for The Guardian and the Huffington Post, and he is a regular contributor to BBC Radio and London's LBC Radio. He has been a policeman, stand-up comedian, bouncer, jeweler, taxi driver, perfume salesman, actor, and garbage collector, among others. He currently lives outside Liverpool.
Praise For The Darkest Hour: A Novel…
"Schumacher's assured and atmospheric writing make this a memorable novel. . . . But it's the characters in The Darkest Hour-from the scene-stealing child to the SS secretary whose double (triple?) agent duties are provoking an identity crisis-who make the reader care what happens."
— Wall Street Journal

"A stunning debut… The action never stops, as John discovers he can no longer trust his friends. Everyone he knows would give him and the boy up in an instant to save their own hides. . . . A brilliant work for the history and thriller fan."
— Suspense Magazine

"A well-written adventure."
— St. Louis Post-Dispatch

"A fast-paced roller-coaster journey of twists and turns. . . . Schumacher has created a complex character in Rossett, an emotionally damaged man who trusts no one and cares for nothing. This is a spellbinding, exciting, suspenseful novel. . . . [A] real page-turner."
— Historical Novel Society

"The Darkest Hour is an alternate history, a psychological study, and a thriller all rolled into one fantastic book. . . . A plat that is action-packed and gripping."
— Crimespree Magazine

"The Darkest Hour kicks into overdrive, morphing from a bleak tale of what-might-have-been into a high-adrenaline thriller. . . . Each cliffhanger chapter moves Rossett from the frying pan into a fire. . . . It's an exhilarating roller-coaster ride."
— Fort Worth Star-Telegram

"A powerful tale of corrosive suspicion and electrifying danger. . . . The Darkest Hour is an exciting and breathtakingly plausible first novel brimming with suspense and starring a superbly-drawn cast of characters. . . . A cleverly nuanced and convincing thriller."
— Lancaster Evening News (UK)
or
Not Currently Available for Direct Purchase