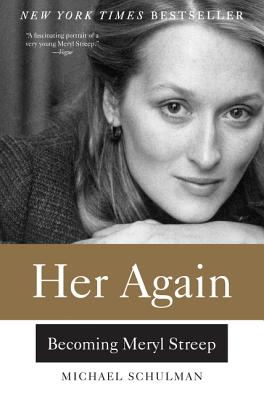 Her Again
Becoming Meryl Streep
Paperback

* Individual store prices may vary.
Other Editions of This Title:
Digital Audiobook (4/25/2016)
Hardcover (4/26/2016)
Paperback, Large Print (4/26/2016)
Paperback, Vietnamese (11/1/2018)
Description
A portrait of a woman, an era, and a profession: the first thoroughly researched biography of Meryl Streep—the "Iron Lady" of acting, nominated for nineteen Oscars and winner of three—that explores her beginnings as a young woman of the 1970s grappling with love, feminism, and her astonishing talent.
In 1975 Meryl Streep, a promising young graduate of the Yale School of Drama, was finding her place in the New York theater scene. Burning with talent and ambition, she was like dozens of aspiring actors of the time—a twenty-something beauty who rode her bike everywhere, kept a diary, napped before performances, and stayed out late "talking about acting with actors in actors' bars." Yet Meryl stood apart from her peers. In her first season in New York, she won attention-getting parts in back-to-back Broadway plays, a Tony Award nomination, and two roles in Shakespeare in the Park productions. Even then, people said, "Her. Again."
Her Again is an intimate look at the artistic coming-of-age of the greatest actress of her generation, from the homecoming float at her suburban New Jersey high school, through her early days on the stage at Vassar College and the Yale School of Drama during its golden years, to her star-making roles in The Deer Hunter, Manhattan, and Kramer vs. Kramer. New Yorker contributor Michael Schulman brings into focus Meryl's heady rise to stardom on the New York stage; her passionate, tragically short-lived love affair with fellow actor John Cazale; her marriage to sculptor Don Gummer; and her evolution as a young woman of the 1970s wrestling with changing ideas of feminism, marriage, love, and sacrifice.
Featuring eight pages of black-and-white photos, this captivating story of the making of one of the most revered artistic careers of our time reveals a gifted young woman coming into her extraordinary talents at a time of immense transformation, offering a rare glimpse into the life of the actress long before she became an icon.
Praise For Her Again: Becoming Meryl Streep…
"[A] rolllicking history of Streep's early years...a love letter to a great actress and a behind-the-scenes study of iconic movies like Kramer vs. Kramer."
— People (book of the week)

"[A]n admiring but frank Hollywood origin story. Following Streep in her long journey from New Jersey cheerleader to Oscar winner (her first for the 1979 film Kramer vs Kramer), this is above all a tribute to smart, steadfast professional judgment."
— Financial Times (A Summer Pick of 2016)

"Schulman provides such vivid examples of the relentless sexism [Streep] faced…[He] also paints a vivid picture of Manhattan in the 70s when the streets were filled with garbage and the stars were DeNiro, Hoffman and Redford."
— Christian Science Monitor

"An insightful portrait…appreciative readers will undoubtedly hope that a follow-up volume is in the works."
— Publishers Weekly

"Drawing on theater memoirs, conversations with Streep's colleagues and friends, and heaps of interviews that Streep has given over the years, Schulman has fashioned a lively narrative….Schulman's sensitive handling of Streep's personal life rounds out the portrait of a superbly talented woman. A brisk, gossipy, and entertaining biography."
— Kirkus Reviews

"Michael Schulman shares delightfully entertaining stories surrounding Meryl Streep's early rise to stardom in Her Again. . . . It's an enchanting look into the intricate details of how a young girl from New Jersey became a force in the entertainment industry.'"
— Associated Press

"Schulman's balanced portrait of Streep's unwavering dedication and demanding work ethic makes this a must-read for fans and aspiring actors."
— Booklist

"Talent attracts talent, and in Michael Schulman, Meryl Streep has gotten the biographer she deserves—canny, fluent, a pleasure to read, and perfectly suited to capturing America's greatest screen actress on the cusp of her brilliant career."
— Peter Biskind, author of Easy Riders, Raging Bulls

"Her Again is not only a captivating biography but a look at the alchemy of great acting. Through comprehensive research and contagious enthusiasm, Michael Schulman celebrates Streep's artistry while humanizing an icon."
— Tavi Gevinson, founder and editor-in-chief of Rookie

"Her Again is a beautifully observed, deeply affectionate portrait of an astonishing actress on the cusp of everything. It captures not merely Streep's beginnings, but an era. A delightful, respectful, and essential book for anyone interested in Meryl, Hollywood, theater, or just being ridiculously, passionately young."
— Paul Rudnick, author of The Most Fabulous Story Ever Told

"A thoughtful and insightful chronicle of the early life and career of remarkable Meryl."
— Jane Alexander, actress and author of Command Performance
Harper Paperbacks, 9780062342850, 336pp.
Publication Date: April 25, 2017
About the Author
Michael Schulman is a contributor and arts editor at the New Yorker. His work has appeared in the New York Times, the Believer, and other publications. He lives in New York City.
or
Not Currently Available for Direct Purchase