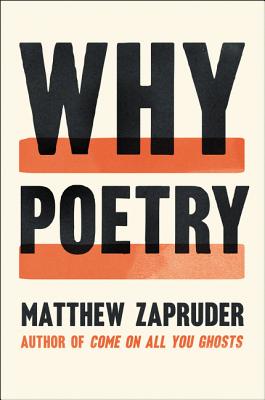 Why Poetry
Paperback

* Individual store prices may vary.
Other Editions of This Title:
Hardcover (8/15/2017)
Description
An impassioned call for a return to reading poetry and an incisive argument for poetry's accessibility to all readers, by critically acclaimed poet Matthew Zapruder
In Why Poetry, award-winning poet Matthew Zapruder argues that the way we have been taught to read poetry is the very thing that prevents us from enjoying it. He takes on what it is that poetry—and poetry alone—can do. In lively, lilting prose, he shows us how that misunderstanding interferes with our direct experience of poetry and creates the sense of confusion or inadequacy that many of us feel when faced with a poem.    
Zapruder explores what poems are and how we can read them so that we can, as Whitman wrote, "possess the origin of all poems" without the aid of any teacher or expert. Most important, he asks how reading poetry can help us to lead our lives with greater meaning and purpose. 
Anchored in poetic analysis and steered through Zapruder's personal experience of coming to the form, Why Poetry is engaging and conversational, even as it makes a passionate argument for the necessity of poetry in an age when information is constantly being mistaken for knowledge. While providing a simple reading method for approaching poems and illuminating concepts like associative movement, metaphor, and negative capability, Zapruder explicitly confronts the obstacles that readers face when they encounter poetry to show us that poetry can be read, and enjoyed, by anyone.
Praise For Why Poetry…
"Zapruder's writing is accessible, easygoing, and welcoming, as if he's sitting right there talking us through the poems." — Kirkus Reviews
"In many ways a marvelous book...This passionate book, aimed at would-be poets, would work well both in a college classroom and in the hands of ordinary readers."  — Publishers Weekly
"[A] diligently executed investigation. . . . Conversational yet eloquent, accessible and intelligent, Zapruder considers a range of writing on poetics and the craft of composition and includes close reads and smart explication." — Booklist
"Refreshingly humble and direct... Zapruder is the ideal narrator to debunk mistaken ideas about the art and claim that the ways we teach poetry are what prevent us from enjoying it...WHY POETRY casts its net wide and hauls in a splendid bounty." — San Francisco Chronicle
"The pleasure in Zapruder's book is in going beyond those feelings into an exploration into the hows and whys of poetry. . . . It recaptures that which draws us to poetry as children, while showing us the even deeper pleasures we are capable of as adults."   — Chicago Tribune
"Why Poetry is a self-described 'impassioned call for a return to reading poetry.' . . . Zapruder is a brainy and passionate advocate." — Seattle Weekly
"[Zapruder] writes with clear and inviting prose . . . Why Poetry is part-inspiration, part-guidebook, and part literary memoir. . . . Zapruder's spiritual undercurrent raises Why Poetry into something rare: the cogent and lively argument that poetry truly matters, fueled by passion rather than pretense." — The Millions
"Even for people who already eat poetry three times a day, Why Poetry still offers a refreshingly convivial discussion of poetry's purpose in a world where it's too often made to seem like public therapy or pointless frippery." — Paste Magazine
"Poetry frustrates people . . . Every now and then one of the poets, in turn, steps up helpfully to explain how to read the stuff. In his friendly new book, Why Poetry, poet, editor and teacher Matthew Zapruder does this very thing with unusual clarity and generosity." — Newsday
"Zapruder has written a book intended to help mend the rift between poems and readers . . . I am happy to report that he is refreshingly successful in making his case. Why Poetry is intelligent, straightforward, lucid, and cleanly reasoned." — Los Angeles Review of Books
"A consistently surprising work that shows novices how they can navigate poetry while providing a wonderful re-education for anyone who was taught to dissect a poem as if it were a dead frog. Even serious writers will find fresh inspiration here." — Washington Post
"Thinking about why and how I love poetry in the presence of another passionate reader left me feeling renewed. Both the page and the world seemed to burn a little more brightly. I felt a bit more writerly and a bit more human, too." — NPR
Ecco, 9780062343086, 256pp.
Publication Date: June 12, 2018
About the Author
MATTHEW ZAPRUDER is the author of four collections of poetry. His poetry, essays, and translations have appeared in publications including The New Yorker, The Paris Review, Tin House, and The Believer. An associate professor in the Saint Mary's College of California MFA program and English department, he is also editor at large at Wave Books and, from 2016 to 2017, was the editor of the poetry page of the New York Times Magazine. He lives in Oakland, California, with his wife and son.
or
Not Currently Available for Direct Purchase