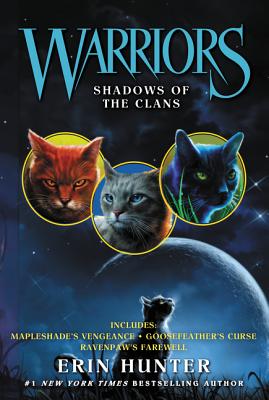 Warriors (Paperback)
Shadows of the Clans (Warriors Novella)
HarperCollins, 9780062343321, 336pp.
Publication Date: January 26, 2016
* Individual store prices may vary.
Description
Three thrilling stand-alone novellas from the world of Erin Hunter's #1 bestselling Warriors series—together in print for the first time!
In this Warriors story collection, experience three stand-alone adventures, previously available only as individual ebooks:
Mapleshade's Vengeance: After being exiled from her Clan and witnessing the deaths of her kits, Mapleshade wants nothing more than revenge…and she will do anything to get it.
Goosefeather's Curse: Dreams and omens are a medicine cat's gift, but Goosefeather is cursed with visions of a terrible future he cannot change.
Ravenpaw's Farewell: In Ravenpaw's last days, two kits in need of a home drive him to make one last journey—to find a lost warrior Clan.
About the Author
Erin Hunter is inspired by a love of cats and a fascination with the ferocity of the natural world. In addition to having great respect for nature in all its forms, Erin enjoys creating rich mythical explanations for animal behavior. She is also the author of the Seekers, Survivors, and Bravelands series.