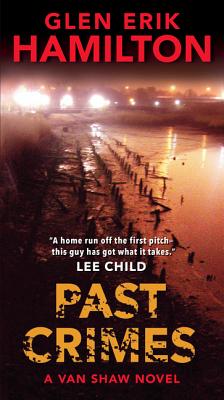 Past Crimes
A Van Shaw Novel (Van Shaw Novels)
Mass Market

* Individual store prices may vary.
Other Editions of This Title:
Digital Audiobook (3/2/2015)
Digital Audiobook (8/5/2015)
Description
Van Shaw was raised by his Irish immigrant grandfather Donovan to be a thief—to boost cars, beat security alarms, and crack safes. But at eighteen, Van broke all ties to that life and joined the military, serving as an Army Ranger in Iraq and Afghanistan. Now, after ten years of silence, Dono has asked his grandson to come home to Seattle.
Van is curious and a little unnerved by his grandfather's request. But when he arrives at Dono's house, Van discovers his grandfather bleeding out on the floor from a gunshot wound to the head. With a lifetime of tough history between him and the old man, the battle-tested Ranger knows he'll be the first suspect.
To clear his name and avenge his grandfather, Van plunges back into a violent, high-stakes world where right and wrong aren't defined by the law . . . and where the secrets held by those closest to him are the deadliest of all.
Praise For Past Crimes: A Van Shaw Novel (Van Shaw Novels)…
"A debut novel from a gifted writer with a sure hand. As much fun to read as Lee Child's Jack Reacher." — J.A. Jance on PAST CRIMES
"PAST CRIMES is a zipline ride of a thriller, plummeting through the back alleys of Seattle where murder and intrigue reign supreme and the undead past lurks around the next wrong turn. Buckle in and hang on!" — Gregg Hurwitz, New York Times bestselling author, on PAST CRIMES
"A home run off the first pitch - this guy has got what it takes." — New York Times bestselling author Lee Child on PAST CRIMES
"…an exciting heir to the classic detective novel. A well-written modern rendition of the old-fashioned gritty noir." — Kirkus on PAST CRIMES
"If he stays true to his talent, Hamilton is an author to watch." — Booklist on PAST CRIMES
"Readers will be eager to see more of this tough, clever hero." — Publishers Weekly (starred review) on PAST CRIMES
"Edgy and suspenseful." — Crimespree Magazine on PAST CRIMES
"Fans of action-filled mysteries should get to know Van Shaw right now and plan to be following his exploits for quite some time." — The Cedar Rapids Gazette on PAST CRIMES
"Glen Erik Hamilton's impressive debut novel fuses procedural plotting, vigilantism and noir. The seedy setting and one man's hunt for justice create an emotionally stirring and morally ambiguous read. Past Crimes keeps readers on edge and second-guessing every character." — BookPage.com on PAST CRIMES
"Glen Erik Hamilton is a welcome new entry in the very over-crowded crime-fiction genre." — David Rothenberg, WBAI-FM (New York City) on PAST CRIMES
"With 'Past Crimes,' debut novelist Glen Eric Hamilton comes out of the chute riding a rocket sled of thrills. This action-laced crime noir reads like a comfortable third entry in an already established franchise." — Madison County Herald on PAST CRIMES
"In his outstanding debut, Hamilton has created a tough and intriguing character in Van Shaw, one that will appeal to fans of Lee Child's Jack Reacher series." — Library Journal (starred review) on PAST CRIMES
"With wry humor and plenty of action, Glen Erick Hamilton's "Past Crimes" is an updated version of the classic hard-boiled detective novel." — Iron Mountain Daily News on PAST CRIMES
"Page-turning and poignant, with not a drop of phony sentiment or overwriting. Grade: A" — Cleveland Plain Dealer on PAST CRIMES
"Hamilton begins lobbing hand grenades into the room about three-quarters of the way through and doesn't let up until practically the last page, piling surprises and explosions on top of each other." — Bookreporter.com on PAST CRIMES
"This powerful debut novel introduces a quick-witted and resilient protagonist able to hold his own on both sides of the law." — Stop,You're Killing Me! on PAST CRIMES
"Glen Erik writes taut, hard-edged thrillers that I simply can't put down. Tight prose. Intriguing characters. Here is some fantastic storytelling you don't want to miss." — Steven James, national bestselling author of Checkmate and Every Crooked Path on PAST CRIMES
William Morrow, 9780062344564, 448pp.
Publication Date: February 23, 2016
About the Author
A native of Seattle, GLEN ERIK HAMILTON was raised aboard a sailboat and grew up around the marinas and commercial docks and islands of the Pacific Northwest. His novels have won the Anthony, Macavity, and Strand Critics awards, and have been nominated for the Edgar, Barry, and Nero awards. After living for many years in Southern California, he and his family have recently returned to the Emerald City and its beautiful overcast skies.