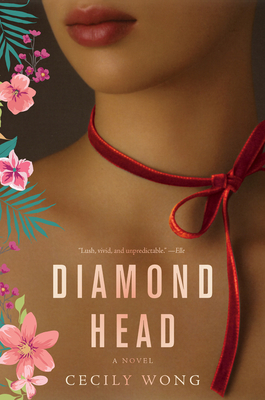 Diamond Head (Paperback)
A Novel
Harper Perennial, 9780062345448, 336pp.
Publication Date: March 29, 2016
Other Editions of This Title:
Digital Audiobook (4/13/2015)
Hardcover (4/14/2015)
* Individual store prices may vary.
Description
"Diamond Head is an intricate meditation on what is in our control and what is fate—and on whether children must bear the costs of their parents' mistakes." —Celeste Ng, #1 New York Times bestselling author of Everything I Never Told You and Little Fires Everywhere

At the turn of the nineteenth century, Frank Leong, a fabulously wealthy shipping industrialist, moves his family from China to the island of Oahu. But something ancient follows the Leongs to Hawaii, haunting them. The parable of the red string of fate, the cord that binds one intended beloved to her perfect match, also punishes for mistakes in love, passing a destructive knot down the family line.
When Frank Leong is murdered, his family is thrown into a perilous downward spiral. Left to rebuild in their patriarch's shadow, the surviving members of the Leong family try their hand at a new, ordinary life, vowing to bury their gilded past. Still, the island continues to whisper—fragmented pieces of truth and chatter, until a letter arrives two decades later, carrying a confession that shatters the family even further.
Now the Leongs' survival rests with young Theresa, Frank Leong's only grandchild, eighteen and pregnant, the heir apparent to her ancestors' punishing knots.
Told through the eyes of the Leong's secret-keeping daughters and wives and spanning the Boxer Rebellion to Pearl Harbor to 1960s Hawaii, Diamond Head is a breathtakingly powerful tale of tragic love, shocking lies, poignant compromise, aching loss, heroic acts of sacrifice and, miraculous hope.
About the Author
Cecily Wong's work has appeared in the Wall Street Journal, Los Angeles Review of Books, Self magazine, Bustle, and elsewhere. She is a graduate of Barnard College, and lives and writes in New York.
Praise For Diamond Head: A Novel…
"[A] lush, vivid, and unpredictable narrative."
— Elle

"Wong will utterly transport you through her breathtaking prose in this impressively crafted story."
— Bustle

"A sweeping historical saga about several generations of the powerful Leong family. Its patriarch, Frank Leong, moved his shipping business from China to Hawaii at the turn of the 20th century and built a dynasty in the islands. His murder decades later throws the family into turmoil and exposes long-buried secrets, and his only grandchild, 18-year-old Theresa, struggles to decipher how the past will shape her present."
— Tampa Bay Times

"An impressive story of romance stretching from early twentieth century China to Hawaii in 1964. . . . In this story of three generations of Chinese immigrants, ancient traditions and family secrets threaten the Leong clan in this captivating story of ill-fated romance set in beautiful island of Oahu."
— Iron Mountain Daily News

"In Diamond Head, Wong has crafted a delicate tower of mystery and history. . . . Wong's prose is lyrical and nearly poetic. . . . Lovely."
— New York Journal of Books

"A hot summer day is perfect for this sweeping multi-generational family saga which takes the reader from China to Hawaii."
— Book Riot

"Cecily Wong's lush debut novel hooked me in right away as it slowly unraveled the tangle of secrets the Leong family has kept for decades. Diamond Head is an intricate meditation on what is in our control and what is fate."
— Celeste Ng, #1 New York Times bestselling author of Everything I Never Told You and Little Fires Everywhere

"A shimmering tapestry of secrets and betrayals, beautifully told through the eyes of the women of the wealthy Leong family. An eye-opening, poignant read set against the backdrop of Hawaii's rich history."
— Yangsze Choo, author of The Ghost Bride and The Night Tiger

"[A] rich and compelling debut novel. . . . With keen insight, effused with sadness and hope, Diamond Head is an auspicious debut."
— Gail Tsukiyama, author of The Samurai's Garden and A Hundred Flowers

"Ms. Wong's first novel is a vivid story of a family's journey over time. We live and breathe with her characters as we witness history shaping family, and family creating its own history. Diamond Head is a jewel of a saga."
— Rebecca Wells, author of Divine Secrets of the Ya-Ya Sisterhood

"Diamond Head takes the family saga to a new and very high place. . . . Readers will follow the fortunes of this family breathlessly, hungry for more."
— Mary Gordon, author of The Liar's Wife and There Your Heart Lies

"This lyrical novel held my heart captive from its opening scent of hibiscus to its final image of the dark and mighty volcano that bears witness to the rise and fall of one of Hawaii's most prominent families. . . . A literary heartbreaker of a novel about the ways the heart betrays us, the ways it leads us to the truth."
— Ploughshares

"Wong's debut novel will hook readers from the first page and not let go until the final tragic secret is revealed. . . . By skillfully weaving a murder mystery into the story, Wong keeps the pace moving, and the twist ending is a surprise. . . . Reading groups and fans of Amy Tan's The Joy Luck Club will enjoy exploring Chinese-Hawaiian history and culture with this lovely novel."
— Library Journal

"Wong's pellucid prose style keeps the pages turning. . . . A promising debut."
— Kirkus Reviews

"Wong's multigenerational Hawaiian saga of deception and loyalty evocatively captures the tightly controlled worlds of privilege and power."
— Booklist

"A sweeping family saga in the tradition of Amy Tan. . . .Wong perceptively captures her cast of characters and their setting."
— Publishers Weekly
Consider the red string motif that runs throughout Diamond Head. Do you believe in the
idea of a red string or a superstition that runs through generations, connecting them?
Can you think of an example from your own family?
How is love defined in this novel? Is it defined by passion, (financial) security, obligation,
etc.? Does the story suggest that love is predestined or that love can be chosen and
cultivated?
Discuss the role of guilt throughout the novel. What kind of guilt does each character
feel, where does it come from and how does that guilt affect them throughout the novel?
Diamond Head offers a commentary about the role of women in Chinese culture.
Considering Lin, Amy and Theresa, what is the role of women throughout the novel, and
does it change over the course of the three generations?
Though most of the novel is told from the perspectives of Lin, Theresa and Amy, Hong
plays a very important role. Discuss Hong's character and her role in the story.
Is Amy to blame, at least partly, for Frank's death? Do you think she deserves to carry
that burden? Why or why not?
Discuss the role of the men in the novel. Consider Bohai, Frank, Henry and Grandpa
Chan. How is masculinity viewed within the culture and society?
Is there a single protagonist in this story? How did hearing all the different voices and
perspectives inform your attachment to the characters?
The story weaves in and out through distance and across time. What is the purpose of
telling the story in this way? How does the story's structure tie in with the overall theme
of the novel?
Explore the mother-daughter relationships in the novel. Do the women in the novel end
up forging new lives for themselves outside of their mothers' influences, or do they end
up becoming products of their mothers' mistakes?
At the end of novel, Hong explains what she believes is the difference between fate and
destiny. Do you agree with her differentiation? Which characters relied on fate and which
characters relied on destiny?