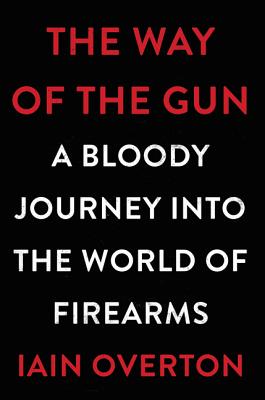 The Way of the Gun
A Bloody Journey into the World of Firearms
Hardcover

* Individual store prices may vary.
Other Editions of This Title:
Paperback (3/21/2017)
Description
In this compelling and revelatory book, an investigative journalist explores the lifecycle of the gun—following those who make firearms, sell them, use them, and die by them—with a special emphasis on the United States, to make sense of our complex relationship with these weapons.
We live in the Age of the Gun. Around the globe, firearms are ubiquitous and define countless lives; in some places, it's even easier to get a gun than a glass of clean water. In others, it's legal to carry concealed firearms into bars and schools. In The Way of the Gun, Iain Overton embarks on a remarkable journey to understand how these weapons have become an integral part of twenty-first century life, beyond the economics of supply and demand.
Overton travels through more than twenty-five countries around the world and meets with ER doctors dealing with gun trauma, SWAT team leaders, gang members, and weapons smugglers. From visiting the most dangerous city in the world outside a war zone to the largest gun show on earth, his journey crosses paths with safari hunters and gun-makers, paralyzed victims and smooth-talking lobbyists. Weaving together their stories, Overton offers a portrait of distinct yet deeply connected cultures affected by the gun and from them draws out powerful insights into our weaponized world. Ultimately, he unearths some hard truths about the terrible realities of war and gun crime, and what can be done to stop it.
Eloquent and accessible, infused with compassion and humor, The Way of the Gun is a riveting expose about guns and human beings that offers an eye-opening portrait of our time.
Praise For The Way of the Gun: A Bloody Journey into the World of Firearms…
"Remarkably balanced…reportage…. A portrait of the deforming power of firearms in our lives builds steadily throughout the narrative."
— The New Republic

"Smart…. Overton, a former TV and print journalist who now works for a London antiviolence organization, reports from more than 20 countries. Some of his stops yield unforgettable details."
— San Francisco Chronicle

"Engrossing, multifaceted….. Overton's insightful commentary includes the observation that imposing new gun control laws without an accompanying shift in attitudes isn't going to be effective. This illuminating narrative about the life cycle of the gun is comprehensive, revealing, and timely."
— Publishers Weekly

"Investigates the world of firearms through gripping reportage that's as disturbing as it is enlightening."
— GQ Magazine

"Every page is packed with emotional power and startling statistics.…Overton's book takes the gun debate into impressive new territory."
— Kirkus Reviews (starred review)

"With ongoing and escalating discourse on Second Amendment rights and groundbreaking gun control legislation capturing national attention, Overton's comprehensive study of an increasingly weaponized world provides timely and vital reading."
— Booklist (starred review)

"Intriguing.…This important book on the place of firearms in the modern era will attract readers interested in contemporary world affairs, U.S. gun rights and gun culture and their influence on other countries as well as the weapons industry."
— Library Journal

"Riveting . . . this book is more than just facts, it's insight and revelation on a very human level."
— The Independent on Sunday

"A shocking book about the terrible realities of war and weapons."
— Sunday Mail

"Overton's journalistic training gives him a discerning eye for detail. Even readers well-versed in the basics of the gun debate are likely to pick statistics and facts that are new to them….Vividly describe[d]."
— BookForum

"A shocking investigation into our fatal love affair with the firearm."
— Newsweek

"Overton has checked his facts and his statistics thoroughly. . . . As a result his book is chilling . . . Relentlessly engrossing."
— The Spectator
Harper, 9780062346063, 368pp.
Publication Date: March 22, 2016
About the Author
Iain Overton is the director of policy and investigations at Action on Armed Violence (AOAV). Prior to joining AOAV in 2013, he worked as a journalist, notably for the BBC, ITN, the London-based Bureau of Investigative Journalism, and the Guardian, Telegraph, and Independent newspapers. He is the recipient of two Amnesty Media Awards, a BAFTA, and a Peabody Award, among others. He holds two degrees from Cambridge University.
Book Videos